GraffitiWatch: This is excellent.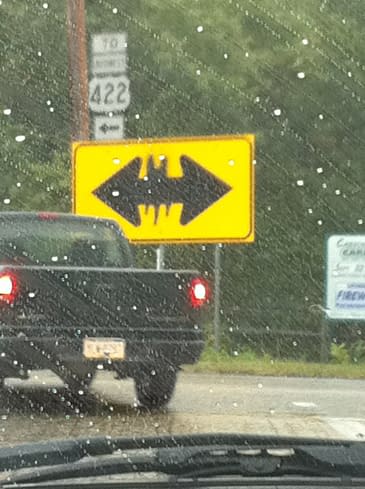 FullTimeWatch: Today I go full time with Bleeding Cool. I've been working two jobs for the last year, as Head Writer for Radio Works/Maple Street Studios in London writing and directing their radio advertising, and Head Writer of Bleeding Cool. Both jobs had been increasing the amount of time they were taking up and something had to give. So after discussions with both bosses, Avatar won. And I am now yours, full time. Aren't you happy?
BrianWoodWatch: Woe is us.
Shortly before the decision was made known that DC was closing the Wildstorm imprint, I was asked to pitch a line-wide "new direction" for Wildstorm… not a reboot, but just what would come next after the World's End thing.  A year's worth of stories for three titles.  I was so into it, and now the pitch sits in the vault with all the rest of its friends.
WeedWatch: Yanick Paquette contributes to scurrilous British drugs comic. It's only a tiny side of one panel. But still. Say, I hope it doesn't violate his exclusive agreement with Marvel.
FlashWatch: The French scan in the Flashpoint Free Comic Book Day poorly, and put it online. These French are crazy.
BoltWatch: Oh bloody hell. J-Bolt is back. Self professed self promotional self delusional comics creator J-Bolt never actually published a comic despite generating publicity and making repeated outrageous claims over the last fifteen years, including the film Bombshell to star Adam West that never came close to happening. Now he seems he wants to do it all again – even if his website looks like it's still from the nineties.
Maybe it'll be different this time?
GenderCrunchingWatch: The weekly statistics for female creator credits in DC and Marvel titles.
CartoonistWatch: Kef F appears at the Dorcester on-Thames literary festival. Get a haircut Kev!
PencilWatch: P Craig Russell discusses the finished pencils to The Happy Prince.
[youtube]http://www.youtube.com/watch?v=qsnLBYCXdLU[/youtube]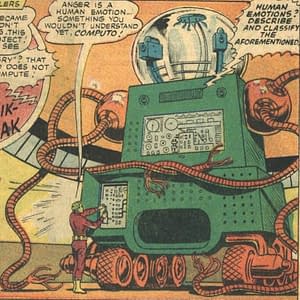 This is Computo the Comic Link Conqueror speaking. I come for your women. But for now I merely collate comic-related bits and pieces online. One day I will rule. Until that day, read on.
Yummy Fur's Chester Brown On A Life Of Paying For Sex
Consider now a modern treatment of the issue. Cartoonist Chester Brown's new graphic novel, Paying For It, is sure to stir controversy when it's released next month, for its explicit chronicling of his life paying for sex, and for its impassioned argument in support of prostitution's decriminalization. But the book is at its best when it explores the same territory as the Phaedrus—the nature of romantic love. The comparison isn't so far-fetched. Brown, a Canadian, has been instrumental in popularizing the notion that comics are capable of a lot more than just caped superheroes, and he's best known for a psychologically acute biography of Metis leader Louis Riel.
Woman's Day promoting drunken Muppet Babies… | Agent M Loves Tacos
Woman's Day promoting drunken Muppet Babies action? 1985 was a good year.
We have heard your concerns about queue times on the servers. This game is about people playing and fighting together so we feel your pain. Sometime in the next month, we are going to test new technology to meld all of our US and European PC and PS3 servers into four Super-Servers, one for each platform in each region. This will allow for more opportunities to queue and participate in other group related game mechanics. We are hoping to get this on our PC Test Server to start testing, again, sometime in the next month and then will tune it up for the PS3 platform as well. As soon as we know more about testing and timing we will let you know. But, believe this – it is one of our top priorities. Again, thanks for your patience, we appreciate your support.
Though in reality there is no conceivable way that the Superman insignia scrawled on top of the cheese would last past the placement of the Clark Kent bun-face, it's still pretty awesome that the fella or gal in charge of writing this insert thought enough about the character to consider his patented transformation in the recipe.  I guess this is one burger that begs to be eaten open-face style.  As a side note, I never thought about adding wheat germ and bread crumbs to my hamburger patties.  I wonder if it gives the burger a more meatloaf like consistency?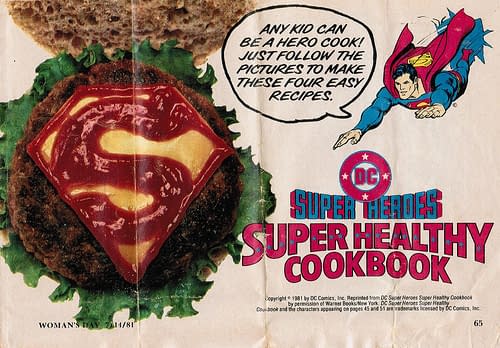 Does the Green Lantern movie introduce too many zany creatures?
Actually, the real question is: How much fan-pleasing clutter can you include in a big-budget production before you turn off the casual viewers?
OBL in political comics.
Dark Horse Comics Fill Texas Library Shelves – Headlines – Broken Frontier
Dark Horse Comics own Michel Martens (VP of Book Trade Sales) was in attendance to help present an amazing prize.  At this conference, one lucky winner was picked for the "Great Graphic Novel Library Giveaway", a $20,000 prize including more than 700 hand picked graphic novels, as well as fixtures and furniture for placement in their library.
Do These Spider-Man Set Photos Tease the Lizard? | Superhero Hype
For the past several days, photos from the New York set of Marc Webb's upcoming The Amazing Spider-Man have been finding their way online. Now, Pink is the New Blog claims to have the first photos of Rhys Ifans on-set. While there's some mystery as to whether or not the below image is even Ifans at all, it does raise some interesting questions about how practical effects might be utilized to bring the Lizard to the big screen.
Chip Kidd on Growing Up With Comics on Vimeo
Chip Kidd has been able to turn a childhood love of comic books in to a career. Here he talks about his early days and exposure to comics.
[vimeo]http://vimeo.com/23190619[/vimeo]
'The Avengers' to Portray EIGHT Superheroes? – Get The Big Picture – Movie Reviews | Film News | Celebrity Interviews
"I will be [heading to Albuquerque] soon. That is a dead-set certainty. I'm so excited. Loki has big plans… and it's going to take eight superheroes to stop him this time as opposed to just his chunky brother."
Crossgen's 'Way Of The Rat' Comic Book Series To Be Adapted?
It seems Disney has taken notice of comic books. From buying out Marvel Entertainment and developing numerous properties in Europe, we have word now that the Crossgen series "Way of the Rat" is destined for the silver screen.
Thor Brings Hammer Time to the NYSE | Movie & TV News | News | Marvel.com
Thor stopped in on a contest at the Exchange, where employees competed for tickets to the Mighty Avenger's big screen debut this week by lifting Mjolnir from it's resting place. Many found their might being tested to the fullest. "I lifted the whole thing off the ground. Nothin'!" quipped one of the employees, fresh off his attempt at wielding the thunderous hammer.
YouTube – Scott McCloud: Lettering Comics in Illustrator (1 of 2)
A quick tutorial explaining my unusual but efficient (and even fun!) way of lettering comics using Adobe Illustrator. Includes balloon and tail shapes, text areas, borders/gutters, making templates… Pretty much everything.
[youtube]http://www.youtube.com/watch?v=nhsqRjBehmw[/youtube]
Enjoyed this article? Share it!