The Underworld Is Under New Management In Princess Decomposia And Count Spatula
By Cameron Hatheway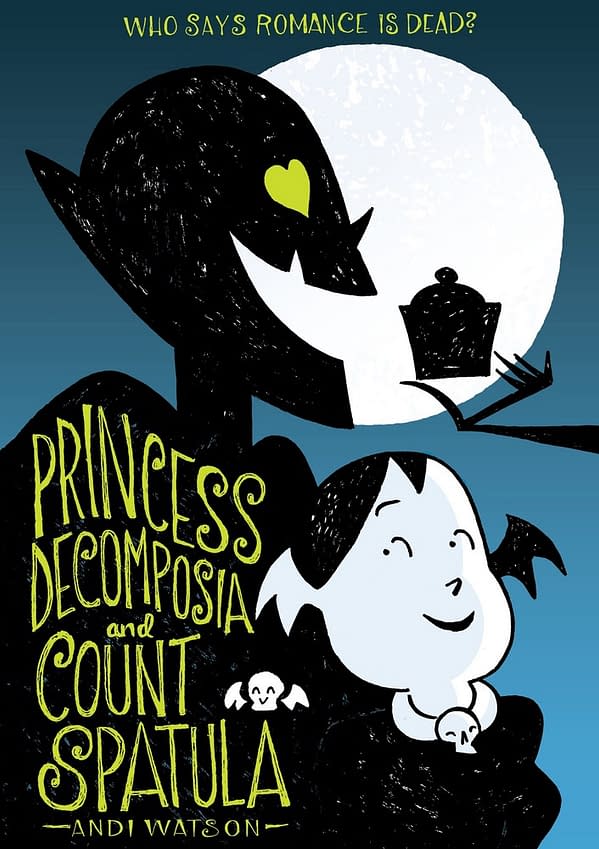 In the wise words of Mel Brooks, "It's good to be the king!" Especially when you can appoint your daughter to do your tiresome job of running the Underworld for you. That's unfortunately what Princess Decomposia has to deal with while her father King Wulfrun stays in bed "sick" while she scurries back-and-forth dealing with piles of paperwork, diplomatic dinners, and trying to hire a new chef for the kitchen.
Princess Decomposia and Count Spatula by Andi Watson is the latest all-ages graphic novel from First Second Books. Focusing on an overworked princess who is solely responsible of running the kingdom, it dabbles in everything from proper management training to undead love in the Underworld. Everything changes when Count Spatula, a vampire with no pointy fangs (he lost them to sugar and pastries), arrives to fill the position of head chef.
Count Spatula sees how much distress Princess Decomposia is in when he arrives, and woos her with his wonderful cooking. While diplomatic dinners with zombie generals and Yōkai are of the utmost importance, Count Spatula is able to turn extremely tense matters into joyful ones with his marvelous and inventive entrees. Imagine a Lemon Drizzle Cake that's of the spongiest of texture, raining down upon you before being consumed, or a Mud Monster Cake that puts up a fight as you try to guzzle it down. Count Spatula loves to be creative with his cooking, and his mere presence has a calming effect on Princess Decomposia.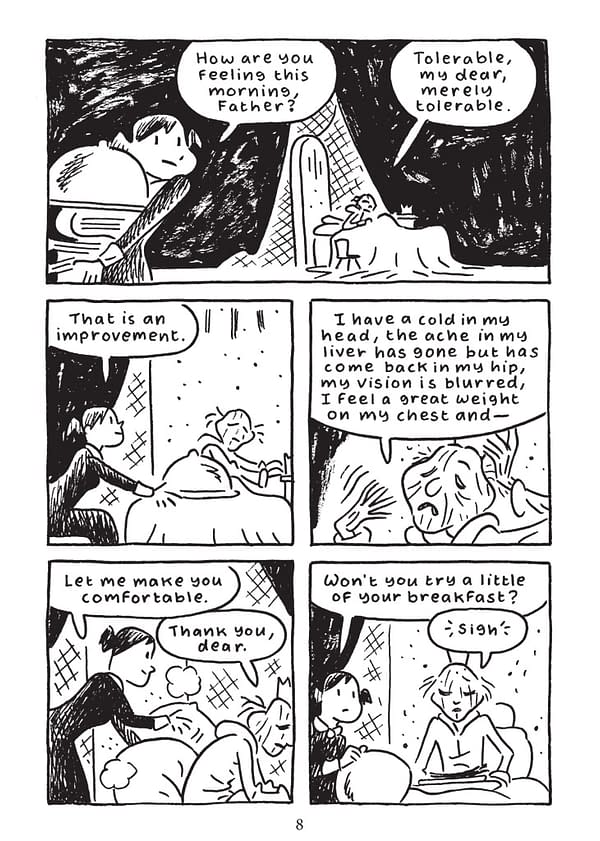 Watson's illustrations are raw and inviting, definitely making it an all-ages friendly style. The characters he creates are wonderfully charming, from the most mangled of zombies to the most dapper of werewolves. King Wulfrun's wrinkled, decayed appearance makes you loathe him even more as he lazily reads copies of Wellness Weekly as Princess Decomposia picks up the slack. It doesn't help that the King wants nothing fancy or creative from the kitchen, just his usual everyday meal: fried kipper and Qwik Soup.
One thing's for sure, and that is Count Spatula has helped Princess Decomposia simplify and change the way the kingdom is run. Because of it, King Wulfrun sees him as a usurper and a threat to his throne. It's up to Princess Decomposia to figure out how to keep her father happy while retaining Count Spatula's services—and friendship—in the kitchen.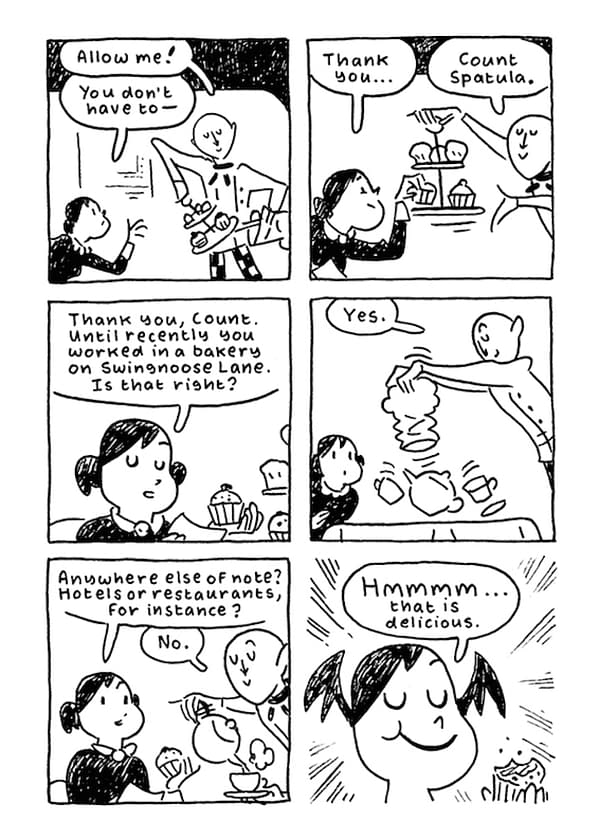 While this isn't Watson's first comic containing a princess, his webcomic Princess at Midnight recently came to a conclusion after 10 years, he'll definitely be continuing to capture the attention and imaginations of a new demographic of readers with Princess Decomposia and Count Spatula. Achieving success with his other comics Glister and Gum Girl, there's no doubt in my mind that Watson will continue to dazzle and entertain readers of all ages for a very long time.
Princess Decomposia and Count Spatula (First Second Books)
By Andi Watson
176 pages, B&W, $14.99
On sale February 24th, 2015
Cameron Hatheway is a reviewer and the host of Cammy's Comic Corner, an audio podcast. You can cook him an Oreo pudding cake with gummy worms on Twitter @CamComicCorner.
---
---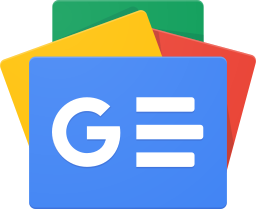 Stay up-to-date and support the site by following Bleeding Cool on Google News today!