Ah Deadpool fans incensed that this creator Rob Liefeld is drawing part of Deadpool #900. you know, Rob Liefeld. The guy who created the character.
—
Enjoy Neil Gaiman's telling a rather fun story about squeamishness, nicknames and a spot on impersonation of Alan Moore, 3:40 in…
—
Comic Vault of Chicago moves into swish new premises in Block 37…
—
Harlequin Manga goes digital with twenty titles being offered by eManga.com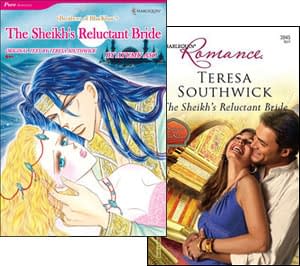 Dig how the Japanese and US markets differ with the cover choice… the American version seems embarrassed that it may have comics inside, the Japanese positively revels in it.
—
Heard a lovely story about comedy writer Nev Fountain. He's a bit of a Doctor Who geek, hence the constant references and impressions in the Dead Ringers TV and Radio series ("Mmm, New Labour, that's weird" – David Tennant/Tony Blair). Well, like all A-list geeks, his partner is an Doctor Who assistant, in this case Nicola Bryant (Peri – while Richard Dawkins has Lalla Ward (Romana))).
Anyway, at a recent wedding with a high-geek attendance (including new Doctor Who showrunner Steven Moffat), Nev Fountain gave the best man's speech, with a warning. He pointed out that the audience had better not find him too funny, especially not Moffat. As the last time a Doctor Who producer enjoyed a best man's speech too much, he cast the best man as The Doctor at the next opportunity.
And many fans have never forgiven John Nathan Turner for Colin Baker…
Enjoyed this article? Share it!