Why Did DC Have to Clear Putin's Appearance Anyway?
Yesterday, Bleeding Cool reported that Doomsday Clock #8 had been leaked online, after it was published in Russia on the Madefire App. And that this happened because Warner Bros was trying to clear the appearance of Vladimir Putin from the issue in question.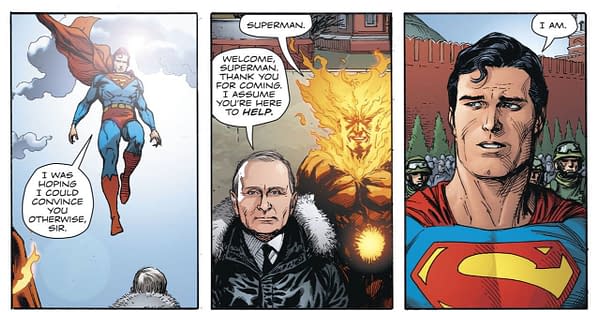 But why would they have to?
Well, Doomsday Clock #8 is published in Russia, on ComiXology, Amazon Kindle, the DC App, Madefire and more.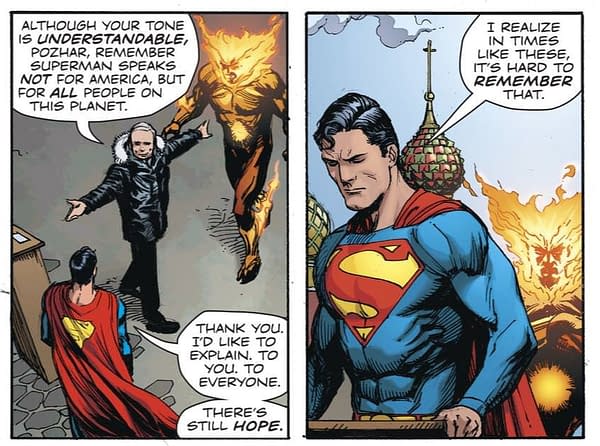 And Russian laws are.,..interesting in this regard. Recently they clarified a law regarding the repurposing of an indic=vidual's likeness for reasons other to do with their personality. A Putin 'gay clown' image was banned. A single mother was sentenced to community service for reposting a cartoon of Putin looking at a map with a knife in his hand. The satirical puppet TV show based on Spitting Image had a call from the Kremlin wjen Putin was elected, saying that they could no longer use the Putin puppet on the show. The show was later cancelled. And mocking images of Putin used in a film award show were pulled from the televisual presentation.
Political cartoonist Zlatkovsky who says he has been banned from drawing Putin says "There's no central censor these days. Instead, we have the censorship of the fire safety inspectorate; or the censorship of the tax police."
That satirising Putin and his ilk may lead to the newspaper offices being closed down of a fire safety regulation, or the printers saying that paper has increased in price ten times and more. So businesses tend not to do anything that may draw attention.
Which is why Warners may have wanted to get this issue cleared just in case by the relevant authorities… some of whom are fans of DC and wanted to share this with the word a little early.
The rest of us will have to wait till Wednesday.
DOOMSDAY CLOCK #8 (OF 12)
(W) Geoff Johns (A/CA) Gary Frank
The critical and commercial hit series by Geoff Johns and Gary Frank continues following the shocking revelations of last issue. As the truth behind Dr. Manhattan's actions against the DC Universe are revealed, Ozymandias turns to the only being who can stop him: Superman. In Shops: Dec 05, 2018
SRP: $4.99