Amazing Heroes Action Figure Kickstarter. Created by Bill Murphy. Kickstarter ends August 25th.
Bill Murphy writes: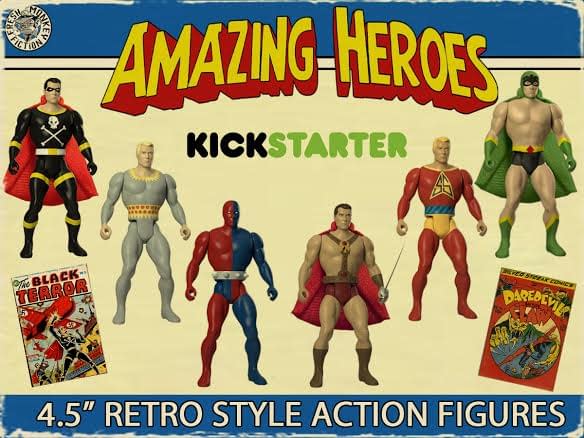 Launching a Kickstarter for action figures based on a bunch of Golden Age characters that most folks don't remember was gonna be tough. Does anyone even remember the Black Terror, The Golden Age Dare-Devil, Silver Streak or Stardust the Super-Wizard?
Welcome to my world…almost a year ago to the day.  That was when I began a journey to create my own action figure line around these crazy super heroes from yesteryear.
I got into all sorts of comics in the 80s, from Marvel to DC, but thanks to my cousin, who owned opened one of the very 1st comic shops in the mid-west, I discovered that there were these amazing golden age heroes I had never heard of before.  Sure I knew Batman and Superman had been around since my dad was a kid, but who the hell was the Fighting Yank and Pyroman. There was even a Daredevil that has no relation to the one I knew about in the Marvel universe, a least that I could tell.  My cousin opened my eyes to comics from the 40s that I never knew existed. For a 12 year old finding these comics it was like discovering the holly grail. I got to read about all these adventures of heroes that my friends had never heard of. These books were not worth much at the time, but they were rare so it was like I had a whole universe of characters all to myself. I began a quest to find as many of these comics as I could. My quest was short lived as it was really hard to find these books, especially when you're 12 years old, but on the rare occasion when I did it was something special. It became harder and harder to find these books, so I quickly gravitated back to worlds of DC and Marvel, but these old classic heroes always stuck with me.
In the mid 90s I got into toy collecting. Todd McFarlane changed the landscape of toy industry in the mid 90s and pretty soon you could get amazing toys of all your favorite comic book heroes. Spawn, Batman, Spider-man, Wildcats, Savage Dragon, the Tick…it was a great feeling to be able to hold your favorite comic book character in your hands and have it displayed on your shelf. Over the years I've gotten toys of all my favorite heroes, but there was still something missing.
The long lost impressionable heroes of my childhood had never been made into action figure form, so I thought why not try to do it myself. I had a lot of friends in the toy industry so I'd been thinking about making toys of these characters for a long while, but I couldn't figure out how a small company could make it work…then came Kickstarter. I thought why not combine those long lost heroes with the toys I was playing with when I originally fell in love with these characters in the 1st place…and soon Amazing Heroes was born.
The Kickstarter journey has been amazing so far. It turns out there are a lot of folks who love these characters as much as I do and they are pretty excited to get them as action figures.
But there have been some downsides: starting right before the San Diego Con put us in a bubble that whole week last month, as Amazing Heroes got backburnered for the SDCC scoops and stories. We've gotten quite a bit of coverage from the toy press, but less from the comics one. One of the things I've really learned, so far, is that a combination of social media and blog/site coverage is what will make or break this campaign: our pledges always kick up after we get a wink and nod on Twitter, Facebook, or on a site.
We also, through agreement with First Second Books, have announced a Green Turtle action figure—the star of Gene Luen Yuan and Sonny Liew's graphic novel The Shadow Hero. That's helped bring even more attention.
We're almost halfway there with two weeks to go. I haven't given up on getting my childhood heroes in plastic for all of us to enjoy. And if you're new to this, I hope you feel the same way.
Check us out at: www.freshmonkeyfiction.com
Find us on Facebook: www.facebook.com/FreshMonkeyFiction
Enjoyed this article? Share it!