The Return Of Darkhawk? Marvel to Publish New Series for Infinity Countdown
In yesterday's Infinity Countdown: Adam Warlock, Marvel published a checklist for the Countdown (though not yet what it is counting down towards), as well as all the comic books that are spinning off from it.
That includes one-shots, Infinity Countdown: Captain Marvel, Infinity Countdown: Daredevil and Infinity Countdown: Black Widow.
But also four issues of a twice-monthly mini-series Infinity Countdown: Darkhawk.
And two issues of what appears to be a monthly mini-series Infinity Countdown: Champions.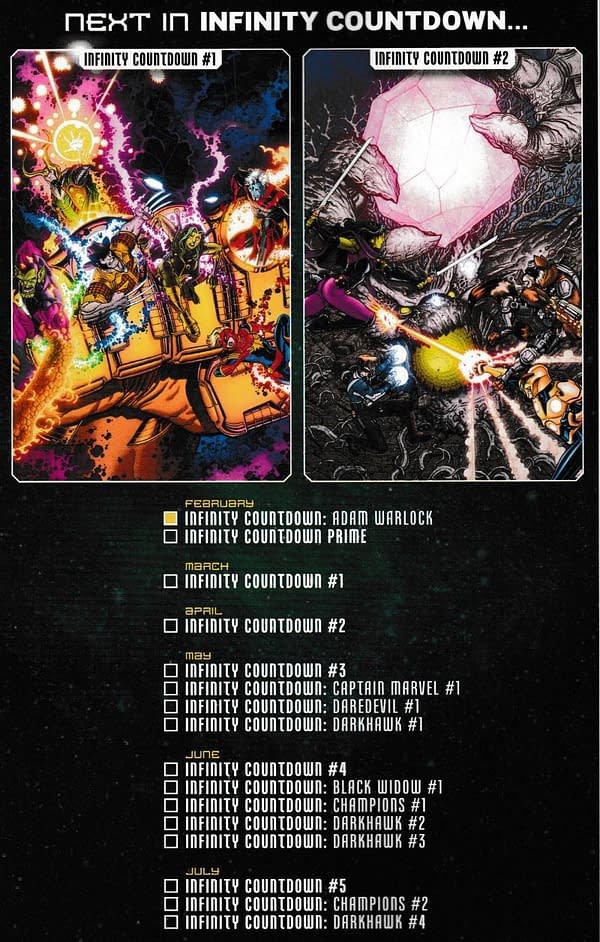 Darkhawk is one of those epitomes of Marvel nineties comics, like the Midnight Sons, and appeared in a monthly series for 50 issues that ran from March 1991 to March 1995, created by Tom DeFalco and Manley, and written by Danny Fingeroth.
After his own series ended, Darkhawk co-starred or cameoed in other titles, such as New Warriors, Avengers/JLA, and Iron Man, eventually resurfacing in Runaways Vol 2 #1–6, followed by Marvel Team-Up Vol 3 #15 and the short-lived Loners series.
Darkhawk appeared within the Secret Invasion tie-in issues of Nova #17–18 and was the focus of the two-issue mini-series War of Kings: Darkhawk, written by a certain C. B. Cebulski, Dan Abnett and Andy Lanning. Cebulski is now, of course, Editor-In-Chief of Marvel Comics and also wrote Loners.
Darkhawk also appeared in Avengers Arena, a 2012 – 2013 series by Dennis Hopeless and Kev Walker, but not much since. But as part of the Marvel Legacy one-shots, we got a new Darkhawk #51 one-off.
Could this mini-series be the start of something new for the character?