Gregg Katzman, Marketing co-ordinator of Valiant Entertainment gets in touch, telling us that someone is 'Stepping Out of the Shadows in 2020…'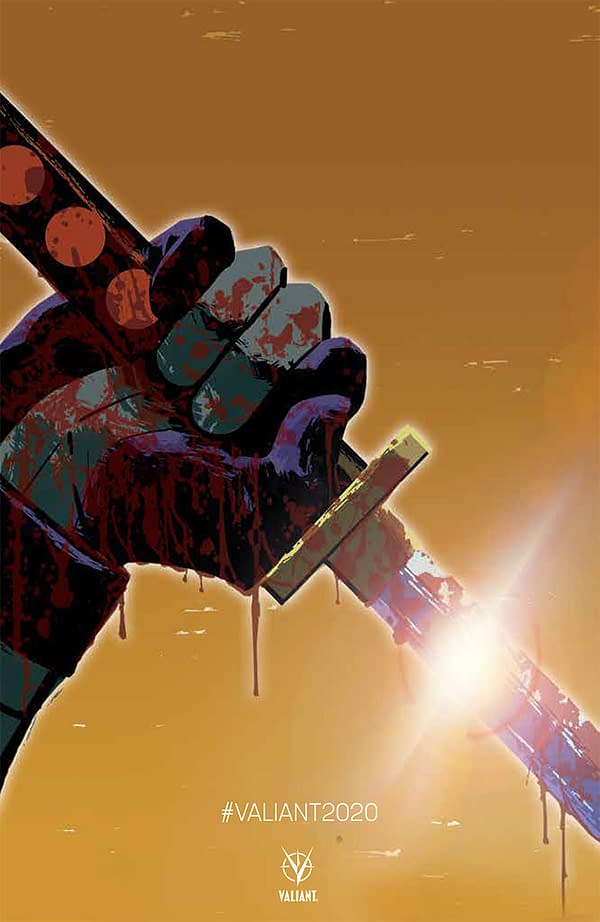 Well, yes, that would be Ninjak, wouldn't it?
Ninjak was created by Bob Layton, Mark Moretti and Joe Quesada in Bloodshot #6, back in 1993 as British aristocrat Colin King and in his ninja spy Ninjak identity in Bloodshot #7 as Ninjak before getting his own million-issue first issue launch in 1994.
A subsequent series in 1996 written by Kurt Busiek saw him recreated as  Denny Meechum, a teenager endowed with ancient ninja powers from a video game. The 2012 relaunch saw Ninjak appear in X-O Manowar getting his own series in 2015, written by Matt Kindt.
2017 saw another series looking at the character's legacy history by Christos Gage and Tomas Giorello dubbed Ninja-K, which concluded at the end of 2018.
And for 2020? Who knows… But that is the glove and sword of Ninjak. And maybe a certain Bloodshot movie is govimg all sorts of Valiant characters a boost – Ninjak did first appear in the Bloodshot comic after all, even if they did have to drop that webseries Ninjak Vs The Valiant Universe…
Enjoyed this article? Share it!