That Tony Stark was based on Howard Hughes is not a new revelation. Tony's father was named Howard Stark as well. A billionaire industrialist, the movies also had Tony Stark called before a Senate Committee as Howard Hughes was.
But how far did this go? How did Howard Hughes' missing months and involvement with the CIA affect Iron Man? And what was the purpose of all this?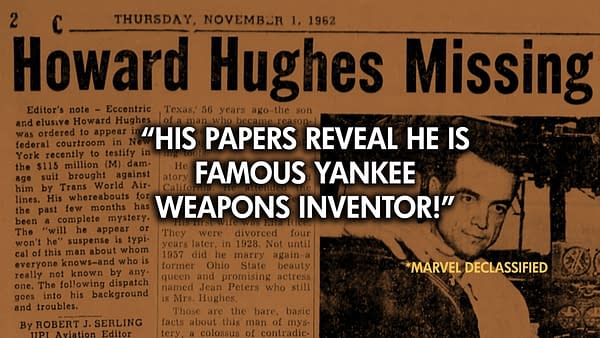 Welcome to #MarvelDeclassified, a new historical series running on Bleeding Cool starting on Monday morning, the day after San Diego Comic-Con. Your favourite Marvel Comics characters, as you've never seen them before, ripped screaming from the headlines of the day. And the inspiration behind them that you never thought existed – and in some cases has been explicitly denied. Historian, paper expert and Bleeding Cool General Manager Mark Seifert has combined his loves and discovered, as usual, that history is bunk. There's a lot more to know, a record to correct and a belief about just how much the early Marvel Comics owes to the politics of the day to be brought to light. And what the whole point of it was too…
#MarvelDeclassified begins on Monday morning. Why not join us? Oh and regarding yesterday's teaser, Mark Seifert writes,
Cybernetics teaser supplement: This is one of the most fascinating parts of #marveldeclassified. Well, one of many fascinating parts of it. On October 15 1962, the head of a CIA task force on the development of Soviet Cybernetics was giving a presentation on the matter to Attorney General Robert F. Kennedy, Secretary of Defense Robert S. McNamara, and others. The CIA was trying to sound the alarm about what they saw as "Soviet commitment to a fundamental cybernetic strategy".

The presentation was ended when the assembled group received word that the placement of Soviet missiles had been detected in Cuba.

After the crisis, matters progressed, both in the halls of government, and in some pretty obvious ways elsewhere.
Enjoyed this article? Share it!