How Scott Snyder Has Been Preparing For Batman: Last Knight On Earth… For Some Time (Spoilers)
I don't just spend my days comparing DC Comics to episodes of Doctor Who. Because with Batman: The Last Knight On Earth out this Wednesday, Scott Snyder started a very long time ago… Now, Scott Snyder first wrote Batman on the Detective Comics title. It went well. With the New 52, he took the main Batman title with Greg Capullo for over four years.
With a number of spinoff titles along the way. Such as in Batman: Future's End #1 by Scott Snyder and Aco, Bruce Wayne found some technology created by Lex Luthor. All about cloning Superman. So he did what any good Batman would do. It worked. And he stole it. That was one possible future.
Days of future past…
Previously in Detective Comics #27 in 2013, Scott Snyder and Sean Murphy showed us a future where that technology might have been used.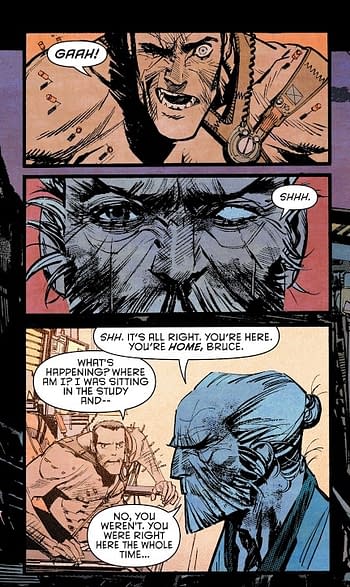 Not to create Supermen but to create new Batmen. This story came about concurrently with Batman: Zero Year, his version of the origin of Batman, created after Grant Morrison advised him to give his Batman a birth and a death.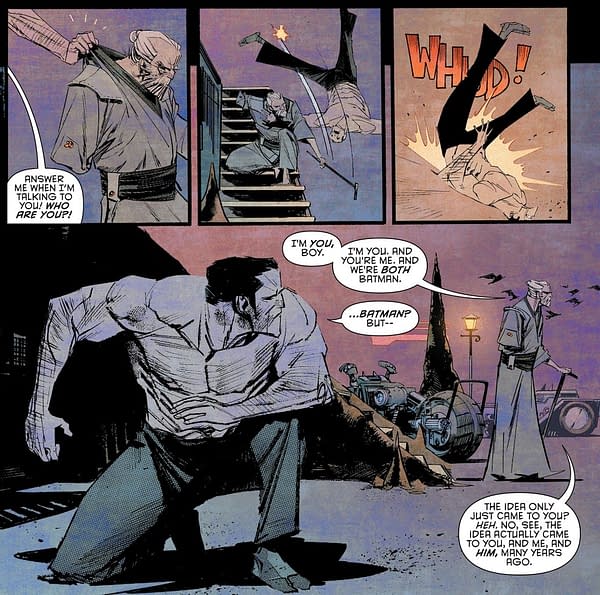 As an ageing Batman uses Lex Luthor's technology to clone himself, each clone having a lifespan of twenty-seven years, to fight in his place as the Batman that Gotham needs when Gotham needs it.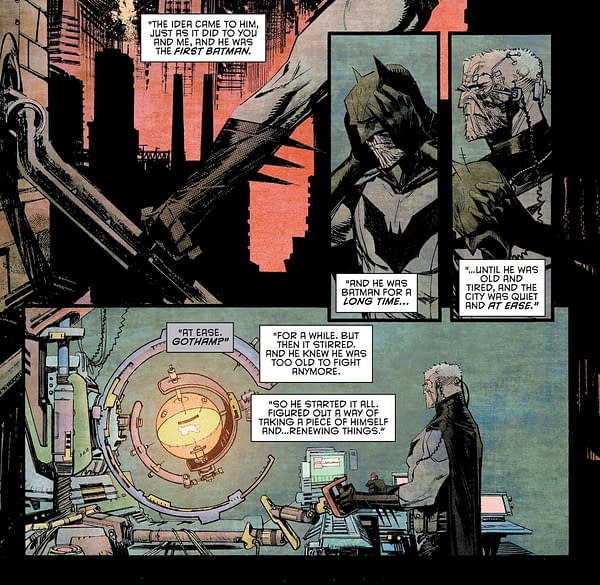 And this has been going on for a very long time.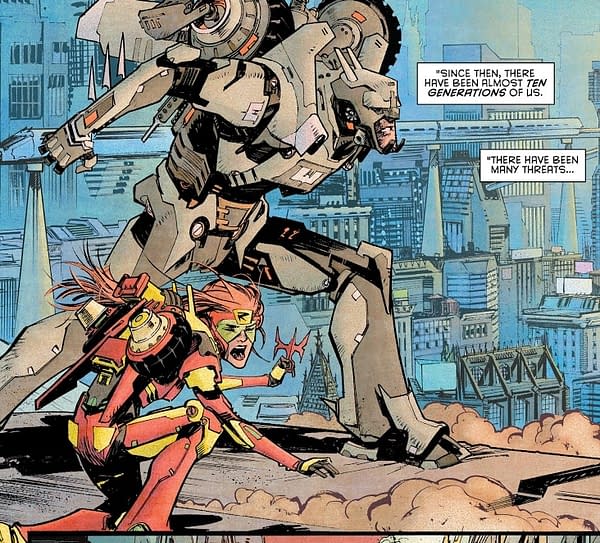 Not that the new Batmen have any clue about it.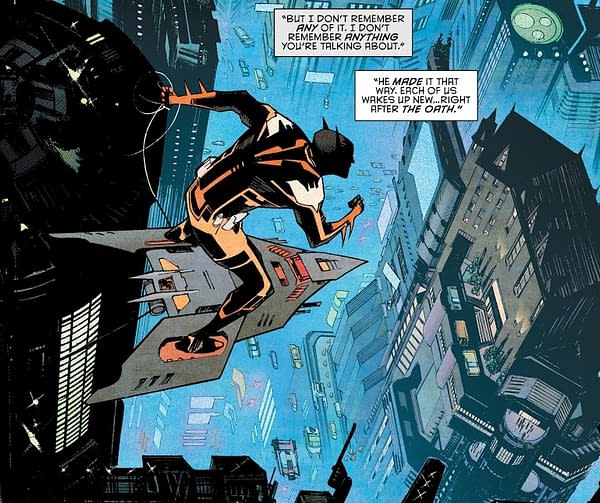 While a supercomputer called Alfred keeps everything ticking along.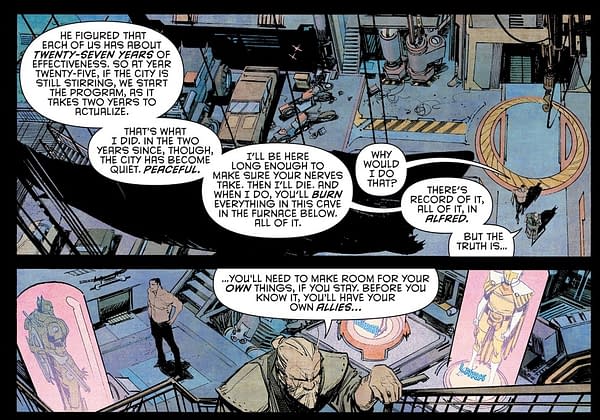 Superheavy on the continuity…
And then in Scott Snyder and Greg Capullo's run on Batman: Superheavy (with help from Yanick Paquette) that would conclude their run, we met a Bruce Wayne begun anew.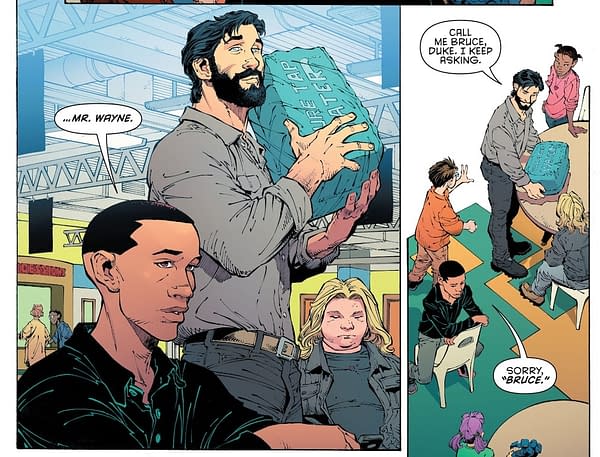 Completely reborn, and not Batman. Never Batman. Not even for Superman.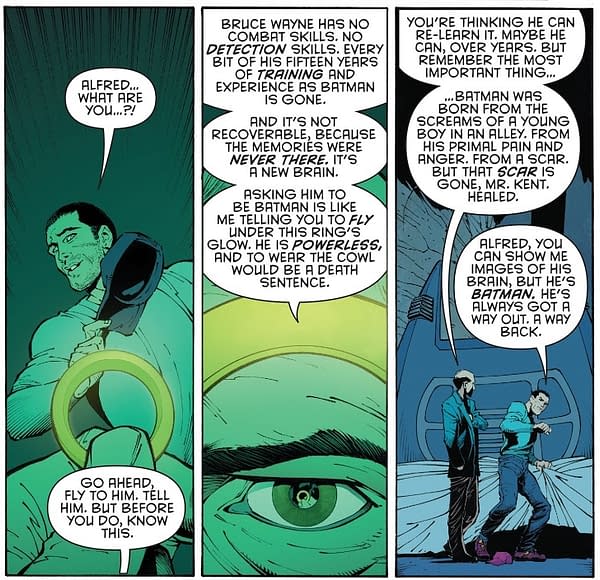 But what he left behind could find a way to bring him back.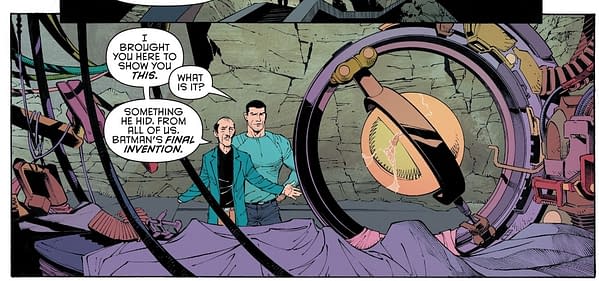 With Alfred horrified by the future, it could have given birth to.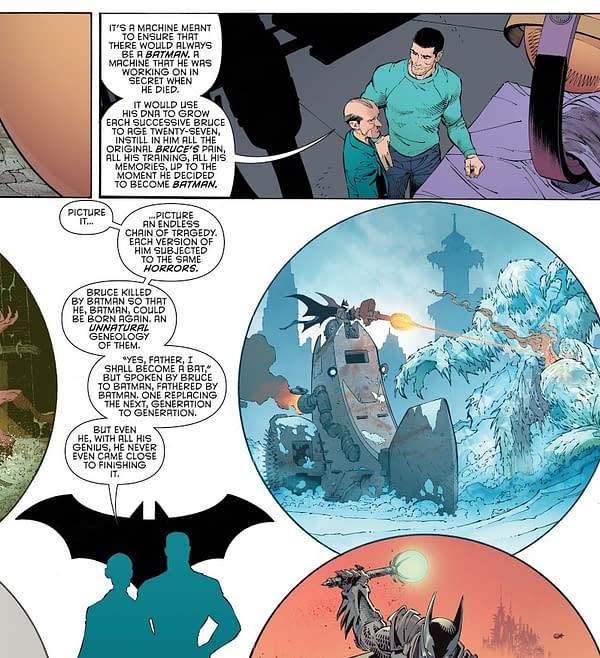 So Alfred did what he had to do. And when Bruce Wayne came calling…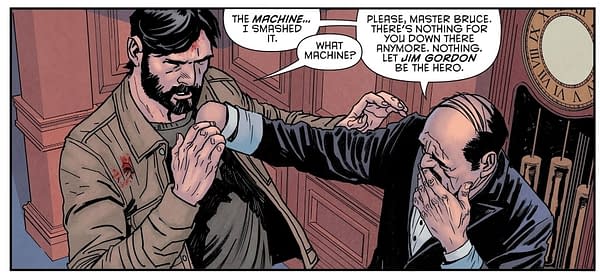 It had been destroyed. But Bruce Wayne knew there was a way back. And this would provide it.


And it even led to the Alfred programme coming online – and preparing that future too. They turned the machine on…
And it worked.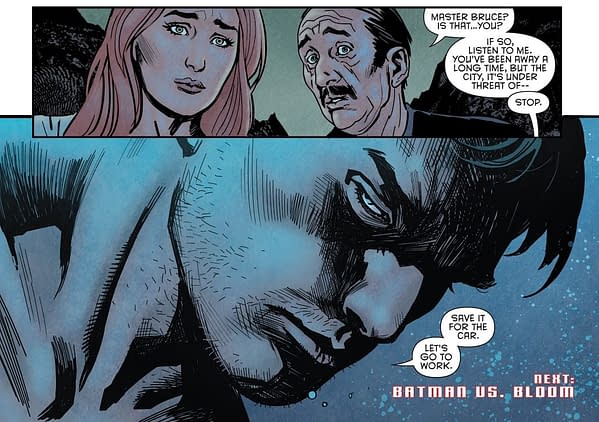 With Bruce Wayne sacrificing everything he had built up to be what he once was and what he believed Gotham needed. one more time. And setting up the future we had seen in Detective Comics #27…
Of course, this is what we do every day. We choose the person we want to be, every day we wake up. Circumstances shape us, sure, but the biggest drive is always ourselves. Every night we go to sleep, the person we were dies, and we get to make ourselves all over again every day. That's not an uncommon philosophical observation, there's plenty of good reading on this may I recommend Altruism and Reality: Studies in the Philosophy of the Bodhicaryavatara by Paul Williams? Or, you know, Batman #49 by Scott Snyder and Yanick Paquette? If all we are is our conscious thoughts, our sentient mind, then every night, that person dies. Is this life, or is it Memorex?
Batman born anew…
Wednesday sees the launch of Scott Snyder and Greg Capullo's Batman: The Last Knight On Earth. Scott Snyder has talked about how, just as Zero Year was his birth of Batman story, then Last Knight is the death of his Batman, his final story with Capullo on the character. Maybe.
But with a future of Batmen – Batmen – set to roll out for centuries to come, can that really end? Or can it be changed? Set up in Detective Comics #27, followed through in Superheavy and now… concluded in Last Knight?
Bruce Wayne wakes up in Arkham Asylum. Young. Sane.

And…he was never Batman.
Who do you think this Bruce Wayne really is?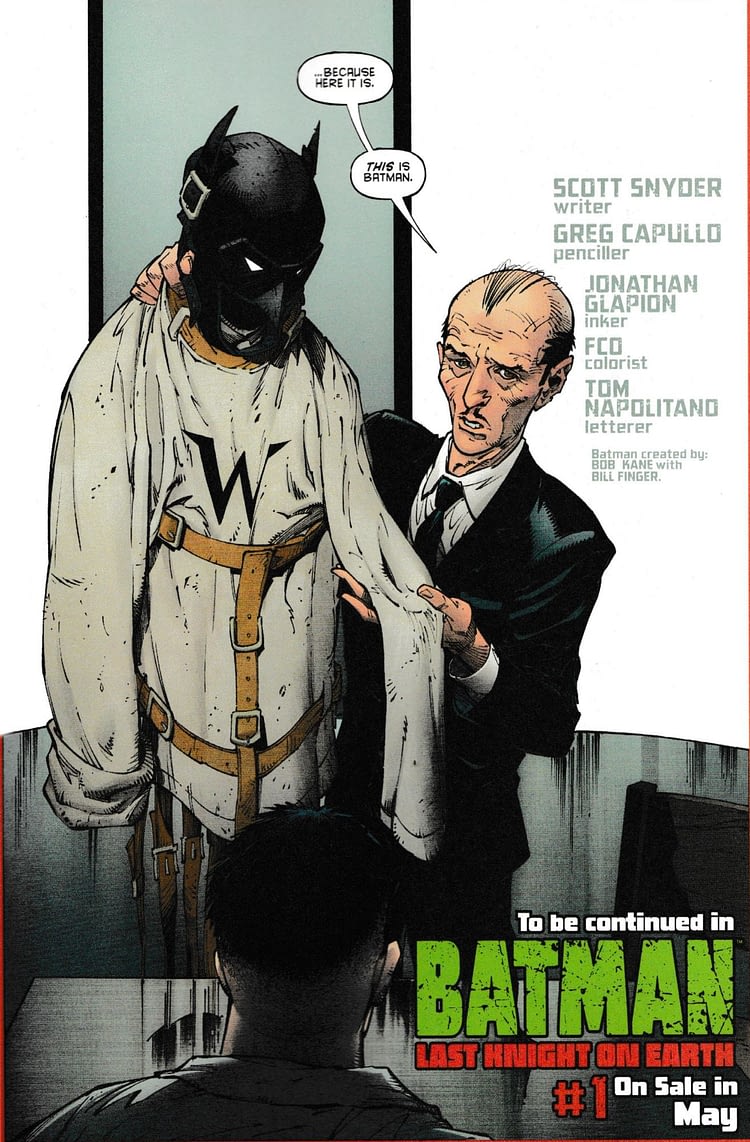 BATMAN LAST KNIGHT ON EARTH #1 (OF 3) (MR)
(W) Scott Snyder (A) Jonathan Glapion (A/CA) Greg Capullo
Bruce Wayne wakes up in Arkham Asylum. Young. Sane.
And…he was never Batman.
So begins this sprawling tale of the Dark Knight as he embarks on a quest through a devastated DC landscape featuring a massive cast of familiar faces from the DC Universe. As he tries to piece together the mystery of his past, he must unravel the cause of this terrible future and track down the unspeakable force that destroyed the world as he knew it…
From the powerhouse creative team of writer Scott Snyder and artist Greg Capullo, the team that reinvented Batman from the emotional depths of "Court of Owls" to the bombastic power of DARK NIGHTS: METAL, DC Black Label is proud to present the bimonthly, three-issue miniseries BATMAN: LAST KNIGHT ON EARTH, published at DC's standard comic trim size. This could be the last Batman story ever told… Prestige Format In Shops: May 29, 2019 SRP: $5.99