In a world where the dragons have taken over, the Zinnober survive. Check out the series from Scout Comics. Stabbity Bunny, Welcome to Paradise, and Shiver Bureau continue their runs. Check out the details from the June solicits below.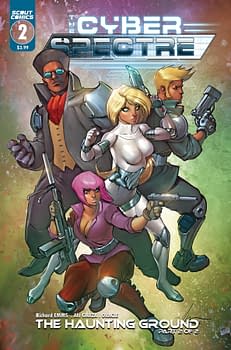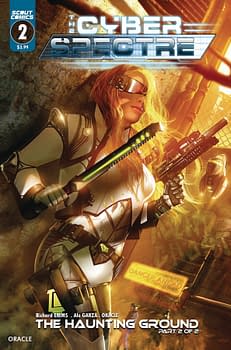 CYBER SPECTRE #2 CVR A GARZA
APR181731
Delving deeper into the underworld of New Camden, Kiri discovers that her confidant, a man calling himself Zero-One, has more than his fair share of inner demons and introduces her to Operation Daawn, a team of battled scarred degenerates, who live for danger after being "exposed" by the Corporation.
In Shops: Jun 27, 2018
SRP: $3.99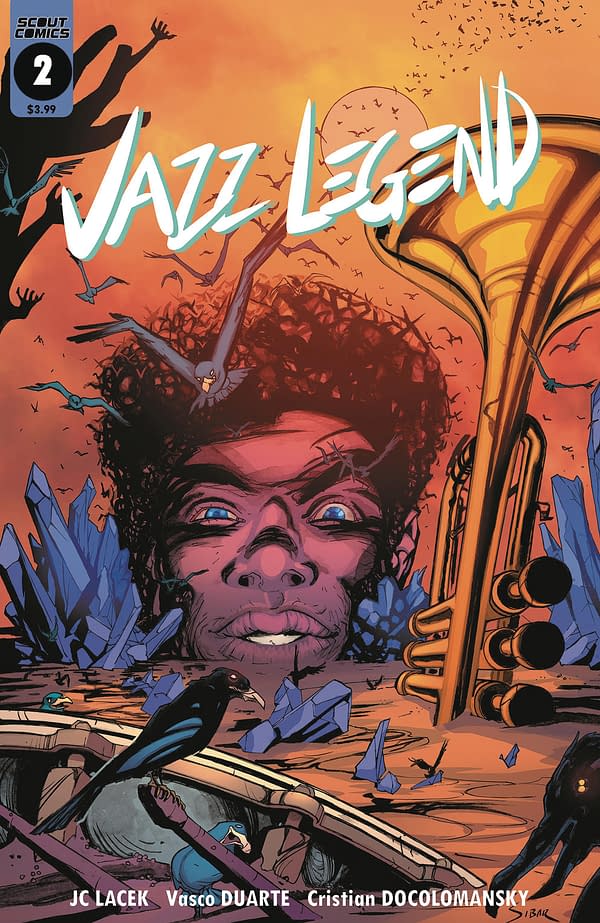 JAZZ LEGEND #2
APR181734
(W) Jc Lacek (A) Vasco Duarte
Local jazz legend, Martin Comity, has seen better days. After experimenting with a new street drug, his already debaucherous lifestyle descends into paranoia as he suspects the drug's visions to be real. To learn the truth, Martin recruits Benjamin Way, a peculiar novelist with experience in matters of "altered states", to try the mysterious drug for himself. Ben's jovial reluctance turns to earth-shattering revelation as the drug reveals a surreal world no amount of experience could have ever prepared him for. Jazz Legend is a neo-noir meets cosmic fantasy inspired by the lives and works of jazz great Miles Davis, and the father of beat literature, Mr. William S. Burroughs.
In Shops: Jun 27, 2018
SRP: $3.99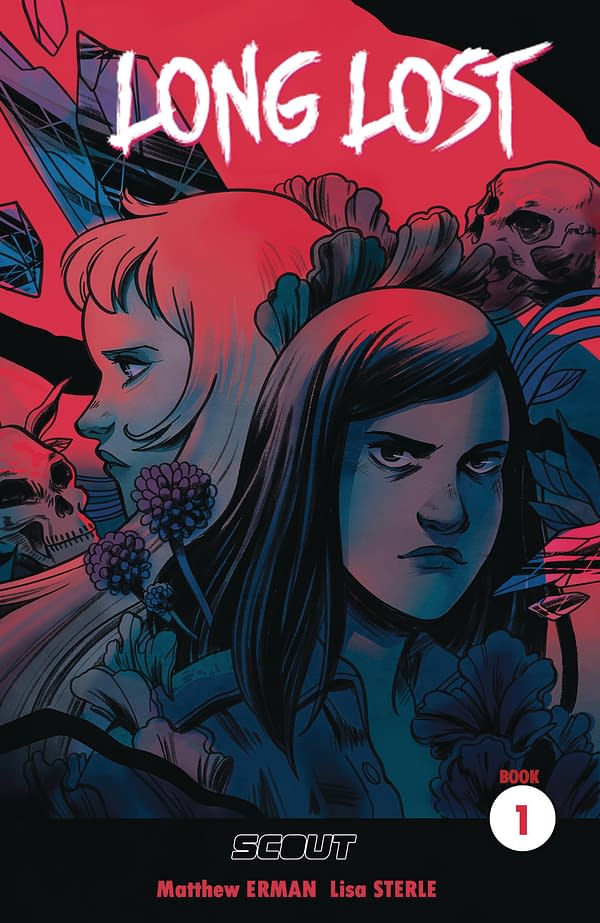 LONG LOST BOOK ONE TP
APR181735
(W) Matthew Erman (A) Lisa Sterle
The first trade collecting Book One of the critically acclaimed debut from Matthew Erman and Lisa Sterle, Long Lost is the story of two estranged sisters who find themselves drawn back to their small southern hometown after an invitation from an otherworldly creature. The pair are compelled to unlock the disturbing mysteries that are hidden in Hazel Patch in the hopes of uncovering the bizarre circumstances surrounding their mother… but they must deal with each other first. A perfect jumping on point for this compelling, harrowing journey through family relationships, trauma, and secrets out of the past. Collecting issues #1-6 and the online-only prologue comics.
In Shops: Jun 27, 2018
SRP: $19.99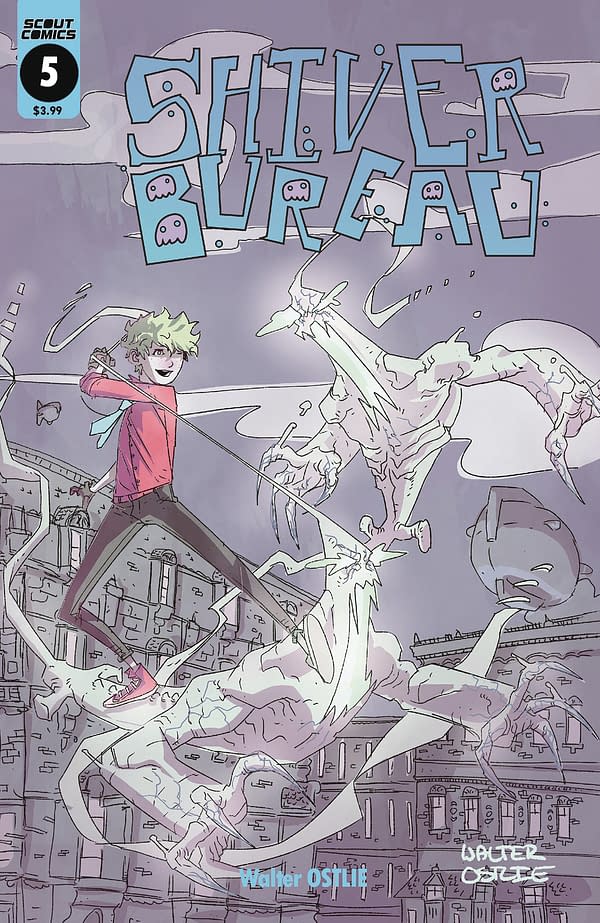 SHIVER BUREAU #5
APR181736
(W) Walt Ostlie (A) Walt Ostlie
Sherlock Holmes meets Ghostbusters in Shiver Bureau. What do Pickle and Trish do after narrowly surviving a swarm of shivers and a supernatural explosion? First they explain themselves to the minister, but then they load up on some heavy firepower and storm the castle! Part 5 of the interlocking front covers of Shiver Bureau which when connected will showcase one large panoramic scene.
In Shops: Jun 27, 2018
SRP: $3.99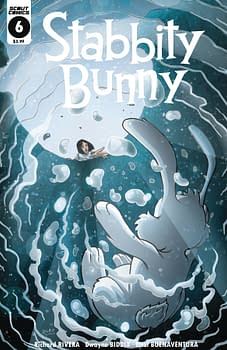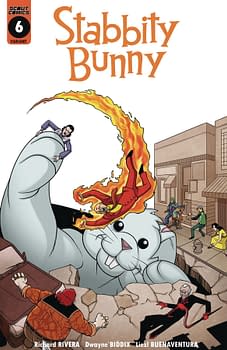 STABBITY BUNNY #6
APR181737
(W) Richard Rivera (A) Dwayne Biddix
Scout's break-out hit for 2018! The shocking ending to issue five leads directly into a giant-sized battle issue six! Amanda fights to save her daughter and close friends from an unstoppable foe. Her arsenal, glimpsed in issue one, is unleashed. Lena pits her skills against powerful dark magics. The citizens of Holiday fall into a coma and the longer the fight rages, the closer many come to death. Glyph intervenes to protect the Lee family?! Where is Stabbity? The final scene of this epic battle changes everything and the reveal is one that has to be seen to be believed.
In Shops: Jun 27, 2018
SRP: $3.99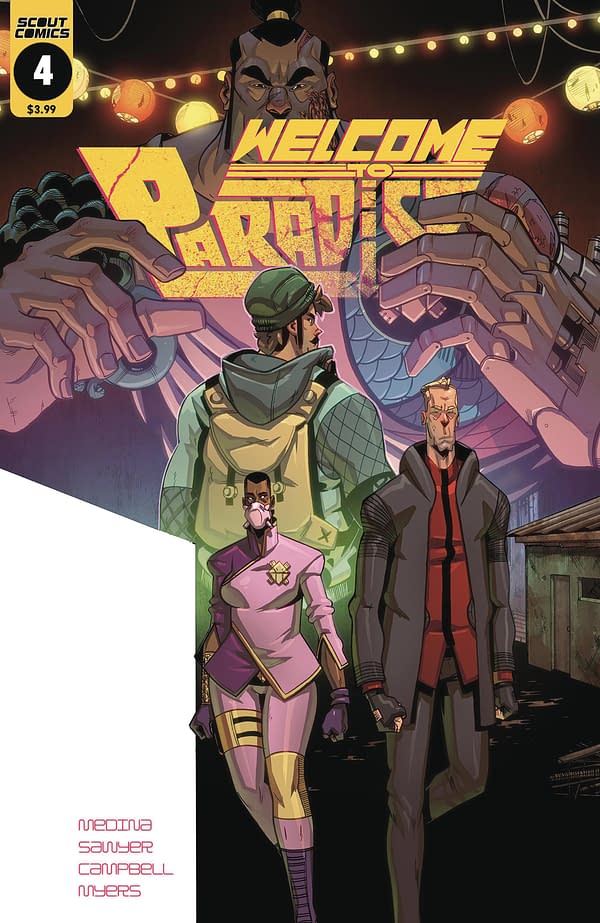 WELCOME TO PARADISE #4
APR181739
(W) A.C. Medina (A) Morgan Kendrick Sawyer
Time is running out as the threat of Oni and his men is too strong. With Ben and Gunnar now working together, Manny is left with do or die circumstances. The race is nearing itse end, and the fate of the Bunk rests in the hands of Manny. Welcome to Paradise is The Good, The Bad, and The Ugly set in an underground bunker the size of California, 300 years after the Apocalypse.
In Shops: Jun 27, 2018
SRP: $3.99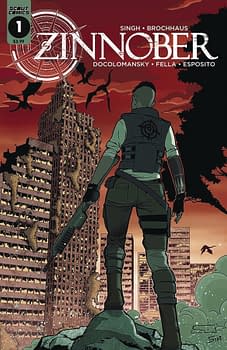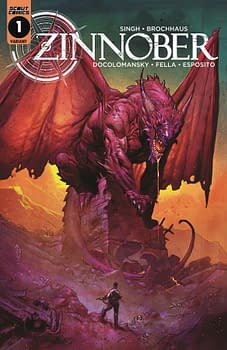 ZINNOBER #1
APR181740
Twenty years ago dragons returned to Earth and laid waste to human civilization. In the event the surviving humans named "Zinnober," Claire, then a young girl, lost her parents to the devastating force of these primeval creatures. Today, she's hell-bent on avenging the death of her family. But will the skills she was taught by her foster-father, the troubled ex-Marine James, be enough to fight an unstoppable enemy older than the Earth itself? Will the knowledge of her newest ally, the young scientist Andrew, bring her even closer to her goal? And what role will the mysterious Followers, a cult of mad dragon worshippers, play in all of this?
In Shops: Jun 27, 2018
SRP: $3.99
Enjoyed this article? Share it!