SecondSight Launch Lady Freedom, Cult Of Dracula, Book Of Lyaxia
SecondSight Publishing has a new line-up of comic book titles for the summer and autumn of 2020. We've looked at SecondSight previously for their decision to use Corner-Box as a distributor rather than Diamond, for single issues at least, and their recruitment for new creators and titles. Here is what they have lined up, three new titles launching.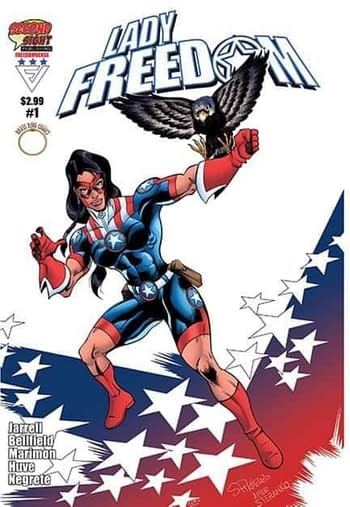 LADY FREEDOM # 1 STERANKO HOMAGE
Creator/Pencils :Larry Spike Jarrell
Writer – Art Bellfield
Inks – Bill Raytrix Marimon
Colors – Matheus Huve
In Stores: 7/29/2020
ORDER SKU: SSPLF00107292020
The Freedomverse is comprised of stories Spike wanted to tell using familiar but different heroes. They are Spikes own versions of some classes main stream heroes but, with his own flair. For instance, Lady Freedom is his take on Captain America.
Freedomverse is a re-imagined batch of public domain heroes such as Death Rider, Miss Masque, Spy Smasher, Ben Dunn's Tomorrow Girl, the characters of Lady Freedom—Camille, Scarlett, Villainess Black Valkyrie and the big bad known only as Eschelon.
CULT OF DRACULA #1
Writer/Creator: Rich Davis
Art: Henry Martinez (Ghost Rider/Spirits of Vengeance/Blaze).
Colors:Trevor Richardson (Fangoria)
Letters: Ed Dukeshire handles
Covers:Carla Cohen (The Boys: Dear Becky), Gyula Nemeth (Criminal Macabre) Sanford Greene (Bitter Root) and Georges Jeanty (Buffy/Firefly/X-Men)
"It's witchy. It's wyrd. It's Helter Skelter within a hippie cult dedicated to an ancient blood goddess. You may know Bram Stoker's genre defining classic by heart, but you have no idea where Cult of Dracula is going!
This unique re-imagining of Bram Stoker's classic tale of terror is adapted from the award winning stage play by creator Rich Davis. Second Sight Publishing publisher Bradley Golden says that, "Cult of Dracula is the perfect vehicle to launch our Second Sight Publishing Llc Presents line of horror comics."
Also available will be a limited 1:5 George Jeanty Cover and a Chris Callahan 1: 50 variant with 5 signed and numbered copies!
In Stores: 7/29/2020
ORDER SKU: SSPCOD00107292020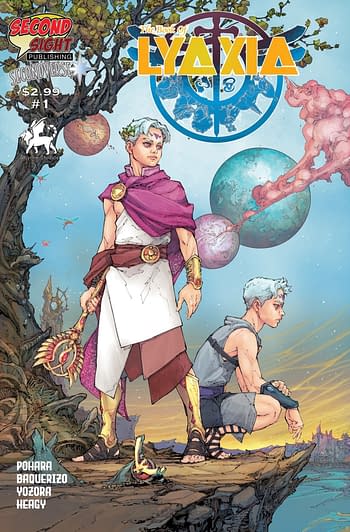 BOOK OF LYAXIA #1
Writer/ creator Aron Pohara (Mangazine, Antarctic Press)
Sean Forney: ( Image, IDW,Zenescope)
Team Diaverik: Tsubasa Yozora and Andres Baquerizo (Hell House, Oddyseey: God of War
Jesse Heagy: Justice Society of America, Nightwing.
Book of Lyaxia #1, 1:15 virgin variant
In Stores: 8/5/2020
ORDER SKU: SSPBOL00108052020
THREE KINGDOMS. TWO BROTHERS. ONE DESTINY
There is an eternal war between gods. Two brothers of royal blood want to break the cycle. But what is the cost?
Book of Lyaxia is a story of Gods. It's also a story about family, betrayal, love, destiny and above all choices that are presented to us. It follows two brothers that are trying to end the eternal war that was going on between the warring families for eons.
Nexus however is not a place that forgives quickly and is not a place where the change can come easily.
What choice is there left to make if there are no right ones presented?
This is a story of Chronos and Deimos. This is Mythology, Re-imagined!
Come and see some of your favourites deities from different mythologies put in a way you never saw them before!
Prepare to go on a crazy journey that doesn't have heroes and villains, a journey where you will decide for yourself what is the right and what is wrong!
Fantasy! Mythology! Mystery! Action! All are present in this story so if you like any of these genres you will enjoy this series!
Welcome to the Nexus!