They may have been given away for free. But that doesn't mean they will always be that way. Here's a look at the prices that Free Comic Book Day titles from this past Saturday are already fetching on eBay – with links for proof.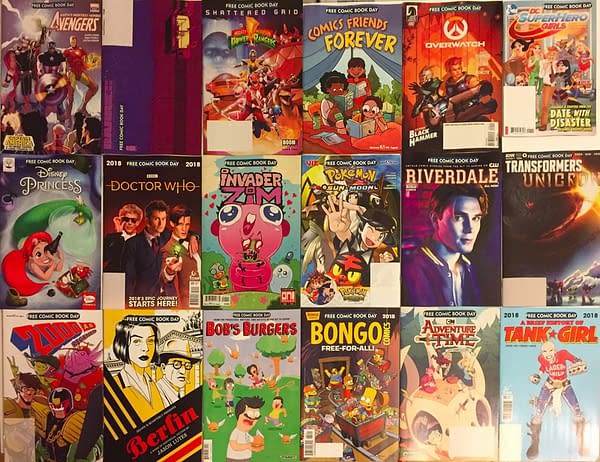 $10
The Nightmare Before Christmas Manga comic from TokyoPop has sold multiple copies, no joke, for $10 on eBay.
$8
Mighty Morphin Power Rangers: Shattered Grid from Boom.
$7
My Hero Academia from Viz, Doctor Who, featuring the first comics appearance of the Thirteenth Doctor from Titan Comics.
$6.50
Bongo Comics Free For All, Bob's Burgers, the Gladiator Hulk HeroClix figure.
$6
Star Wars Adventures from IDW, Spongebob Freestyle Funnies from United Plankton, The Legend Of Korra from Dark Horse, Invader Zim from Oni, Avengers/Captain America from Marvel, Crush from Yen Press, Ultra Street Fighter II from Udon Entertainment, World's Greatest Cartoonists from Fantagraphics, Barrier #1 from Image,
$5.75
The Tick from New England Press, Relay #0 by AfterShock Comics,
$5,
Amazing Spider-Man/Infinity from Marvel, Overwatch from Dark Horse, Disney Princesses from Joe Books,
$4
Lady Mechanika by Benitez Productions, Transformers Unicron #0 from IDW, Berlin from Drawn & Quarterly, Street Angel's Dog from Image, Worlds Of Aspen, History Of Tank Girl from Titan Comics, 2000AD Regen from Rebellion, The Mall from Scout Comics, Shadow Roads, Fionna Cake Special from Boom, Riverdale from Archie, Ghost In The Shell, Pokemon: Sun & Moon & Horizon from Viz, Shadowman from Valiant, Defend Comics from CBLDF, Silver, DC SuperHero Girls from DC, Strangers In Paradise XXV from Abstract,
$3
Comic Friends Forever from First:Second, Malika: Creed & Fury from YouNeeka, Overstreet,
$2
Invasion from Chapterhouse, Sparx from Grafix, Die Kitty Die from Chapterhouse, Starburns Presents from SBI, Howard Lovecraft's Big Book Of Summer Fun from Arcana, WormWorld Saga from Lion Forge, James Bond VARGR from Dynamite, Miraculous from Action Lab,
$1.50
Maxwell's Demons from Vault, Metabaron Book 3 for Humanoids, Only Living Boy from Papercutz.
Tot it all up, that's $234 and a little change…
Enjoyed this article? Share it!