September 7th 2019 Will Be… The Day Of The Dredd #DayOfDredd
Back in May, we reported on Rebellion's announcement at the Diamond Retail Summit of a 'Dredd Month' push with retailers. Well, the July Diamond Preview catalogue is out and, as anticipated, there's a heavy backlist sale for US retailers.
But we've now got more details about Rebellion's push, which is meant to culminate in the release of Rob Williams and Henry Flint's Judge Dredd: The Small House collection.
September 7th will be, apparently, The Day Of The Dredd, with fans "encouraged to participate by sharing their own personal memories of first encountering Dredd himself, or their favourite characters from his vast universe of stories using the hashtag #DAYOFDREDD". Meanwhile, comic book shops and libraries who send in evidence of their Dredd-themed displays will receive "care-packages" and the best will be awarded a 'Golden Eagle' certificate along with a load of trade paperbacks, toys and merch.
So far, so standard marketing. Aside from the popularity of the early Eagle reprints in the 1980s, Dredd has always been a bit of a hard sell in America where the cynical might suggest he can either come across as another Punisher or a rather disconcertingly accurate reflection of some American policing styles. But considering how many of the big names in comics – Jock, Grant Morrison, Brian Bolland, Mark Millar, Garth Ennis, Sean Phillips, Simon Bisley to name but a few – it can't hurt to have more American consumers aware of the back catalogue and it's good to see Rebellion making a concerted push on the direct market.
Some fans have pointed out that this all coincides with the anniversary of the release of the Dredd movie with Karl Urban back in 2012, but we understand this is purely about the comics and not the planned Judge Dredd: Mega-City One TV show that's been in development since 2017.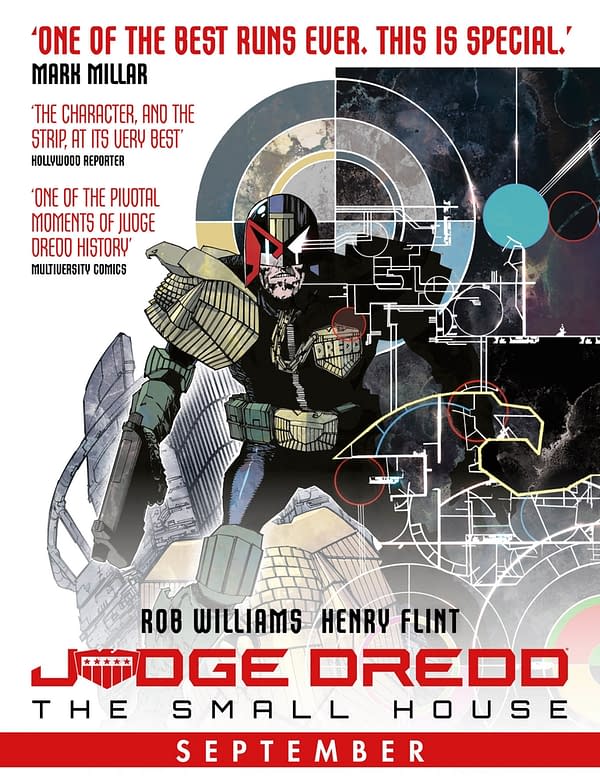 ---