Marvel has really gone all in lately on their facsimile editions, perfect reprints of classic comics, exactly the same as they first appeared in every way except for the price, which has been changed to reflect modern price-gouging techniques. Why, you might ask, would Marvel bother to reprint these comics when they can be accessed cheaper digitally, including on Marvel Unlimited, or sought out in actual back issues or trade paperback collections?
The answer is simple: for the ads. At least, that's why we like them. Seeing these old school ads reprinted, good as new, tickles our nostalgia bone as well as anything else Marvel has tried during its 80th-anniversary celebration. And this week, in a reprint of New Mutants #98, we've got two great ads just in the preview, both for video games, starting with this add for Ultra Games' Ski or Die, a cross-platform follow-up (play it on NES, Commodore 64, or DOS) to 1988's Skate or Die!, an admittedly cooler and more extreme iteration, as emphasized by the exclamation point in the title. But that doesn't leave Skate or Die without its own 1990 charm, as the skier on the cover is dressed in the finest neon gear, pulling off a totally radical move while an impressed penguin looks on, thinking to himself: "Hellacious!"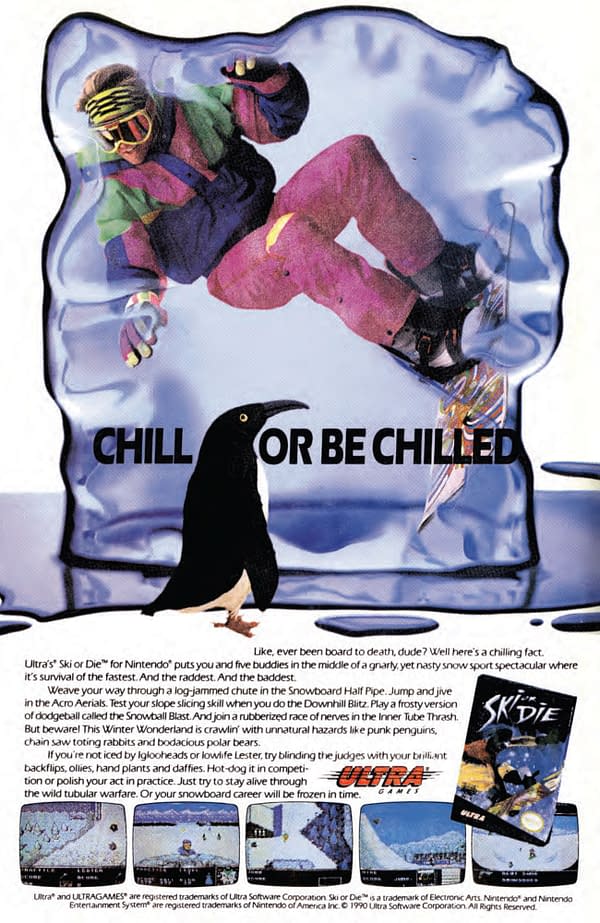 The second ad is for Capcom's Mega Man 3, and remember, this was a time where the box art far outstripped the graphics. We remember Mega Man 3 being a tough one (they were all tough, video games were basically self-torture back then), so be sure to renew your subscription to Nintendo Power if you want to know the best order to take on the bosses in.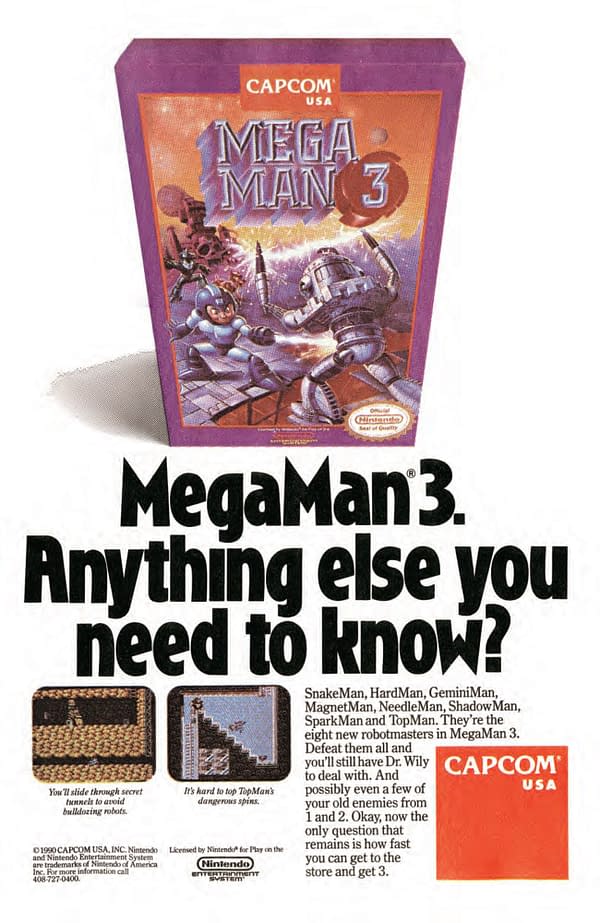 That's all for the preview… though there's some pretty tubular Rob Liefeld art, dudes and dudettes and gender-non-binary dudexes. But you'd be fooloish not to pick up New Mutants #98 Facsimile Edition in stores on Wednesday so you can see the rest.
NEW MUTANTS #98 FACSIMILE EDITION
MAY190762
(W) Rob Liefeld, Fabian Nicieza (A/CA) Rob Liefeld
The dynamic debut of Deadpool! It's the beginning of the end for the New Mutants as Cable continues his reinvention of the squad into his own paramilitary force! But their numbers are dwindling – and Rictor's about to be the next member making his exit! Meanwhile, Deadpool makes his entrance – but he's not looking to join. No, he's been hired to kill Cable! With swords, guns, a healing factor and an unstoppable mouth, this merc is set to make a big splash! But who is the new mystery woman riding to the rescue? Cable called, she came: Enter Domino! Prepare for high-octane mutant action from the bombastic 1990s! It's one of the all-time great Marvel comic books, boldly re-presented in its original form, ads and all! Reprinting NEW MUTANTS (1983) #98.
Rated T
In Shops: Jul 03, 2019
SRP: $3.99
Enjoyed this article? Share it!