Something Is Killing The Children and Blue Flame Top Advance Reorders
Greetings from the coal face of the direct comics market. Where retailers try to increase their advance reorders of certain comics ahead of sale. Where supply and demand and most accurately reflected, where you can see which books are hot, where new orders are coming in and how retailers are reacting to new, unanticipated desire! And courtesy of stats from Diamond Comic Distributors.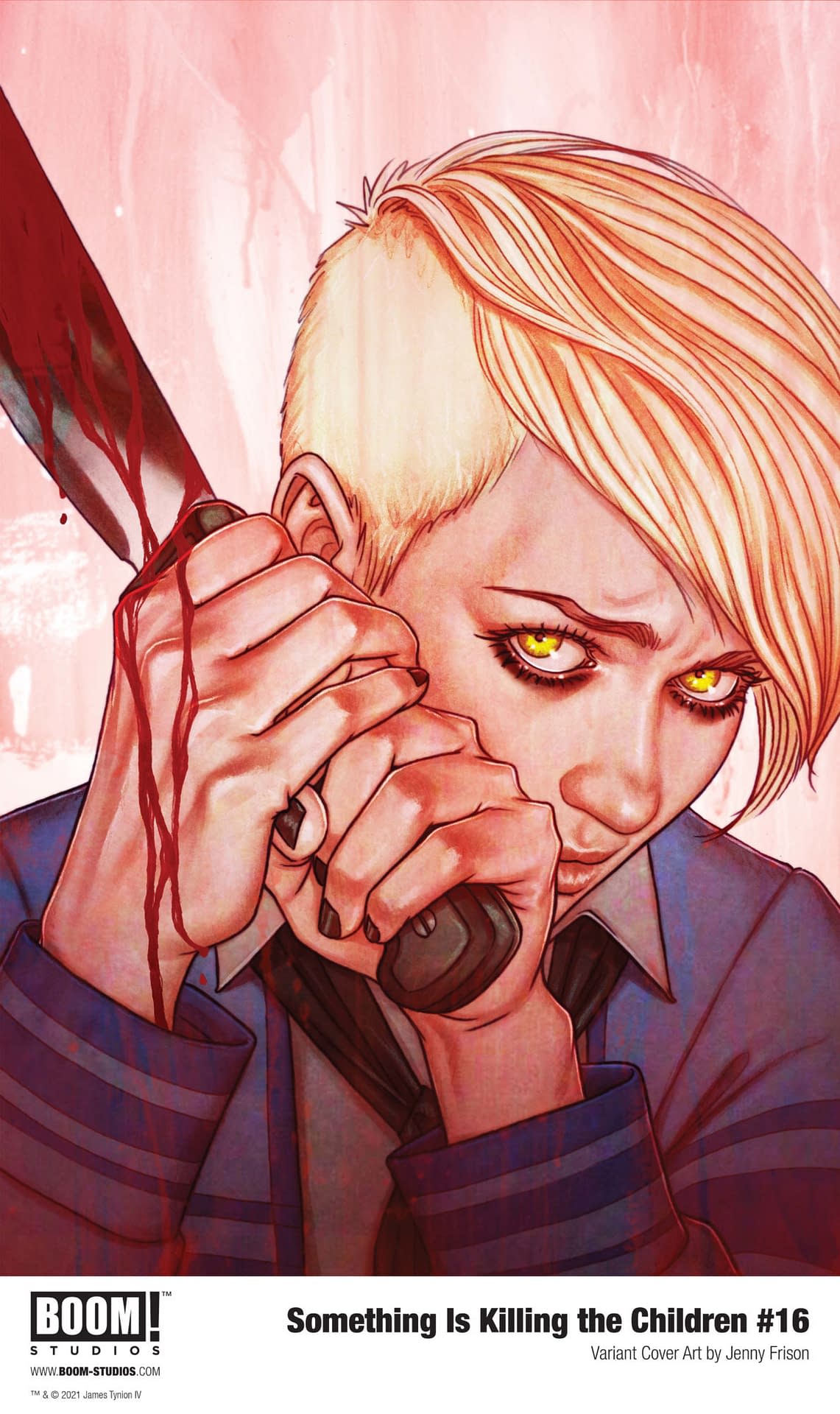 The orders for Something Is Killing the Children #16 dominate advance reorders – the only reason Amazing Spider-Man Omnibus tops it is because they count this by revenue. But there's a lot of other action for Spider-Man, and a big jump for Blue Flame #1 from Vault, courtesy of a few folk realising it is written by Christoper Cantwell.
TOP 25 ADVANCE REORDERS COMICS/GRAPHIC NOVELS/TPS

| | | |
| --- | --- | --- |
| DESCRIPTION | SRP | VENDOR |
| AMAZING SPIDER-MAN OMNIBUS HC VOL 03 KANE DM VAR NEW PTG | $125.00 | MARVEL COMICS |
| SOMETHING IS KILLING THE CHILDREN #16 CVR A DELL EDERA | $3.99 | BOOM ENTERTAINMENT |
| SOMETHING IS KILLING THE CHILDREN #16 CVR B FRISON | $3.99 | BOOM ENTERTAINMENT |
| AMAZING SPIDER-MAN OMNIBUS HC VOL 03 MCKONE CVR NEW PTG | $125.00 | MARVEL COMICS |
| MILES MORALES SPIDER-MAN #26 | $3.99 | MARVEL COMICS |
| SPIDER-MAN SPIDERS SHADOW #1 (OF 5) 2ND PTG VAR | $4.99 | MARVEL COMICS |
| BLUE FLAME #1 CVR A GORHAM | $3.99 | VAULT COMICS |
| DEMON DAYS X-MEN #1 3RD PTG MOMOKO VAR | $4.99 | MARVEL COMICS |
| DEPARTMENT OF TRUTH #9 CVR C THOROGOOD (MR) | $3.99 | IMAGE COMICS |
| BLACK WIDOW #7 | $3.99 | MARVEL COMICS |
| KING IN BLACK TP | $24.99 | MARVEL COMICS |
| ALIEN #3 ADAM KUBERT VAR | $3.99 | MARVEL COMICS |
| STAR WARS DOCTOR APHRA #10 | $3.99 | MARVEL COMICS |
| MADE IN KOREA #1 (OF 6) (MR) | $3.99 | IMAGE COMICS |
| STAR WARS DARTH VADER #12 | $3.99 | MARVEL COMICS |
| TRIALS LOKI MARVEL TALES #1 | $7.99 | MARVEL COMICS |
| STAR WARS ADVENTURES WEAPON OF A JEDI #1 (OF 2) (C: 1-0-0) | $5.99 | IDW PUBLISHING |
| BLUE FLAME #1 CVR C DANIEL | $3.99 | VAULT COMICS |
| GODZILLA UNNATURAL DISASTERS TP (C: 1-1-1) | $29.99 | IDW PUBLISHING |
| BETA RAY BILL #3 (OF 5) | $3.99 | MARVEL COMICS |
| X-MEN #20 DEL MUNDO VAR | $3.99 | MARVEL COMICS |
| SHADECRAFT #3 CVR A GARBETT | $3.99 | IMAGE COMICS |
| BLACK PANTHER #25 GLEASON STORMBREAKERS VAR | $5.99 | MARVEL COMICS |
| SPAWN #318 CVR B MCFARLANE | $2.99 | IMAGE COMICS |
| HEROES REBORN YOUNG SQUADRON #1 | $4.99 | MARVEL COMICS |
TOP 25 REORDERS COMICS/GRAPHIC NOVELS/TPS
| | | |
| --- | --- | --- |
| DESCRIPTION | SRP | VENDOR |
| INVINCIBLE COMPENDIUM TP VOL 01 | $64.99 | IMAGE COMICS |
| BERSERK DELUXE EDITION HC VOL 07 (MR) (C: 0-1-2) | $49.99 | DARK HORSE COMICS |
| INVINCIBLE COMPENDIUM TP VOL 02 | $64.99 | IMAGE COMICS |
| INVINCIBLE COMPENDIUM TP VOL 03 | $64.99 | IMAGE COMICS |
| SPIDER-MAN BY STERN OMNIBUS HC HOBGOBLIN UNMASKED DM VAR | $125.00 | MARVEL COMICS |
| EAST OF WEST THE APOCALYPSE YEAR ONE HC | $49.99 | IMAGE COMICS |
| THUNDERBOLTS OMNIBUS HC VOL 01 BAGLEY ANNUAL DM VAR | $125.00 | MARVEL COMICS |
| SOMETHING IS KILLING CHILDREN TP VOL 01 (C: 0-1-2) | $14.99 | BOOM ENTERTAINMENT |
| INVINCIBLE HC VOL 01 ULTIMATE COLL | $34.99 | IMAGE COMICS |
| TMNT REBORN TP VOL 02 LIFE AFTER DEATH (C: 0-1-0) | $19.99 | IDW PUBLISHING |
| TMNT THE LAST RONIN #1 (OF 5) 3RD PTG | $8.99 | IDW PUBLISHING |
| BERSERK DELUXE EDITION HC VOL 02 (MR) (C: 1-1-2) | $49.99 | DARK HORSE COMICS |
| NORSE MYTHOLOGY HC VOL 01 (C: 0-1-2) | $29.99 | DARK HORSE COMICS |
| INVINCIBLE HC VOL 02 ULTIMATE COLL (NEW PTG) | $39.99 | IMAGE COMICS |
| CRIMINAL DLX ED HC VOL 02 (MR) | $49.99 | IMAGE COMICS |
| HOUSE OF X POWERS OF X TP | $44.99 | MARVEL COMICS |
| CRIMINAL DLX ED HC VOL 01 | $49.99 | IMAGE COMICS |
| POKEMON ADVENTURES GN BOX SET VOL 01 RED BLUE (CURR PTG) (C: | $54.99 | VIZ LLC |
| HOUSE OF X POWERS OF X HC | $60.00 | MARVEL COMICS |
| INVINCIBLE TP VOL 01 FAMILY MATTERS (NEW PTG) | $9.99 | IMAGE COMICS |
| BERSERK DELUXE EDITION HC VOL 06 (MR) (C: 0-1-2) | $49.99 | DARK HORSE COMICS |
| BARRY WINDSOR-SMITH MONSTERS HC (MR) (C: 0-1-2) | $39.99 | FANTAGRAPHICS BOOKS |
| SPIDER-MAN BY STERN OMNIBUS HC SPIDER-MAN HOBGOBLIN CVR | $125.00 | MARVEL COMICS |
| LOVESICKNESS JUNJI ITO STORY COLL HC (C: 0-1-1) | $22.99 | VIZ LLC |
| AVATAR LAST AIRBENDER RIFT OMNIBUS TP (C: 1-0-0) | $24.99 | DARK HORSE COMICS |