Spirit Week, A Middle-Grade Graphic Novel Based On… The Shining???
Last summer, cartoonist Ira Marcks saw his debut graphic novel Shark Summer, a middle-grade book inspired by the Steven Spielberg movie Jaws. Today has seen him take that inspiration further with Spirit Week, a graphic novel based on Stanley Kubrick's movie interpretation of Stephen King's The Shining. And yes, it's still a middle-grade graphic novel, aimed at ages 8 to 12.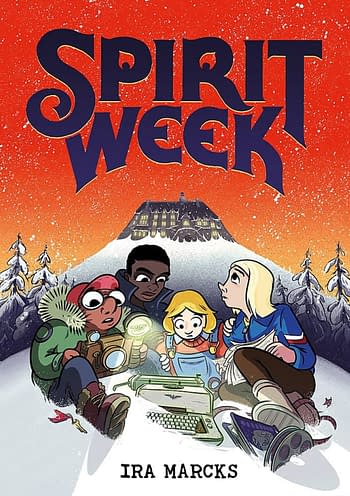 The Shining, of course, is the story of Jack Torrence, a writer who gets off-season work as a caretaker of the isolated Overlook Hotel with his wife and son, who has psychic abilities, in a hotel with supernatural forces that affect Jack's sanity, leading to psychological horror, and threats of madness and violence. It still remains quite the head trip.
In Spirit Week, the Overlook Hotel has become the Underlook Hotel, Jack Torrence is Jack Axworth, and it even involves an "auteur filmmaker" who will probably make something very different to the book…
Secret rooms, eerie curses, forgotten caves. Could you survive a week in the Underlook Hotel? Aspiring engineer Suzy Hess is invited to the famous Underlook Hotel, domain of the reclusive horror writer Jack Axworth, in the mountains above her hometown of Estes Park, Colorado. Suzy thinks she's there to tutor Jack's son, Danny, but instead she finds herself investigating a local curse that threatens the landmark hotel. With the help of Elijah Jones, an amateur filmmaker who thought he'd been asked to make a film about the so-called King of Horror; Rena Hallorann, the hotel's caretaker; and Danny, who knows more than he's letting on, Suzy sets out to solve the mystery at the heart of the Underlook, one that holds the town of Estes Park in its grasp. With only a week to save the hotel—and the town—the friends find themselves racing against time to uncover the shadows of the past.
Of course, I am also reminded of the trailer cut to sell The Shining to a very different audience with a new title, Shining…
But here is a look at the Spirit Week comic book, published today by Little, Brown Books.