Superman #32 and Supergirl #12 both out today tell the same story in the battle against Rogol Zaar, Zod and his other allies. But they make some interesting narrative choices, some that replicate just what the other book is doing, others that tell a different narrative that doesn't line up as easily.
So we have Supergirl meeting up with the aged Jonathan Kent again for the first time in Supergirl…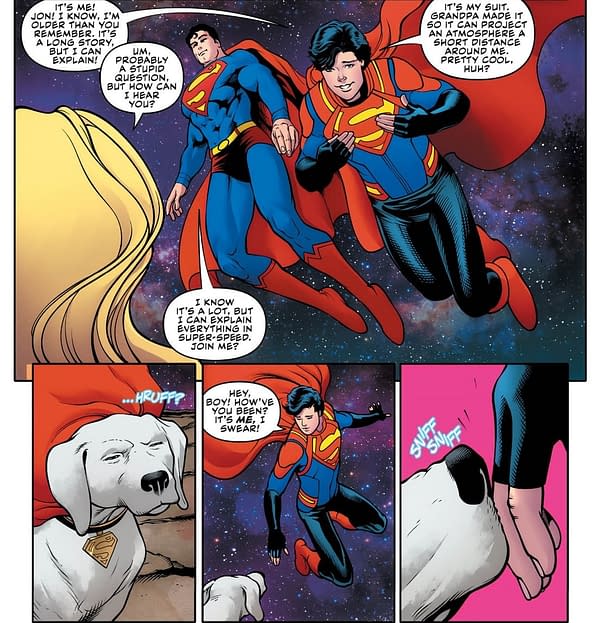 …as well as Jonathan Kent meeting up with Krypto again too.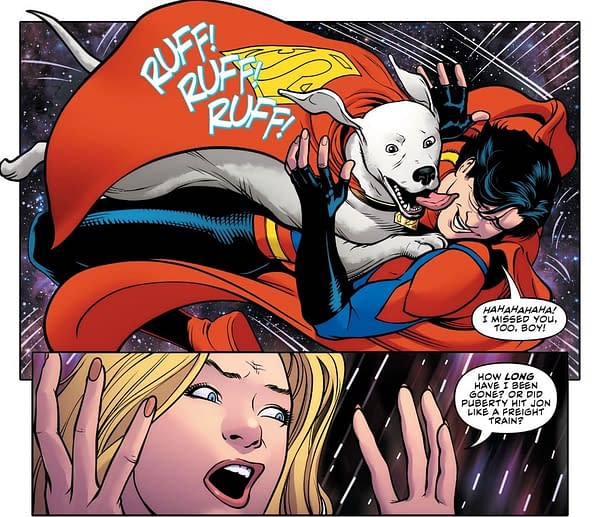 While both books see Supergirl using Rogal Zaar's staff against his ship in the same way, first in Supergirl…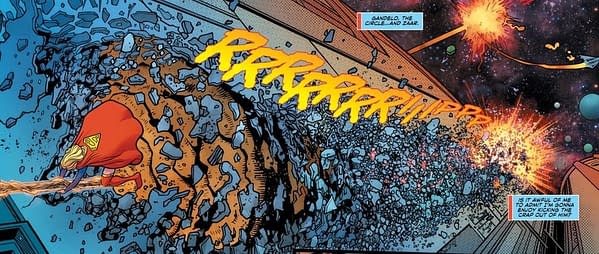 … then in Superman…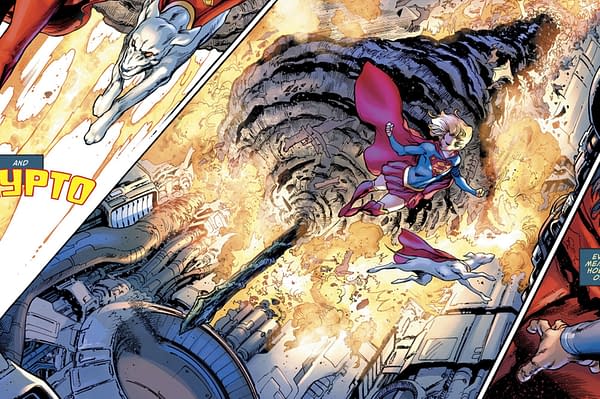 We have the House of El combining to use their heat vision in battle… both in Supergirl…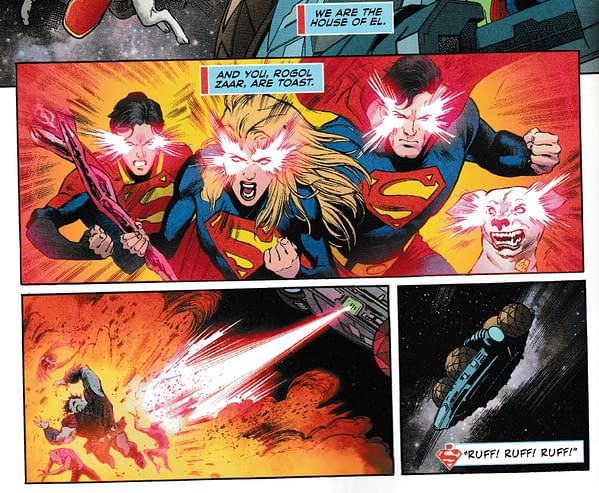 …and in Superman.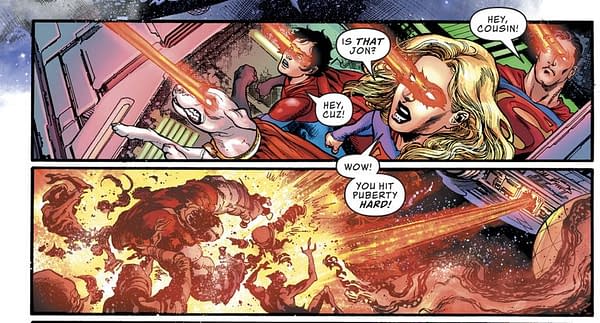 But somehow repeating the conversation she had with him before that attack, over in Supergirl, in different circumstances. Jonathan met up with Krypto at a different point in the battle as well, seen by Superman now in the distance.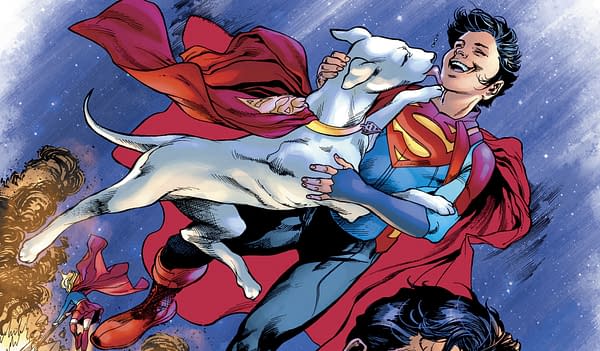 But after the battle, we get to see the reunification of family in very, very similar ways, first in Superman…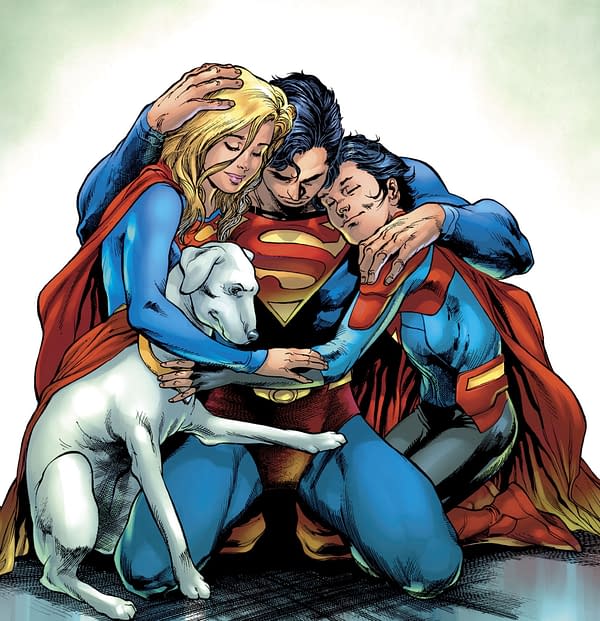 And in Supergirl…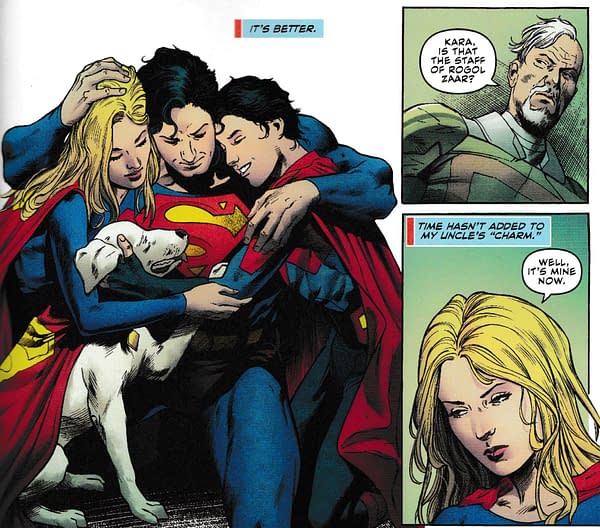 With dialogue mirroring in both issues too.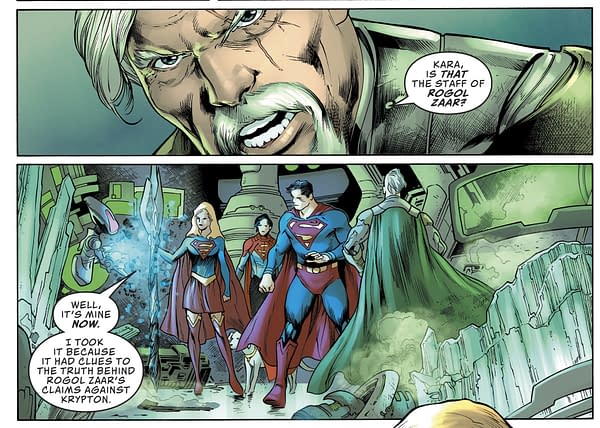 Even though one comic gives more information than the other, as different conversations and focus take place on the ship. Both in Superman…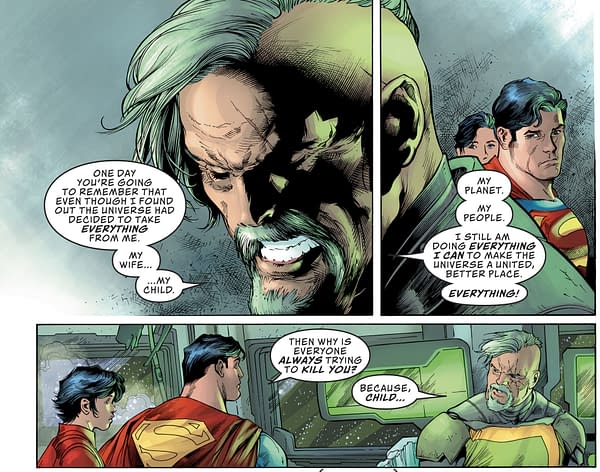 And in Supergirl…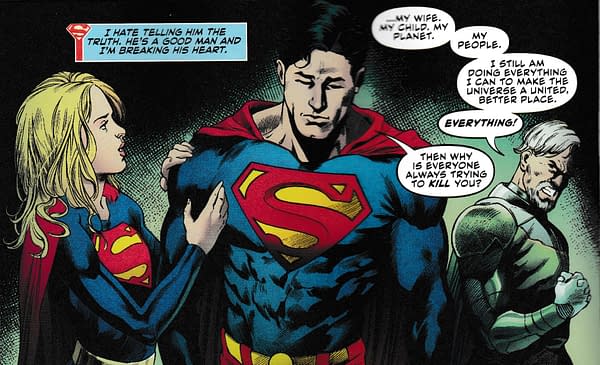 Though when it comes to Superboy's transport suit we get the explanation from two different people depending on whether you read Supergirl…

…or read Superman.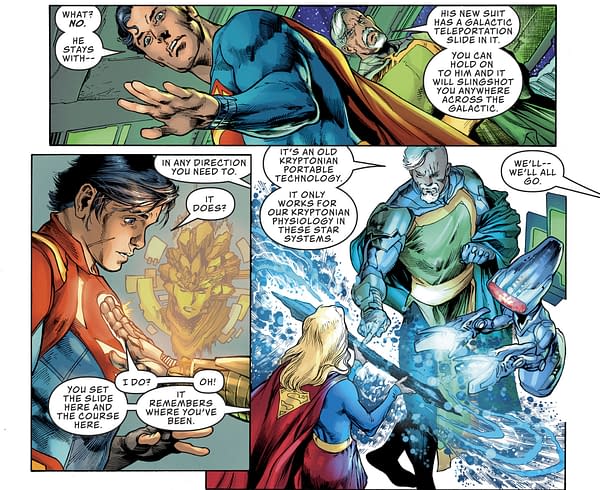 But it does enable the books to carry their own, differung narratives going forward. It does seem peculiar that such editorial care was taken to line up the books on certain panels – but not on others. So… which do you prefer?
SUPERMAN #12
(W) Brian Michael Bendis (A/CA) Joe Prado, Ivan Reis
The House of El is united in this SUPERMAN/SUPERGIRL crossover! It's the House of El against everyone as Superman, Jor-El, Supergirl and Superboy face intergalactic attacks from Rogol Zaar, General Zod and an armada of alien warriors and assassins. With the truth behind Krypton's destruction set to be revealed, a galactic conspiracy threatens to silence Supergirl and Jor-El if Superman can't live up to his name.
RATED T In Shops: Jun 12, 2019 SRP: $3.99

SUPERGIRL #31
(W) Marc Andreyko (A) Kevin Maguire, Sean Parsons (CA) Yanick Paquette
The  House of El is united in this SUPERMAN/SUPERGIRL crossover! The Superman Family must unite to banish Rogol Zaar once and for all! But little do Supergirl, Superman, Superboy and Jor-El know, Rogol Zaar has brought some friends of his own…from the Phantom Zone! Supergirl not only has to make sure that Rogol Zaar doesn't unite with his ax at all costs, but also has to deal with how the 10-year-old Superboy is now her age! This is the start of an intergalactic war you don't want to miss! RATED T In Shops: Jun 12, 2019 SRP: $3.99
Enjoyed this article? Share it!