Superman is well known for his virtue, but the scene you're about to see from next week's Man and Superman 100-Page Super Spectacular, written by Marv Wolfman and drawn by Claudio Castellini over a decade ago, shows a darker side of Superman, who, upon first arriving in Metropolis, is sucked into the seedy underbelly of the city's street gambling scene. Disguised as mild-mannered Clark Kent, Superman uses his x-ray vision to cheat at a game of Three Card Monty.
It's shocking, we know, more akin to Zack Snyder's vision of the Man of Steel, but perhaps all is not as it seems…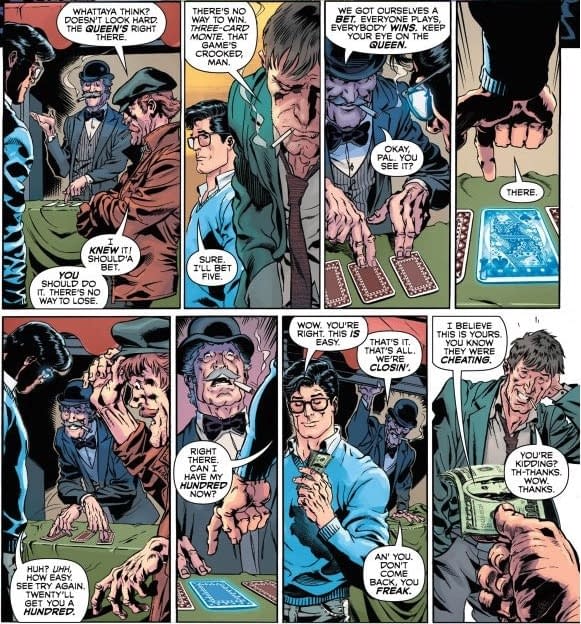 That's right, Superman was cheating at gambling for Truth, Justice, and the American Way. Though like some kind of commie, he just hands over his winnings to someone less fortunate.
The preview below comes from an EX-X-XCLUSIVE at 13th Dimension. Man and Superman 100-Page Super Spectacular hits stores next Wednesday.
Man and Superman 100-Page Super Spectacular
(W) Marv Wolfman (A/CA) Claudio Castellini
"This is the best Superman story I've ever written." So says living legend Marv Wolfman, and when you've written hundreds of Superman stories as he has, it means a great deal. This gem of a tale – written and drawn from 2006-2009 for the SUPERMAN CONFIDENTIAL series – explodes from the DC archives as a triumphant tale of Clark Kent's fateful first days in Metropolis, which were far from easy. His early failures almost ensured there would never be a hero called Superman. Powerful writing and stunning art combine to conjure an inspiring story that needed to be published, one you will never forget, from a pair of master storytellers.
In Shops: Feb 06, 2019
SRP: $9.99
Enjoyed this article? Share it!