The Teenage Mutant Ninja Turtles/He-Man Crossover That Never Was
Freddie Williams II of Batman/Teenage Mutant Ninja Turtles, He-Man/ThunderCats, and Injustice vs Masters Of The Universe had another project that mashed up all these projects without any of the pesky DC Comics characters to get in the way. A Teenage Mutant Ninja Turtles/He-Man & The Masters Of The Universe crossover that never happened.
Freddie Williams describes it as "MoTU Leonardo Pencil study from the ill-fated He-Man / TMNT crossover that got delayed twice then outright cancelled over a year ago This piece is SOLD!" I bet it is! Williams also confirms that Shredder and Skeletor would have teamed up and that "I've been sad about this for nearly 2 years, but it feels good to talk about it at least". As to why it didn't happen? "I'm not privy to all of the reasons, which are made way above me, but I'm assuming they had good reasons, that I am ignorant to."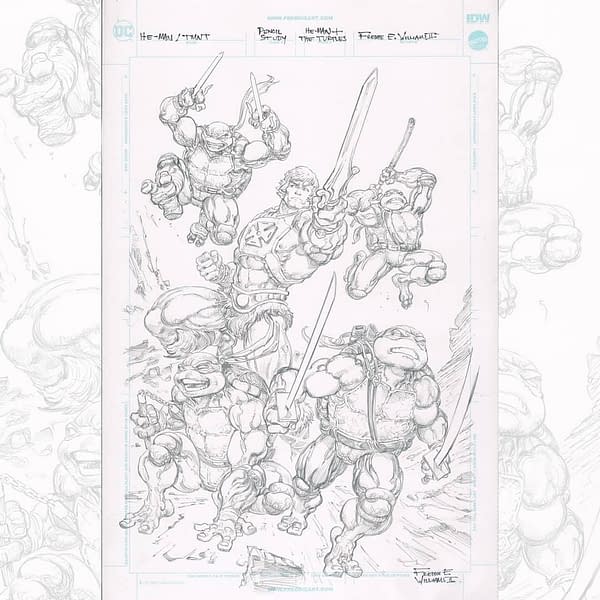 Currently, DC Comics holds the He-Man And The Masters Of The Universe comic book tie-in, and IDW holds the Teenage Mutant Ninja Turtles license. The two have run crossover projects before, including the aforementioned Batman/TMNT. Though there was also a Justice League/Transformers series that hit the skids. Is there any way that the right word in the right ear at Burbank or San Diego might resurrect this one? It does appear that there would be quite the demand.
Freddie E. Williams II has worked for DC Comics since 2005 on Robin, Flash, and Seven Soldiers: Mister Miracle, signing an exclusive contract with DC Comics in 2006, as well as writing The DC Comics Guide to Digitally Drawing Comics but has made his name on these crossover series – if only DC would sign more off…