Welcome to Thank FOC It's Friday, a new weekly mailing list, similar to The Daily LITG, but every Friday and planned to coincide and cover the demands of Final Order Cut Off. The date when retailers have a last chance to amend their advance orders for comic books without penalty. A last chance for publishers to promote books while orders can still be added. And a time for credits to be amends, new covers to be revealed and a final push given. This is an attempt to sift through them all and find the most relevant items.
You can sign up here or with the form at the bottom.
Now, many retailers will know all this. But some things may slip through even the most diligent retailer's attention, like a brand new Kieron Gillen and Stephanie Hans comic, Die #1. And if nothing else, it may be useful to try for a one-stop shop that may start some thoughts, even if it doesn't finish them.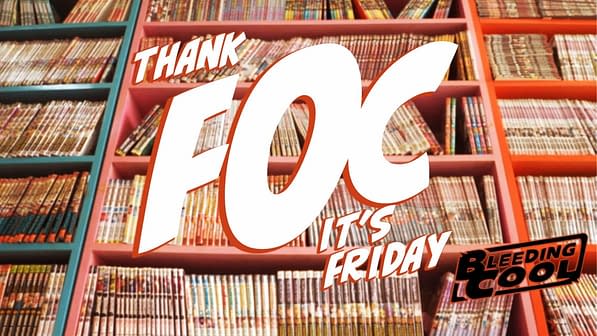 For those feeling down after the Midterms, whatever their political persuasion, try hand selling The Walking Dead #185 – it has a strong positive message of progression without violent revolution. And a free full comic in the back for added heft. Talking of heft, did you feel the paper quality on Doctor Who this week? Issue #2 is FOCing as well.
Pádraig Ó Méalóid has self-published his Marvelman/Miracleman history book – worth getting a few copies for those like me who want to know more?
At LUCCA last weekend, DC Comics had a crossover announcement with Sergio Bonelli Editions for Flash/Zagor, while Marvel announced Old Man Quill.
Retailer Dennis Barger has been extolling the appeal for comic retailers to start selling on Amazon Marketplace right away.
We have a bunch of new DC Comics covers, including a great The Green Lantern #2 by Francesco Mattina. And watch out instore for those Dan DiDio rumours. We have the gen right here.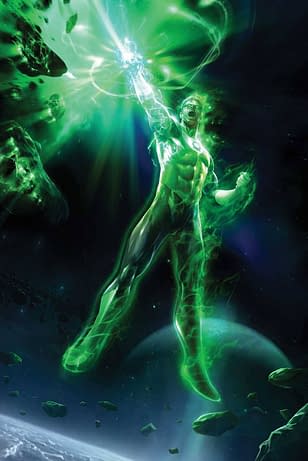 We have the new direct marketshare stats for October, with DC, Image, IDW and Dynamite making gains but Marvel keeping the lead. For now. And Batman Damned #2 is still getting big reorders – could it outsell #1?
Due to retailer response, Boom Studios has decided to make the Wizard Beach #1 cover B variant by George Schall cover 'open to order' rather than the 1:10 tiered variant it was solicited as. And for those who know their Diamond notation, the retailer discount has dropped from J/Net to E/Lwr. 50% or Standard. The comic by Shaun Simon and Conor Nolan is FOCing now.
Manage your Customers Expectations:
Marvel is running 'Action Doll' Homage covers to play off Marvel Rising, in December.
DC is changing the name of the Diana Prince 50th Anniversary Omnibus to something less confusing.
Boom will be putting a new Vampire Slayer from history on the variant cover of every issue of Buffy going forward.
There are second and third printings for a bunch of Marvel titles, Firefly, Man-Eaters, Outer Darkness and Doctor Who: The Thirteenth Doctor.
Worth keeping an eye on eBay trends in comic books of late.
This is what a thousand dollars of unclaimed comics look like.
Did you do well with the Marvel Liquidation Lists? How many of those X-Men Adamantium Collections did Larry Docherty buy?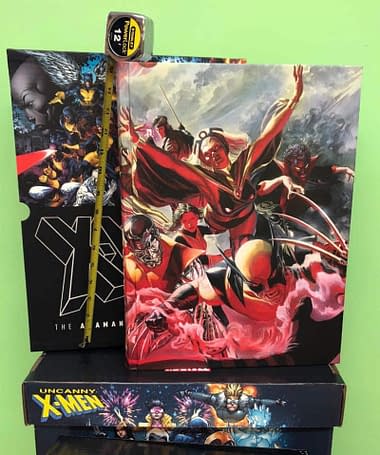 Drilling down on FOC: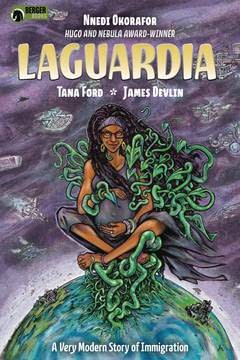 Dark Horse's new Berger Books title LaGuardia #1 by Nnedi Okorafor and Tana Ford FOCs this week. It may be worth noticing Okorafor's Hugo, Nebula and World Fantasy Awards. And Frank Miller's hardcover collection of
Xerxes: Fall of The House Of Darius and Rise of Alexander hardcover, collecting the series for the first time. It may only be out in February but it is FOCing now. Oh and consider The Book Of Esther for Xerxes fans…
You may have seen the interest in the new Penguin story in Batman this week, possibly repairing some of the Batmarriage damage. Batman #60 suggests that the Penguin may be joining Batman's Batpeople as a new member against Bane. Red Hood and Nightwing FOCing this week too, are also playing up with who are members of that gang as well.
We also previously noted that the new edition of Prodigal TPB finally features Robin #0 for completists. That was one of the most read BC articles of the week. Justice League #13 will be tying in with Snyder and Jock's The Batman Who Laughs series. Thought Black Label was out of continuity? Think again. There's also the launch of the new Martian Manhunter series – we'll be reviewing that this weekend. The New Talent Showcase has a good chance of featuring the first DC work of tomorrow's stars.
How did Suicide Squad: Black Files #1 do for your store? New appearances of new characters – and we have some idea of where they will go in #2. And there's the new Sasquatch Detective series spinning out of the Snagglepuss Chronicles back-up strips.
Image Comics has the first issue of Gillen and Hans' Die – more on that later. But also the first issue of Freeze, from Bleeding Cool's own Dan Wickline with Phil Sevy. The Raffaele Ienco cover above is to benefit Hero Initiative. Dan tells me
"THE FREEZE is the type of book I've always wanted to do. Classic science fiction that focuses on the best and worst of humanity. The mysterious global event is only the start of the story. The real drama comes from what Ray and the rest of the new society do next."
Image Comicsis also launching Self Made from Matt Groom and Eduardo Ferigato, with Kyle Higgins editing. The Wicked + The Divine starts a new story arc with #40, and The Undercovered does the same with #5.
And Mark Millar and Rafael Albuquerque's Prodigy – and all the covers that come with that. They say that the book will be fully returnable but will not have any further printings. That might move the needle a little…
Remember that the Fantastic Four Wedding Special will see the return of Fred Hembeck to Marvel – and the return of some seriously old timey fans as a result.
And IDW may have FOCed their Spider-Man #1 last week (did you get Delilah's letter?) but Marvel are doing the same with Miles Morales: Spider-Man #1. Well timed for a certain movie… watch for an X-Men Red finale and a Darth Maul oneshot too.
Black Mask has a new Black AF series, Devil's Due, starting. Titan Comics is launching Breakneck #1, we're looking to review that this week too…
Keep ahead on an upcoming Cable Annual for Claremont fans…
Comics & Cards is closing its two locations in Georgia but plans to reopen them in 2019. Rodman Comics looks at their own woes. And Asheville Comics had their grand opening in South Carolina.
And is there added reason to sell The Green Lantern #1 to Doomsday Clock fans? There is now. Also there is Green Arrow in his future… for all the Neal Adams/Dennis O'Neill fans.
And yes, Kieron Gillen and Stephanie Hans' Die is coming from Image Comics. 'Goth Jumanji' as Gillen usually describes it. But not like Stranger Things. From the other side of the table, here is how FOC looks from his perspective this week.
The task which warps everything is basically the final push of DIE before pre-orders. It's a task which is simultaneously non-essential (as in, if it's not done, DIE will still happen), utterly paramount above anything else (as in, the initial orders of a book are a primary thing that will define the rest of the book's life), possibly entirely futile (as in, you have no concrete proof if anything you do makes a damn bit of different… but maybe it does) and entirely endless (there's always another e-mail you could write, another angle you could push). It's a self-replicating complex of work which will fill every single space of my day, from morning to 5am-awake-and-fretting. It's fascinating, and intense and I remember last time I did this for WicDiv I was driven into such a gleeful mess that I ended up doing that fumetti comic of myself to at least try and get something useful and creative from this whirlwind of activity.

Still. In the middle of the tornado you take a breath, and the air is still. You think the book is good, and that centres you before the winds catch you and you're sent spinning away again.

It is a time.
Thanks Kieron. Here's the trailer.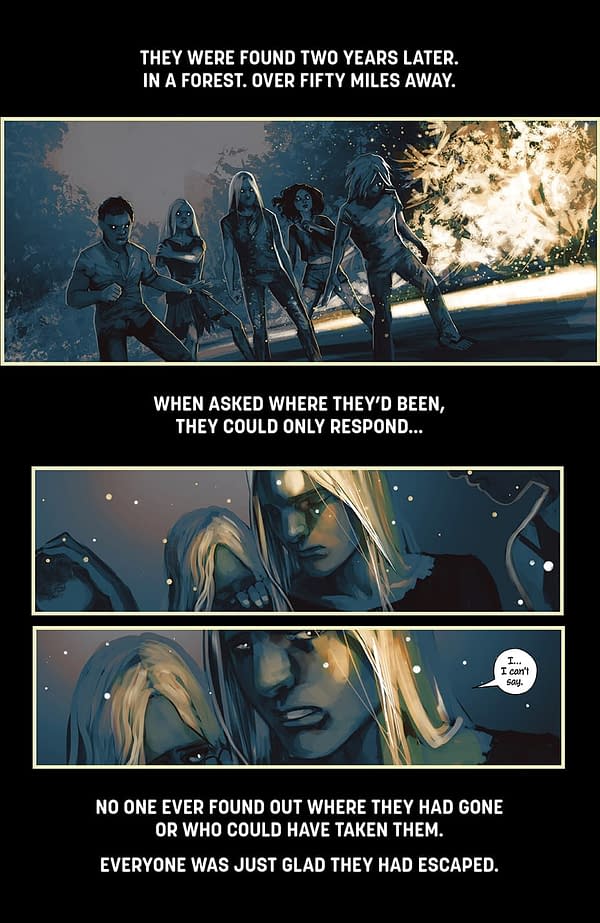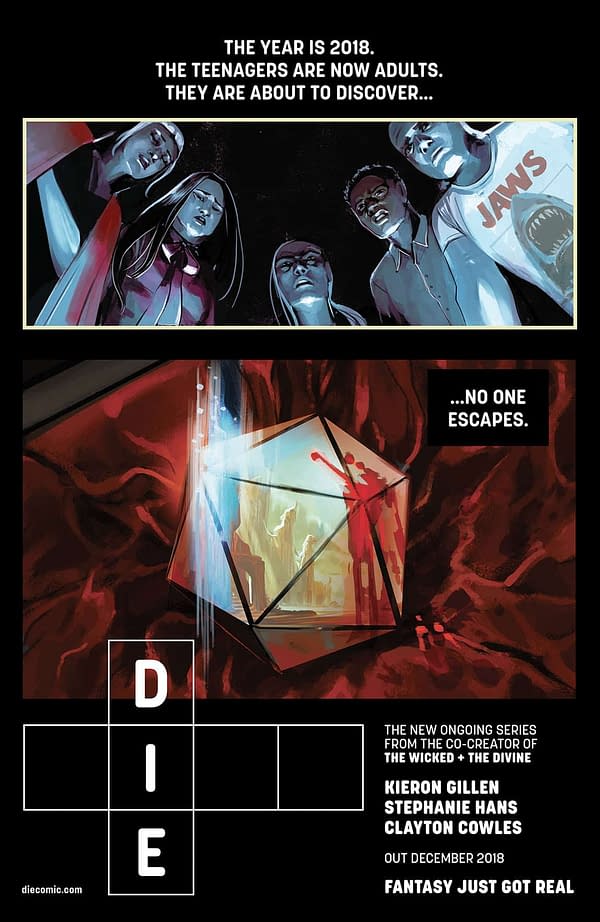 And here are some quotes.
"Really couldn't have enjoyed DIE #1 more than I did. Kieron Gillen and Stephanie Hans are a powerful merging of talents. Feels like a well-oiled team that's been working together for years. Image Comics continues to innovate."
-Rick Remender (Deadly Class, Low, Black Science, Seven to Eternity)
"DIE is wonderfully nerdy and emotionally complicated and… utterly beautiful."
– Graeme McMillan, The Hollywood Reporter
"So I read DIE today and it's something special: clever, chilling, beautiful, and surprising. IT'S REAL GOOD AND I THINK YOU SHOULD GET IT."
Ryan North (The Unbeatable Squirrel Girl, Dinosaur Comics, How To Invent Everything: A Survival Guide For The Stranded Time Traveler)
"Emotional evisceration awaits. I cannot recommend this highly enough"
-Margerite Bennett (Animosity, Bombshells)
"I've had the pleasure of reading DIE from Gillen, Hans & Cowles and it's everything I love about comics. It's such a great concept for a series."
– Gerry Duggan (Deadpool, Analogue, Dead Rabbit)
"Do you wish that IT had fewer clowns luring in sewers with balloons and more RPG sessions that cause kids to disappear for several years? Then DIE by Kieron Gillen and Stephanie Hans is the comic for you! Also, I got to test-play the RPG the book is built around and it's SO FUN."
– Jody Houser (Stranger Things, Faith, Doctor Who)
"A smart, gripping story about fantasy, gaming, aging and things that can't be said. Pre-order now and beat the rush."
– Al Ewing (Immortal Hulk)
"DIE is gaming glory reflected in a broken mirror, nostalgia gone wrong in a story that's oh so right."
– Jim Zub (Conan-Red Sonja, Dungeons & Dragons)
"DIE is a compelling drama, filled with secrets and lies. It has the reliable wit and grace one expects from Gillen along with rich and stunning artwork by Hans, who is without a doubt delivering her best work to date. Gorgeously rendered, perfectly constructed, DIE is a fantastic new series that pulls the reader into a new world, in more ways than one."
– Declan Shalvey (Moon Knight, Injection, Return Of Wolverine)
'This excellent work is about human beings, as seen through the lens of Dungeons and Dragons, which in a time of wandering monsters is surely the best possible instrument.'
– Paul Cornell (Saucer Country, Doctor Who)
"Fantasy is seductive, beautiful, worth obsessing over, and something that will destroy your life. Die doesn't just want it both ways, it insists that both ways are the only way to have it…. It's another f-cking masterpiece" –
Elizabeth Sandifer (TARDIS Eruditorum, The Last War In Albion.)
"I Love it. DIE #1 was an excellent first issue. Tons of hints about who these characters are and what they've been through. I'm DIE-ing to know more about the mysteries "
– Matt Wilson (Paper Girls, Thor, The Wicked + the Divine)
"I read DIE and I did not die! Except maybe a little bit from sheer goodosity. Beautiful and moody…"
– Si Spurrier (Doctor Aphra, The Dreaming, Coda)
"Fantastic"
– Ray Fawkes (Underwinter, Gotham by Midnight)
"Utterly gorgeous book about being kids, growing up, the games we play and other secrets "I can't say." This should absolutely go to the very top of your pull-lists."
– Ram V (Batman Secret Files, Paridiso, These Savage Shores)
"Soooooo Kieron Gillen and Stephanie Hans' DIE is something ABSURDLY special. Really an incredible book."
– Mags Visaggio(Eternity Girl, Kim & Kim, Sex Death Revolution)
"DIE #1… is an astounding comic. It rolls deep and cuts neat. Confidently setting up an ensemble of interesting characters in an even more interesting predicament. Not to mention the most visually stunning comics I've read in years."
– Caspar Wijngaard (Limbo, Angelic, Peter Cannon: Thunderbolt)
"Creating a sincere & heartfelt story through an impossible blend of modernist deconstruction and nostalgic world-building escapism? DIE #1 is a bloody masterpiece."
– Ryan O'Sullivan (Fearscape, Void Trip, Dark Souls)
"I just read Stephanie Hans and Kieron Gillen's first ish of Die, and blimey, it's really good! Like, "NO BUT NO I NEED THE NEXT ONE RIGHT NOW!" good. Hans has taken her epic cover art style into an entire comic, and it looks just beautiful."
– John Walker (Rock Paper Shotgun)
"Imagine the D&D cartoon but done with proper grown-up themes and storytelling."
– James Wallis (The Extraordinary Adventures of Baron Munchausen, Paranoia 4th Edition, Alas Vegas)
"DIE is clever and thoughtful and you should definitely read it."
– Grant Howitt (Spire, Honey Heist, Hearty Dice Friends)
"A wonderful, beautiful, heart-wrenching comic."
– Jamie McKelvie (Young Avengers, The Wicked + the Divine)
And, as ever, we have the Bleeding Cool Bestseller List. Feel free to be a partner with us on it…
Sign up below and we'll see what Thank FOC It's Friday brings next week…
Enjoyed this article? Share it!