In the most recent issue of The Batman Who Laughs by Scott Snyder, Jock and David Baron, the comic leans heavily on letterer Sal Cipriano to do something rather clever, deliever a second internal narrative through the Batman's narration.
So in the comic book we have Batman fighting The Batman Who Laughs, a Bruce Wayne from a Dark Dimension who was infected by a dying Joker with the Last Laugh infection, triggered as the Joker's heart stopped, that turned Bruce Wayne into a version of the Joker. He is also the spitting image of the dark dimension side of Judge Dredd, Judge Death.
And now the Batman, our Batman, has similarly been infected by our Joker as a way to defeat this Dark Dimension version of himself. And as Batma talks, as he thinks, as he begins to change into another version of himself, this emerging new personality, however you choose to see it, is exhibiting itself as red lettering through the normal captions and speech balloons. And when you separate it out – it isn't always clear or coherent. But thre is clearly a message being laid down… and it's the kind of thing you can do in comic books and no other medium. Bravo. Here are the messages, will some illustrative examples…
MYSELF
TIME TO FORM ID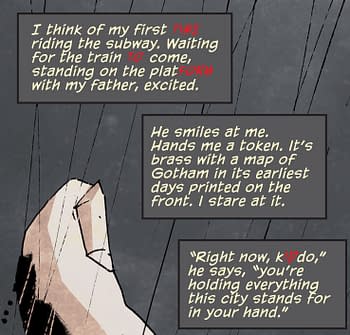 I AM SO SLAUGHTER BRUCE
I'M REAL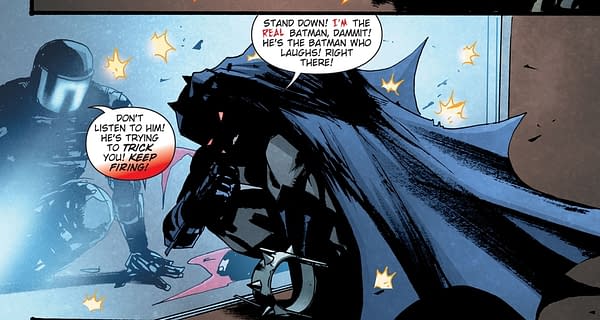 YOU'RE OFF OFF
STOP YOU BRUCE

GET OUT BRUCE NOW
SEVERE WAR
SHOW YOU WHO I AM. HEAR ME
SSHEH
BE BETTER TO STOP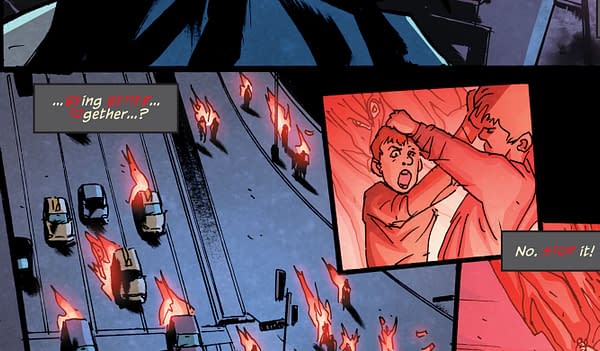 READY SET OFF CITY SHUT DOWN SAFETY
VOICE SAYING CHANGE

YOU WIN MONSTER
Neat little trick, isn't it?
BATMAN WHO LAUGHS #5 (OF 6)
(W) Scott Snyder (A/CA) Jock
It's a battle to the death as Batman goes head-to-head with the Grim Knight! The Caped Crusader is forced to not only fight off the most evil version of himself, but the growing desire to turn his back on his moral code and commit cold-blooded murder. Any other time, Batman would be able to stay on the straight and narrow, but as the Joker serum finally takes over his body, Bruce Wayne may just succumb to pure evil, and kill the Grim Knight. All of this is foreseen by the Batman Who Laughs, who has been planning for the corruption of Bruce Wayne, banking on him activating the "Last Laugh" protocol and turning Gotham City into an incubator for evil. All the Batman Who Laughs needs is one last "Happy Bruce" from another dimension to make his serum work…but only Batman knows where the last Bruce is going to show up.In Shops: May 08, 2019
SRP: $4.99
Enjoyed this article? Share it!