This is the Top Ten Bleeding Cool Bestseller List, as compiled by a number of comic stores from their sales on Wednesday and Thursday. It measures what are known as the "Wednesday Warriors", those who can't wait till the weekend to get this week's comics. And it was a close one with Powers Of X and Batman circling each other store to store to store… the consensus being that Batman would have won if retailers ordered enough as it sold out in most places. But Powers had greater retailer confidence earlier on so tipped the balance.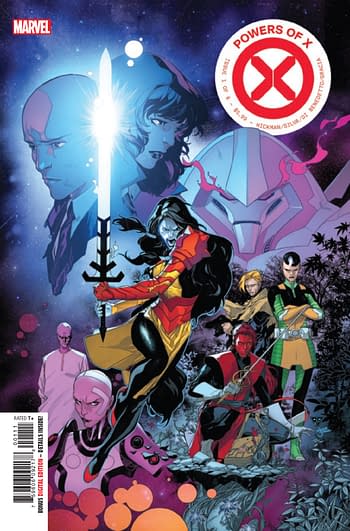 Top ten bestselling comics of the week
Powers Of X #3
Batman #77
Superman Year One #2
Absolute Carnage Vs. Deadpool #1
Guardians of the Galaxy #8
History of the Marvel Universe #2
Ghost-Spider #1
Valkyrie Jane Foster #2
Daredevil #10
Aquaman #51
Thanks to the following retailers…
Who had this to say:
The X-Men continue to dominate the Weekly Top Ten list at FFF with Powers of X taking the Top Spot, outselling every copy of Batman we got this week. Batman was of course our second place bestseller and we'd have sold more if we could've but the hype was real and we were completely sold out by Friday night. Now we'll just have to see how long the big change lasts. Riding this week's shocking coattails, Batman #76 managed to squeak into the Top Ten again this week, taking the #10 spot. Also making an appearance on a subsequent week is Once and Future hitting the #6 spot on it's second week. Absolute Carnage Vs Deadpool and Guardians both sold well, one because it's Carnage and Deadpool and the other because it's Cates. Supernan Year One sold strong on it's second issue which is great to see coming from two love em or hate em artists. The surprise of the week has to go to the Black Mask one shot. Event tie-ins (one shots at that) are hit or miss and this was definitely more hit. Hopefully the rest of them can do the same.
—
Started the week a little worried that two issues of Powers of X out in a row would possibly hinder sales (I've heard from a few readers now that they much prefer House of X, despite the fact that the two stories read like one) or cause confusion, but fortunately that wasn't the case. Powers performed just as well this week as last, and as well as HoX the week before that. It's worth noting that I've had more people start pull-lists in the past month than I've probably had in the last year combined, and it's been almost exclusively for PoX and HoX. Batman #77 trailed along in second, selling less than it used to despite the fact that this issue was hot. Ghost-Spider enjoyed a great first issue, though the primary complaint I've heard is that no one really likes the fact that they took "Spider-Gwen" out of the title. Superman Year One seems to be under-performing, not even matching our average Superman or Action Comics sales. Next week looks to be much bigger as far as new releases go, so I'm interested to see if those numbers climb much in the second week.
—
Everyone wanted Batman #77 – but when you've got 9 covers competing with 2 covers POWERS OF X #3 still took the #1 spot. Can't seem to the find the ceiling on these Hickman X books as more and more people sign up for the comic with every issue. HUGE, much needed X hit for MARVEL.
Superman Year One, while selling very well has to be one of the worst comics I've read in years. I understand the selling power of the word 'FRANK MILLER' – but come on folks this thing is one of the biggest train wrecks I've seen – is there no editorial oversight on this thing? It's fascinating in the sense of looking at how bad a comic can be written and still be a massive hit.
—
Batman 77 blew out of here. Powers of X 3 was close to beating Batman. No monthly Deadpool, yet an Annual and him fighting Carnage. School started so it was a mixed week for sales results.
—
Zero surprise that POWERS OF X #3 is our best seller this week, obliterating every other title on our racks in sales. However, this week also had the reprints of previous issues hit the shelves which means HOXPOX is all over our list this time around. Not that anyone is complaining: it's a real blessing to see X-Men comics both telling very strong stories *and* doing numbers.
Towards the middle of the list we have a couple of #1's, with tie-in mini-series ABSOLUTE CARNAGE VS DEADPOOL and rebooted ongoing GHOST-SPIDER (aka "Spider-Gwen").
—
Other popular titles this week include the usual BATMAN, as well as GUARDIANS OF THE GALAXY and HISTORY OF THE MARVEL UNIVERSE. For a little excitement outside the Big Two, BLADE RUNNER 2019 continues to prove fairly popular.
—
Both Powers of X and Batman sold out day one. But Powers sold out sooner, with more copies. Maybe the Alfred word didn't get out sooner?
Notable Sales:
Amazing Spider-Man #700 9.6 $1,200 signed by Stan Lee & Ramos – 1 in 200 Ditko Variant CGC graded
Tales to Astonish #42 gd/vg $90 We just got in a small collection with some nice silver books from 1959-1962. It's all pretty low grade, but I think we can get some people interested in most of it.
Enjoyed this article? Share it!