The Bleeding Cool Top 100 Power List 2018 Countdown: #11-15
Getting closer.
Every year, Bleeding Cool runs its Top 100 Power List of members of the comics industry. And every year we get told how wrong we are. Somehow, it's always for completely different reasons and from completely different directions. Why was X in when Y was not? Why is Z is high when W is so low? And neither U or T should be on this list after that incident involving V… and condemning us for being either infested with SJW virtue signalling or providing platforms for fascists – and sometimes simultaneously. Man, I don't know how Time Magazine manages.
But that's part of the process. This attempt to list the most powerful people working in the English-speaking comic book marketplace is, of course, flawed. It is judged by all manner of attributes, the ability to influence what comics exist and sell, but also the willingness to use that power in the industry to affect things, and the ability to retain said power if a job is taken away. Which is why you will see a number of people on a higher spot than their bosses.
The Power List rewards those who combine roles, creator, publisher, distributor, retailers, those who are double and triple threats, and also where power is concentrated in one person rather than being spread out among many. Some powerful organisations or groups, where power is diffused amongst several individuals, may drop down or drop out altogether.
It does not measure talent or likeability, respect or fairness, and it does not intend to represent diversity or balance. All it does is note power, used for betterment — or detriment — in the English speaking comic book world.
The list was created in consultation with a number of senior figures in the comics industry, and I thank them for their help. Although because they all disagree, they'll all think the final list is wrong, too.
If you really hate this list, then do the obvious thing. Write your own. Otherwise, watch for new batches every day…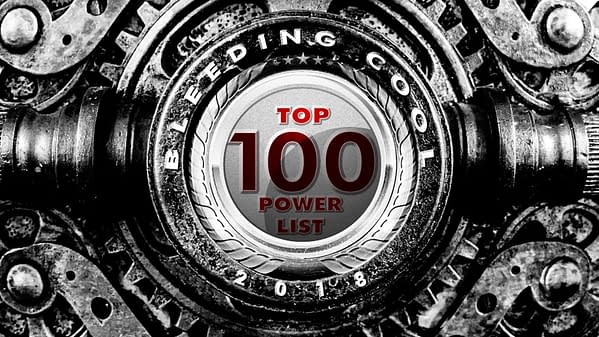 11. Mike Richardson. Co-owner and President of Dark Horse Comics, this year saw him sell a chunk of the company to Chinese investors, putting them on the board. This will increase Dark Horse's access to the Chinese market as well as bringing Chinese IP to the USA, but it is no longer the largest comic book publisher owned by one man. They have lost some licenses of late, but with Stranger Things, Fight Club 3 and Hellboy on the rise, they continue to benefit from their pioneering of gaming art tie-in titles. Look for a new studio deal in the new year, more films and TV shows for 2019, new comic lines and a new talent programme, with Mike Richardson still given autonomy within the publisher.
12. CB Cebulski. Editor-In-Chief of Marvel Comics, he has one of the keenest eyes for new talent in the comic book industry and his role as EIC has seen him travelling the world, representing Marvel, finding new creators, doing deals with Japanese rock bands and basically getting the Marvel word out and about like never before. At home, he has been keeping the plates spinning, doing what Marvel needs to do to stay top dog, bringing back the Fantastic Four, finding a new way to relaunch the X-Men and keeping up with the TV, movies and now games…
13. Scott Snyder. Taking on some of the Geoff Johns role at DC Comics, Scott Snyder has carved out a solid slice of DC Comics courtesy of Metal, No Justice, The Batman Who Laughs and his ongoing Justice League series topping the charts. He has become a mentor to other creators, and a guide for the future shape of the DC Universe, while still writing books that sell extraordinarily well. He has a habit of standing up against the suits until they came round to his way of thinking, justified by sales and critical acclaim. Despite all this he remains a sensitive creator, leading him to keep fighting for what he has. Look for Bendis' creator-owned deal at DC to be quite inspiration for Snyder going forward as well…
14. Robert Kirkman. Chairman of Skybound, and partner at Image Comics, Robert Kirkman's Walking Dead continues to be a monster market performer, even if it is slightly down in prominence than in previous years. Coupled with strong performances from his other titles, Robert Kirkman still has the power to up-end the comic book scene, such as the surprise launch of DIE DIE DIE this year with Chris Burnham, circumnavigating the solicitation process by throwing lots of money at it. Will anyone match him for April Fool's Day?
15. Geoff Johns. He may have dropped from CEO of DC Comics, but he is still co-writing the DC movies, the Doomsday Clock comic which is setting out the near future for the DC Comics Universe, relaunching Shazam for the upcoming movie, with Legion and the Justice Society of America being revamped too. And there's still The Three Jokers from Black Label and Johns' announced-but-undetailed imprint The Killing Zone, set to match Brian Bendis' Wonder Comics line. We will see…
See you again later tomorrow. Ten more to go. And keep up with this handy-dandy Top 100 Power List tag.