The Bleeding Cool Top 100 Power List 2018 Countdown: #7-10
So very close…
Every year, Bleeding Cool runs its Top 100 Power List of members of the comics industry. And every year we get told how wrong we are. Somehow, it's always for completely different reasons and from completely different directions. Why was X in when Y was not? Why is Z is high when W is so low? And neither U or T should be on this list after that incident involving V… and condemning us for being either infested with SJW virtue signalling or providing platforms for fascists – and sometimes simultaneously. Man, I don't know how Time Magazine manages.
But that's part of the process. This attempt to list the most powerful people working in the English-speaking comic book marketplace is, of course, flawed. It is judged by all manner of attributes, the ability to influence what comics exist and sell, but also the willingness to use that power in the industry to affect things, and the ability to retain said power if a job is taken away. Which is why you will see a number of people on a higher spot than their bosses.
The Power List rewards those who combine roles, creator, publisher, distributor, retailers, those who are double and triple threats, and also where power is concentrated in one person rather than being spread out among many. Some powerful organisations or groups, where power is diffused amongst several individuals, may drop down or drop out altogether.
It does not measure talent or likeability, respect or fairness, and it does not intend to represent diversity or balance. All it does is note power, used for betterment — or detriment — in the English speaking comic book world.
The list was created in consultation with a number of senior figures in the comics industry, and I thank them for their help. Although because they all disagree, they'll all think the final list is wrong, too.
If you really hate this list, then do the obvious thing. Write your own. Otherwise, watch for new batches every day…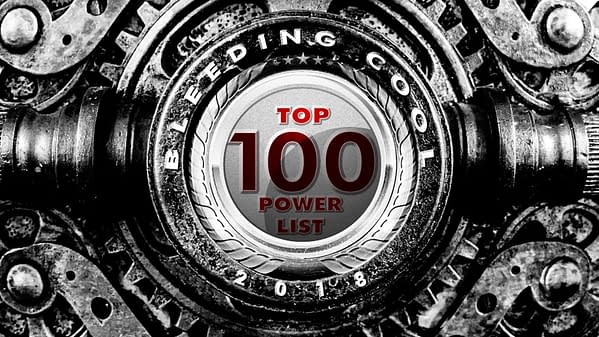 7. Tom King. What a year for Tom King, Mister Miracle, Walmart, Heroes In Crisis and the Batman wedding. Able to tell the kind of stories that have never been told about Batman before, pick his artists, get them spin-off books of their own, even get rid of his editor if need be. No comic book creator has as great a say as Tom King right now. What he wants, he's getting – and if not, he knows seven ways to kill you where you're standing.
8. Joe Quesada. He used to be modern face of Marvel Comics, though Joe Quesada has managed to grab a little of that magic. Nevertheless as Chief Creative Officer at Marvel, Joe Quesada is heavily associated with the publisher and has stepped up to take a more proactive role within the publisher. The Marvel Creative Committee no longer advises the films but still has a strong influence across other media which all feeds into the comics these days Still a guiding force at creative summits, the legacy of Secret Wars in the series still being published show his fingerprints. A strong political player at the publisher, he can also bring his still-much-in-demand artistic skills to push one particular project over another.
9. Brian Michael Bendis. His move to DC Comics via Diane Nelson shook the company to its core and everyone started fighting over their own fiefdoms as Bendis annexed the Superman titles, introduced an unprecedented creator-owned line at the publisher, and kicked off his own imprint of superhero titles with Wonder Comics. He has also seen other creators associated with him come to the publisher, including Kelly Sue De Connick, David F Walker and Matt Fraction (though his projects have yet to be confirmed).
10. David Gabriel. David Gabriel, Senior Vice President of Sales at Marvel, is still getting his one major death-per-quarter once made that there was a scheduled character death every quarter to bump up sales has held true at the publisher ever since. The man who founded the New York City Comic Book Museum back in 1999 is in charge of pushing the public perception of the Marvel superhero across media, and has considerable editorial input as well to create the kind of comics that he can make everything sit up and take notice of.
See you again later today. 6 more to go. And keep up with this handy-dandy Top 100 Power List tag.