The Bullet With Johnny's Name On It
Johnny Bullet is a comic I created about a drag car racer set in 1974. It's a Web comic published at ComicBookBin. It's a different approach than other comic media sites crossing the production line. Julian Darius of Sequart, is launching Martian Comics as a print graphic novel. Broken Frontier's Frederik Hautain is publishing an anthology named Broken Frontier. I respect their efforts and contribution to comics.
Web comics seemed like the natural way to introduce Johnny Bullet. It allows me to test a non-standard format. It's a black and white horizontal comic strip. It looks like it's from the 1970s and has that big logo in the first panel of each page.
I launched Johnny Bullet in November 2014 after teasing the project for months. I have no more buffer. Currently, I create new pages the same week I post them. Updates matter in the Web comic world. As seen with Marvel's Secret Wars, print comics also have deadline issues. The pressure is more direct with Web comics. Skip an update and readers think that you're abandoning the project. I'm a doctoral student at the Faculty of Information at the University of Toronto. I can't draw more than a page per week but I try not to miss my Sunday deadlines.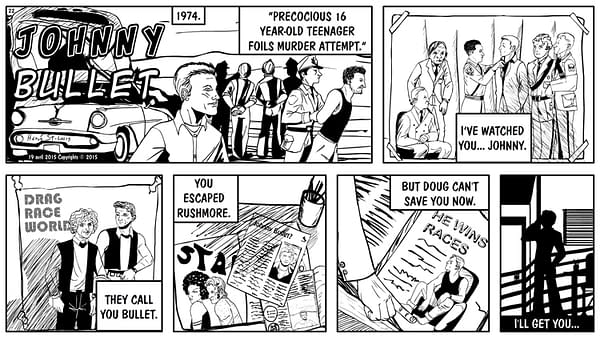 ComicBookBin gave Johnny Bullet a built-in audience although it's not targeted. Building that core audience is a challenge for every new Web comic. Some creators rely on portals like The Drunk Duck, and Tapastic. I do too. There are smaller mirror versions of Johnny Bullet on six different Web comic portals. ComicBookBin also hosts other Web comics. They all update on Sundays. Fellow ComicBookBin writer, Leroy Douresseau publishes Grumble, a Southern horror thriller. Then there's The Specimen. It's a short super hero comic drawn by French cartoonist Églantine Pillet. I created it in 2004 for a another project. We're not creating another Web comic portal although we can accommodate more projects.

I post Johnny Bullet in French and English. My scripts switch from one language to the other, non-stop. The creative multilingual background is at the core of Johnny Bullet. I spent a lot of time figuring out the lettering for bilingual comics. Speech bubbles have to accommodate both languages. I draw Johnny Bullet with Flash and a Wacom Cintiq. The academic in me says that I've developed an information architecture. It's based on my animation production background.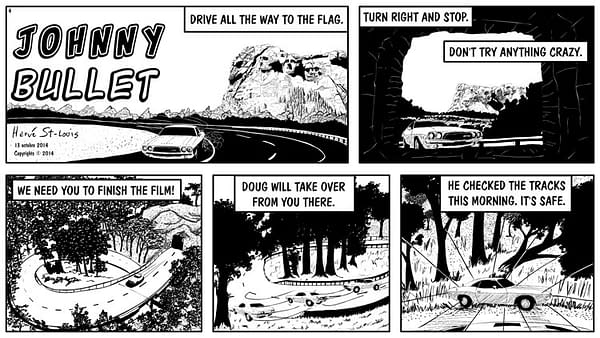 Comics are different from animation. I had never published a professional comic before Johnny Bullet. It's strange since I've launched ComicBookBin way back in 2002. I had a midlife crisis in 2014. Johnny Bullet got me out of it. In the past, I was adamant about not crossing from comic press to comic production. Now, I don't care. Johnny Bullet is the kind of comic that I want to read now. A friend asked me a few months ago which super hero I would be or what super power I wanted. I said nothing. What I'm drawing today is Johnny Bullet and it's not a super hero!
I do a lot of research on 1970s cars, clothing, haircuts, shoes and more for Johnny Bullet. It's fun. What's funnier is that many people tell me that the comic has a 1970s look. This is the way I draw. Anything else I would do would look just like Johnny Bullet! Although I still take contracts at Toon Doctor® my animation studio. But I wasn't drawing as much before Johnny Bullet. Before the PhD, I was doing user experience design for mobile apps. Readers will definitely see improvements between the first and the latest Johnny Bullet strip.

Frank Frazettas's Johnny Rocket and Steve McQueen are the inspiration for Johnny Bullet. I approached the licensor for McQueen's estate but never got a response. It is the best thing they could have done. Johnny Bullet started as a blank. I didn't know much about who he was and his personality. Readers can witness his emerging character. He's his own man. I couldn't have done that with a comic about Steve McQueen. Too many restrictions!

The current Johnny Bullet storyline involves drag racing in a remote Tennessee county. He's caught in a small town conspiracy during a beauty pageant. He's gets embroiled in a crazy plot and he can't get out of the drag races that they throw at him. We've had a few car crashes but not enough drag races. Readers who have been waiting for intense racing will be happy!
Follow Johnny Bullet at comicbookbin.com/johnnybullet.html and if you want to test your high school French at comicbookbin.com/Johnny_bullet.html