The Current State Of Fire-Ripped Cerebus Digital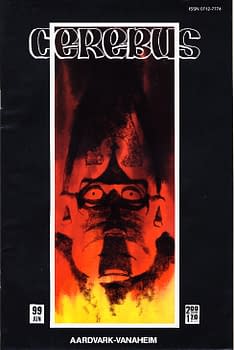 George Peter Gatsis writes to Bleeding Cool, regarding the recent news of a fire, which destroyed Cerebus negatives well before the anticipated Cerebus Digital project was completed.
Here it is by the numbers :

The High Society Project is a total of 25 issues (26 to 50) which is 500 pages total (not including letters and covers). The covers, letters and additional pages, such as guest stories and advertisements are all scanned.

We are good between issues 26 to 40. All film is scanned.

There are a total of 200 pages between issues 41 to 50 (not including letters and covers) 69 originals are scanned. 1 art page from the wild is collected. AND… 130 pages (film negatives) were lost in the fire.

I have spoken to Dave, and I will be getting soon that best printed material of the missing pages, for scanning and detail restoration to create new masters from.

AND, as time progresses and I get an original high rez scan of anyone of the 130 pages, it will swapped out the restorated version.

LOL, I guess being digital, you can update the book without having to go to the expense of reprinting.

Pretty soon this detail breakdown will be updated on The Cerebus Art Collection.

What it comes down to now, is that the High Society project is squarely in my hands.

I will be adjusting the raw scans which Sandeep scanned. Cleaning up and resorting Covers, letters and Advertising pages. Formatting them for Diamond Digital, iVerse and Comixology. Also creating additional formats of ePUB, PDF and CBR. And to top that off compose, edit, sound mix (effects and music) the Audio/Video version of this project… which will be an MP4 format. ( if anyone is wondering how can I do all this… just check out my GPG url at the bottom)

If anyone has any questions please email me directly at tbdeinc@gmail.com with CEREBUS in the subject line.

HERE ARE THE URLs if anyone is able to help Sandeep out.

AND… lets not forget there is a CEREBUS FILM in production:

Sincerely,

George Peter Gatsis
(the guy with too much stuff on his plate, and I haven't forgotten the "gravy")
http://www.georgepetergatsis.com/

P.S. Yes, I do have multiple back ups of the Cerebus Project.