Posted in: Comics, Heritage Sponsored, Vintage Paper | Tagged: Fox Feature Syndicate, golden age
---
The Dart Debuts Before the Roman Empire in Weird Comics #5, at Auction
Weird Comics #5 from Fox Feature Syndicate saw the debut of a weird character indeed. The Dart has his origin in the Roman era of Sulla.
---
Debuting in the appropriately titled Weird Comics from Fox Feature Syndicate, the Dart certainly qualifies as a weird superhero even by the standards of the Golden Age. As his origin in Weird Comics #5 explains, Caius Martius was a citizen of the ancient Rome of "2200 years ago" who fought the racketeers and extortionists of his era and could "spring through the air like a dart."
The historical forces of pre-Empire Rome eventually resulted in Caius Martius' arrival in the New York City of 1940, where he quickly began employing his fighting skills to the same kind of fight he had in ancient times. This issue also features Fox's Thor, God of Thunder, and an unusual Dr. Mortal cover with some interesting history behind it. A tough-to-get early Fox comic book, there's a Weird Comics #5 (Fox Features Syndicate, 1940) CGC VG/FN 5.0 Cream to off-white pages up for auction in the 2023 September 28 The Fox Comics Showcase Auction #40239 at Heritage Auctions.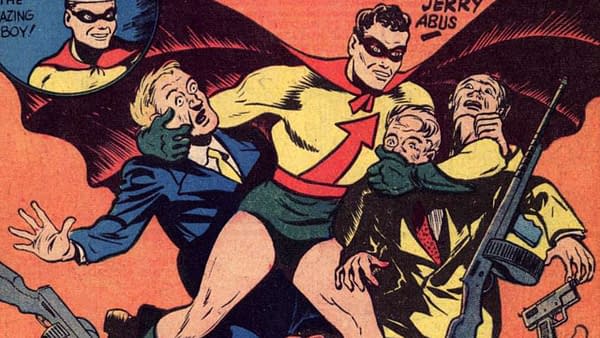 The Dart's origin story seemingly takes place around 83-81 BC during what is called Sulla's Civil War, which was fought between General Lucius Cornelius Sulla and forces formerly led by Gaius Marius and Lucius Cornelius Cinna. Sulla, Marius and Lucius are all named characters in the story. Caius Martius is aligned with Sulla, who is characterized as the hero of this moment, despite him seizing Rome by force and becoming a brutal dictator, and perhaps setting the precedent for Caesar. Notably, the story's repeated claim of "2200 years ago" was off by about a century, with the likely period between that era and 1940 being closer to 2100 years.
To end the interference of Caius Martius' quest for justice, Marius orders Lucius to capture Caius Martius and put an end to his activities. Lucius does this by using occult powers to dissolve his body into a stone altar for 2200 (again, actually 2100) years. Martius awakens in a museum in 1940 New York City, where he uses his vague "darting" power (which essentially consists of flying head-first) and ancient Roman combat skills to once again take up the fight against racketeers and extortionists. Calling himself the Dart, he also gains a sidekick, Ace the Amazing Boy.
Evil mad scientist character Dr. Mortal is the cover feature of Weird Comics #5, with a shrinking man cover likely inspired by the science fiction-horror film Dr. Cyclops, which had been released earlier that year. Dr. Cyclops was marketed to be a big-budget blockbuster for that year, from producer Merian C. Cooper and director Ernest B. Schoedsack, both of King Kong fame. Considered the first science fiction film released in full technicolor, the film received a lot of hype beginning in early 1940, including a pulp adaptation in Thrilling Wonder Stories by writer Henry Kuttner. It would appear that Victor Fox rushed this cover out to take advantage of the film hype, with only the opening panel of the interior story featuring the shrinking man story on the cover. The cover itself appears to be a remix of the elements of that opening panel, but confusingly, the rest of the interior story features a mind-transfer tale. The actual shrinking man story that matches this cover appeared in issue #6.
The artwork for this debut Dart story is credited to Pierce Rice, with the fittingly weird cover by Bert Whitman. A very odd issue of a weird title indeed, there's a Weird Comics #5 (Fox Features Syndicate, 1940) CGC VG/FN 5.0 Cream to off-white pages up for auction in the 2023 September 28 The Fox Comics Showcase Auction #40239 at Heritage Auctions.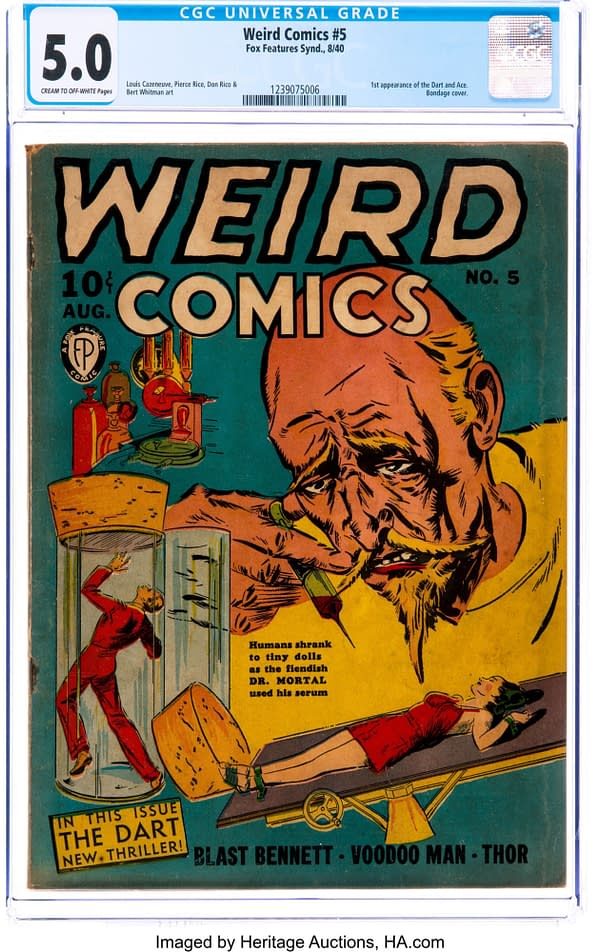 Affiliates of Bleeding Cool buy from and/or consign to Heritage Auctions.
---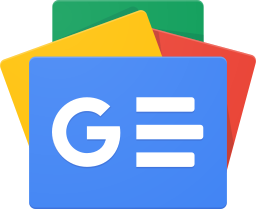 Stay up-to-date and support the site by following Bleeding Cool on Google News today!