Andrew Clemson writes, Sitting down to write my first comic, I fell victim to a pretty common assumption. That your book will be guaranteed to run for years, you'll be able to tell your story in full and people will want to read it! Those of you who backed the Kickstarter edition of my book STAR BASTARD might remember me talking about how I initially set out to write the next big super hero epic – but slowly realised that crap is HARD.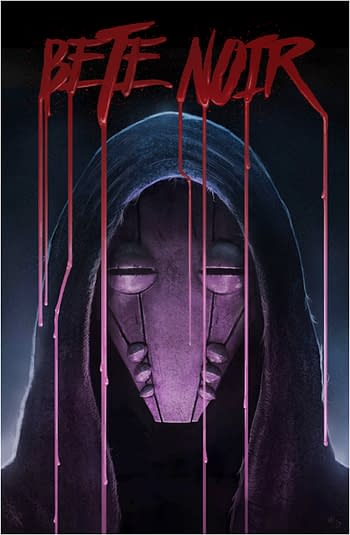 So, as I wrapped issue FIVE of my HUNDRED issue magnum opus, I became exhausted of carefully hiding clues and trying to set up twists that probably would never see the light of day – due to the sheer difficulty of keeping a comic series going long enough (especially for someone with absolutely no track record or reader base). Out of pure frustration, I wrote a ridiculous pitch about a space captain that slept his way around the galaxy whilst punching space dinosaurs and talking to sentient fart clouds.
Star Bastard found a perfect home at Scout Comics (shameless plug – issue 4 just hit stands this month).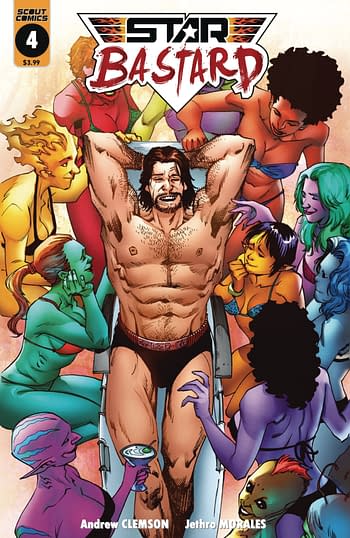 Fast forward a year or so, and Matt Hardy of Mad Robot Comics very kindly offered to check over my slush pile of scripts. Matt, incapable of stopping working for fear of death (much like a kind of editorial shark) found a way to cut away all the unnecessary fluff in the BETE NOIR plot, and trim it down into a simple but awesome revenge story.

Reframed and refocused, the new story became something very different, that was genuinely interesting, and let me play with super-stuff without it feeling like it had been done a hundred times before. Matt made me remove some of the swearing – and I had to cut ALL the space dinosaurs – but I think the book is better for it!
Bete Noir is a revenge story set in a world where costumed heroics are a thing of the past. A catastrophe years prior has forced all of the costumed, both heroes and villains, out of the public eye and into the shadows.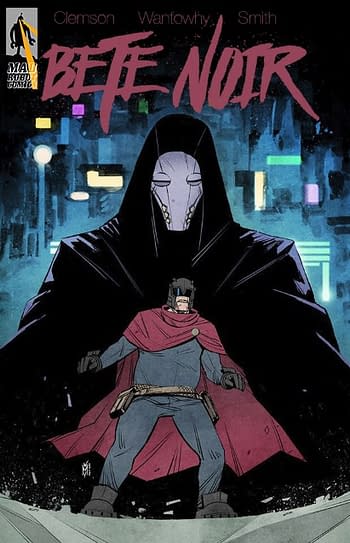 One man returns from supposed death to exact a bloody vengeance on the people he holds responsible, the most feared vigilante of days past – THE DJINN. But, as our masked man hunts down the skeletons of the city's past, we begin to question whether he is still the hero he once was, or if he is something altogether…. different?
The artwork is jaw-droppingly rendered by Kris Wantowhy. His artwork has a very Sean Gordon Murphy vibe, which helps to sell the grittiness of the story.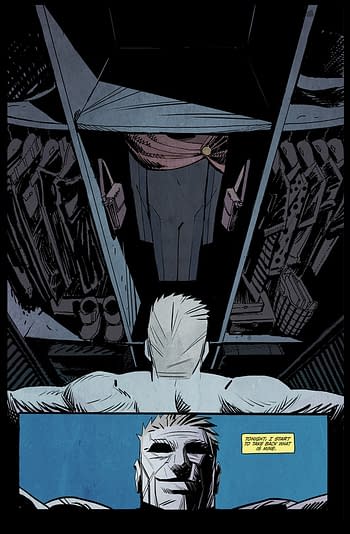 We've got a bunch of stuff up for grabs at various pledge levels, custom action figures, original art from Star Bastard and prints from Clark Bint, Russell Mark Olson, Keith Seymour and this one by Bryan Silverbax.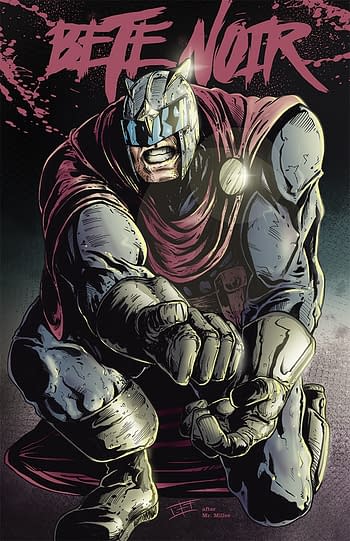 The project is live until July 27th. I'm not quite planning 100 issues anymore – but I can still promise you an epic story. 
Enjoyed this article? Share it!