The Lost Art Of The Mini-Comic
Eon Quest 5.5'' Action Figure Line Kickstarter from Jon Wesley Huff. Close Date: November 14. Publish Date: ASAP
This article is aimed at looking at the lost art of the mini-comic, a staple of the 80s that has fallen by the wayside, but is a critical part of the Eon Quest action figure line.
Jon Wesley Huff writes, It's incredibly easy to view the past through a nostalgia-fogged haze that can make even the dumbest ideas seem cherished or quirky in retrospect. But if there's one concept the children of the 80s enjoyed that still stands the test of time, it's the mini-comic. In the 80s, you couldn't walk down the toy aisles without encountering a toy line that had one of those 4-color glories packed inside. Now, true, the quality of the mini-comics could vary greatly from property, but for a kid it didn't matter. In the days before 24/7 cartoons it was an unbelievable treat. Your favorite toys were all there, in full color, battling it out in the pages of a little comic that was absolutely FREE (as far as you knew.)
The list of action figure lines, alone, that included mini-comics includes (but is not limited to) ALIENS, Super Powers, Masters of the Universe, RoboForce, Sectaurs, Dino-Riders, Rock Lords, Wheeled Warriors, Mantech, Super Naturals, The Other World, Atari Force, Animax, Steel Monsters, Starriors, Bravestarr, Flash Force 2000 and many, many more. If you don't remember a lot of these, you are definitely forgiven. The 80s were a different time for action figures, where new and original properties were popping up every second—a stark contrast to the largely licensed or regurgitated franchises of today. That's one of the big motivators for me when I was developing my own action figure line, Eon Quest. The amount of original properties has shrunk so much over the years, I thought it'd be fun to create something for adults to collect that not only captured the spirit of so many of those toy lines from the 80s, but did something different with it, too. From the start, a mini-comic was a prime ingredient in the mix, to me. For one thing, I was as interested in telling the stories of these characters as much as I was in making action figures of them. So every figure will include a mini-comic—one part of a five part story—so that people can get to know them. I placed the first mini-comic online as part of the Kickstarter effort for the first series so that people could start to get to know (and hopefully connect with) the characters and the story. So, this begs the question… if I, a guy trying to drum up funding for a toy line through Kickstarter, could include mini-comics with my action figures, why don't the big boys in the toy world do it? What happened to the mini-comic?
There are a lot of possible answers to that question. To fully understand, you have to go back to the origin of mini-comics as a popular pack-in with action figures. You have to go back to my first exposure to them—the Masters of the Universe line from Mattel. Mattel started including mini-comics (though the first few would be more correctly called mini-storybooks) with their figures as way of guiding play. The idea is that kids would read the stories, and that would help teach them how to play with their toys. I can, anecdotally back this up. I can't remember how many times I re-enacted the scene of a turned Roboto battering Teela's shield as she tried to protect Castle Grayskull from him! I think part of the reason I did that, though, was because as a kid I found the scene so frightening. It was like a kind of therapy. In any case, the mini-comics were incredibly successful at what they did, and Mattel kept it up, even after they had an animated show on the air. Seeing this success, toy companies were eager to replicate it, and the mini-comics explosion began.
So why did toy companies stop? Part of it is because of the attrition of new ideas in the toy market. Few toy lines are launched now without some associated media, or they are simply based on some established franchise or show. The idea of taking a chance on a totally new property (certainly in the case of action figures) is becoming an increasingly risky one. When a toy company launches a new toy line, it's usually a make it or break it venture where millions upon millions of dollars are at stake. So, if money is going to be spent on creating new media to support the line, it's likely going to go into animation and/or online games. The fact is the notion of the mini-comic has become somewhat antiquated. In the 80s, even if you had cable, you didn't have the ability to watch cartoons all day, every day. Certainly not the specific ones you wanted to watch. Even VHS tapes of your favorite shows were expensive. So mini-comics were one of the few ways of reliving the adventures of your favorite characters over and over. Now, that simply isn't the case for many children.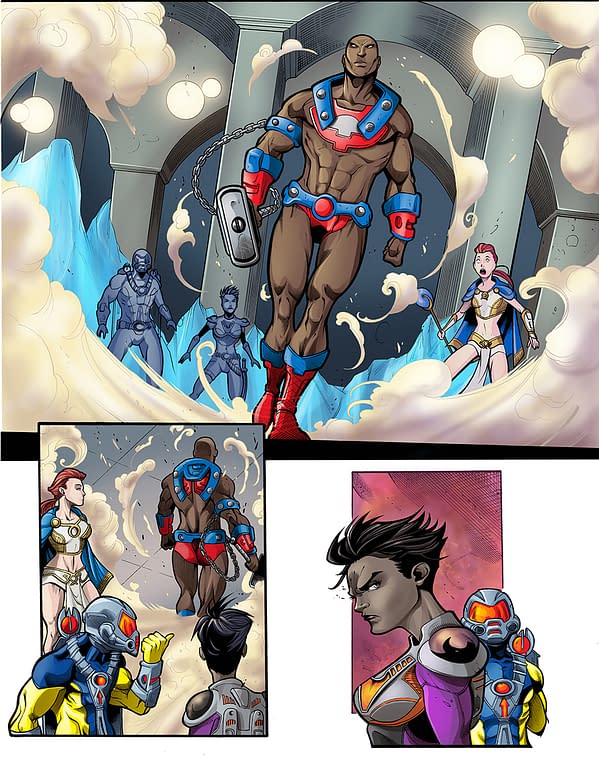 Another factor in the decline of the mini-comic is that toy companies want to make money. I have a lot of leeway here with Eon Quest. I really just want Series 1 to make enough money so that I can make Series 2. That means that my Kickstarter goal is relatively small, and my figures relatively low-priced in relation to the quantities I'm producing. But if a large toy company were to look at my margins they'd laugh me out of the building and down the street and into a bus on the way home. Comic books, in general, are just really expensive to produce. I started work on my mini-comics really early, almost at the start of the project. I knew the lead time on the comics would be pretty extreme, and I wanted to have the first one done for promotional purposes. I looked into several comic book studios before finding just the right one. I've been incredibly pleased with their work and the artists I'm working with, and their pricing was great. One studio, however, that I got a quote from quoted me a price that would have doubled or tripled the entire budget of my project! I was a little taken aback, I must admit. As a creator myself, I always want to make sure artists are paid what they should be paid for their work, but it was an eye opening experience that made me wonder how any comic book is ever profitable. So I can certainly see why original comics have become less and less prevalent.
Of course, part of the decline of the mini-comic stems from the decline of the comic book as a popular art form in general. In the 80s, the distribution and readership for comic books was so much greater than it is today. Especially when it comes to the core audience of most toy lines—younger kids.
But, in this world, not all things that are no longer as popular need to be lost completely. It's one of the joys of Kickstarter—that weird little projects no executive would ever green light CAN get made. It's part of the reason I'm trying to launch Eon Quest and the mini-comics associated with it. It's not just an exercise in nostalgia for nostalgia's sake, though I don't think there's anything particularly wrong with that sometimes, too. The idea is to look at these product formats that we all enjoyed in the past—the 5.5'' action figure and the mini-comic—and see what new stuff can be done with it. In the end, Eon Quest isn't about the glories of yesterday. It's about tomorrow. These are heroes and villains for here and now, wearing a form that will hopefully be fun and familiar. Although these toys are for adult collectibles, if the characters prove popular enough, who knows what tomorrow might bring?
You can check out the Eon Quest Kickstarter here.
For more info about Eon Quest, visit www.eonquest.com
If Bleeding Cool readers pledge and message me the secret words "Wolf Howl" through Kickstarter, I'll enter them to win a free poster print featuring the packaging art for the action figure line.