The Origin of The All-New Power Rangers Team Revealed in Go Go Power Rangers #21 (Spoilers)
We brought you first word on the secret identities of the new Omega Rangers team who debuted in Mighty Morphin Power Rangers #41, kicking off the big Necessary Evil event in BOOM! Studios' Power Rangers comics.
And in Saban's Go Go Power Rangers #21 today, we're left with some big questions…and maybe one big answer too, as we kick off a new era with Tommy losing his powers…and Jason beginning to form the Omega Rangers.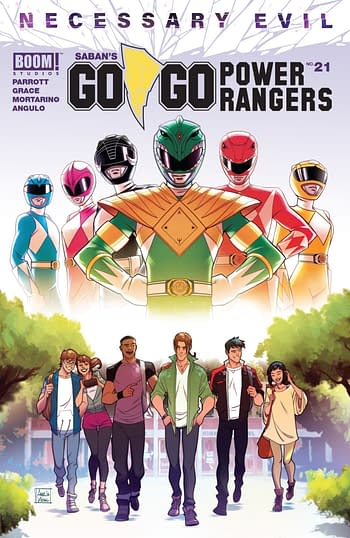 What happened after Shattered Grid?
MMPR #40 began with a flashback to the end of the Shattered Grid event, as everything faded to white and the Mighty Morphin Power Rangers disappeared.
But as we start GGPR #21, we pick up right where MMPR #25 (the first chapter of Shattered Grid) climaxed, with Drakkon killing Tommy.
Instead, this scene plays out the way readers expected/hoped…with Kimberly and Tommy finally kissing. This is one of the first times we'll ask about Shattered Grid, because…no one seems to remember it.
Who was in the alley?
As much as we at BleedingCool love the inside scoop, watching people make out while hiding in an alley seems a bit gauche even for us.
However, there's someone watching Tommy and Kimberly – and it makes you wonder if they know how this moment once played out…and now hasn't.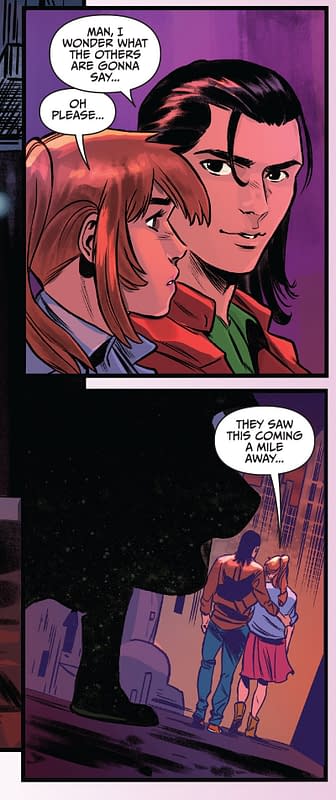 What does Shattered Grid have to do with the Omega Rangers?
By the end of the issue, we see that Jason is met by the mysterious Blue Emissary who we first met in Shattered Grid…and they seem to have a mission for Jason…which presumably leads to the Omega Rangers.
But while the Emissary remembers Shattered Grid, does anyone else? Jason utters Drakkon's name but does he remember how the alt-universe Tommy was defeated?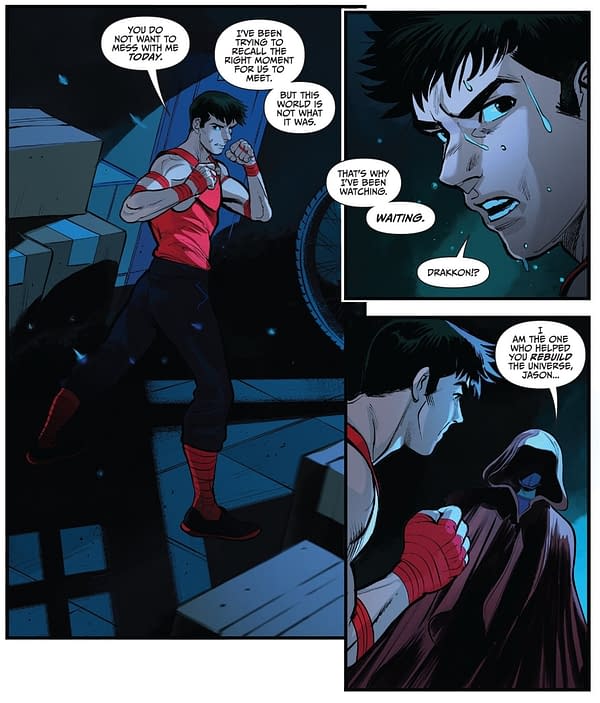 We're getting real X-Men: Age of Apocalypse vibes here, as a major event has occurred but no one seems to know why… and that's gonna have a major impact moving forward.
How does this fit into Power Rangers canon?
We know the BOOM! Studios Power Rangers comics fit into official Power Rangers canon, but fans have wondered how Drakkon and other new elements introduced thus far didn't ever get mentioned on screen.
Well, the covert Omega Rangers help answer a big question about the fates of Jason, Trini and Zack – with the former character returning to the live action TV series multiple times (including in the next season of Power Rangers: Beast Morphers).
And if no one remembers Drakkon, it might explain why no one mentioned that the White Ranger looks oddly like the greatest villain they've ever faced…and perhaps why Jason looks so uncomfortable in the scene.
How do Trini and Zack fit in?
Well, I guess that's why we're getting Go Go Power Rangers #22 in August, where we we'll definitely get more answers to the Omega Rangers origin story.
GO GO POWER RANGERS #21 CVR A MAIN VIDAL
(W) Ryan Parrott, Sina Grace (A) Francesco Mortarino (CA) Amelia Vidal
The Mighty Morphin Power Rangers have survived the shocking events of Shattered Grid and reality has now been reset…but has the danger truly passed? And how much of that war can the Power Rangers even remember? The answer to this question will set one of the Rangers on a path that will reveal an explosive, previously untold story in the Mighty Morphin Power Rangers mythos that will change everything you thought you knew. The writing duo of Ryan Parrott (Mighty Morphin Power Rangers) & Sina Grace (Iceman) and artist Francesco Mortarino (Mighty Morphin Power Rangers), begins the reveal of the secret history behind the Mighty Morphin Power Rangers with the introduction of all new characters, new alliances and jaw-dropping answers to some of the biggest questions that fans have always asked.In Shops: Jul 10, 2019
SRP: $3.99