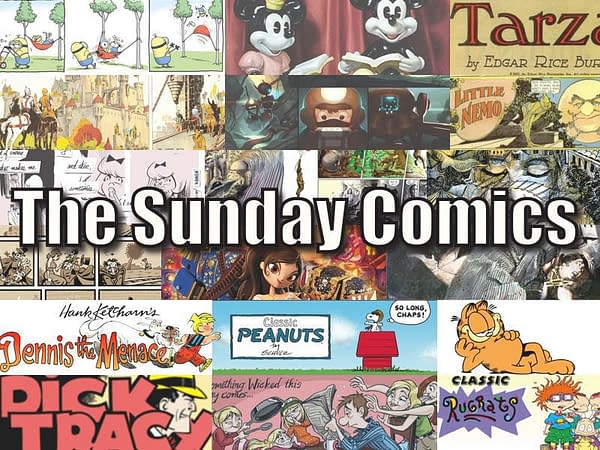 By Marc Goldner, Rob Gross and Rachel Korsen
To paraphrase an old saying: times change, people change. There are still people alive today that have lived through the Great Depression, two World Wars, the birth of personalized computers, and the fall of newspapers somewhere in between. Within those papers, The Sunday Comics have been a staple of every generation over the last century from Winsor McCay's Little Nemo in Slumberland to Hal Foster's Prince Valiant. The Sunday Comics of yesteryear were an art form to be admired, a world that saw cartoonists looked at as celebrities, but that sadly isn't the case anymore. "They are not part of the national conversation anymore", cartoonist Mark Tatulli tells ABC.
While some newspapers may continue to thrive either online or in print, it's not debatable that the comic section has been reduced to near nothingness. Creators are pinched for space, a compromise that's been made for some time considering Prince Valiant was the last full page comic strip produced in 1971 and Little Orphan Annie's now a fraction of her former size.
Major Publishers all have the same mindset, no one wants to try anything new. With a traditional newspaper, a traditional business mindset has been adopted. In some respects, it makes sense why the size and format of the old Sunday Comics isn't being taken advantage of anymore. Printing costs are high and many creators have abandoned the old models, looking for freedom online where there are less restrictions and little to no censorship. The United States market has become over-saturated, with over 200,000 "web" comics circulating online, no one person could read it all. The cream of the crop would ideally rise to the top but that's too idealistic of a dream. The traditional newspapers haven't done much to change their model outside of a special, limited insert or supporting the recently released Peanuts movie. Yet it's still impossible to replicate online what was once so large and impressive in its original size, nothing today matches the scope of Little Nemo's full page stories that saw a little boy exploring fantasy dreamlands drawn in full color.
Some of the best talent on this side of the planet can go unnoticed and that isn't mentioning thriving talent in developing nations. Without a vision to expand across borders, allowing artists the chance to create something new alongside established creators, while dropping boundaries on restrictions in both content and size, we will see a resurgence of comics enter the mainstream audience once again. There is an untapped audience in foreign markets that is still developing, and there's a well of unknown creative talent in these nations waiting to reach these respective audiences. What's the future, then, hold for The Sunday Comics?
Fortunately, there's still hope on the horizon. Despite newspaper comics fading over the last few decades, a new take on the medium aims to bring back the forgotten pastime that once gave countless generations joy. "To create a renaissance in comics, you need to look outside of what's being done today. To recreate that timeless art form, you must not only go abroad, but look at other mediums and see the most creative and effective way to bring people together. Creating unforgettable masterpieces doesn't happen overnight, it's something you must work for constantly. With every new idea, you need an equally creative way to execute a vision. " Marc Goldner of Golden Bell iterates.
Spearheading a recently funded project on Kickstarter, Marc Goldner launched the Sunday Comics with his two partners Rachel Korsen and Rob Gross, to bring newsprint comics back into the hands of consumers in stores outside of traditional comic book shops. Spotlighting over 300 creators including big name talent such as Paul Dini of Batman fame, Glenn McCoy Story Artist of Minions, Mike Collins Storyboard Artist of Doctor Who, Clinton Hobart Disney Fine Artist, Dave Alvarez Disney Cover Artist, Julieta Colas Cover Artist of Rick & Morty, Jorge Gutierrez Director of Book of Life, and John Sanford Director of the How To Train Your Dragon Netflix Series "Dragons", both within the US and abroad, this paper throwback looks to use the broadsheet sizing of 15'' by 22'' to display a host of new stories in full color.
Every new day has it's dawn and with the successful launch of Golden Bell Entertainment's Kickstarter campaign, over 900% funded as of November 28th, there's new hope that comics can thrive in the size they were meant to be read once again. No longer confined to tiny strips inside their limits.
"It's a shame that so many people have now just grown up without even an afterthought of The Sunday Comics." Marc said when asked where he believes the medium will be in the future. "Like vinyl, I believe that there's a future for print comics and we're paving that road!"
There's always a chance to bring something back into the fold, especially when the ink hasn't run dry yet. There's a bright future waiting for the newly resurrected comic section and you can order your first one year subscription on Golden Bell's The Sunday Comics Kickstarter!
Enjoyed this article? Share it!