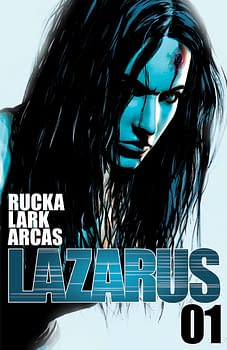 Louis Falcetti writes;
The scariest stories are always the most plausible. For instance the popular Saw franchise, which capitalized on the very reasonable fear that many Americans carry of being forced to participate in sadistic games of cat and mouse because they probably did something bad at some point. Well no, not in that case, but think of Psycho freaking out generations of moviegoers because EVERYONE SHOWERS. I'm having a hard time proving my point, but I'm having a great time attempting it. Lazarus by Greg Rucka and Michael Lark is (by the author's own admission) "hard sci-fi" but it's also as frightening as it is exciting. Frightening like the fear that comes with knowledge, the more you learn the more you know and the more you know the more you fear. Knowledge may be power but it's also goddamn unsettling.
It's also a gift to those who appreciate a dynamite premise which is at the same time a simple one. Simple enough to freak you out if you're paying attention. Did you ever see the film Moon? Remember how the reveal in that is a forehead slapping, "Duh." kind of moment, where the viewer can realize, "Of course corporations would do that. That actually makes scary corporate sense." That's what's going on in Lazarus, it's a book that makes scary corporate sense.
In the future (as in the past), according to Rucka and Lark, the world is controlled by absurdly wealthy families who supersede government/region etc. These families have a Lazarus (which I hope ends up being some awesome acronym), an individual who gets the best of everything dumped into them, like an unkillable, brilliant, ninja bodyguard, enforcer. This story is about one particular Lazarus named Forever, who like the best characters in the best sci-fi stories starts asking questions.
In the back matter Rucka talks about the genesis of the story which is almost as interesting and engaging as the comic itself. If reading the comic feels like reading something birthed from the now there's very good reasons for it. And apparently Uncle Warren helped as well, which should help to answer all the questions in your head about why you like the book so much.
Michael Lark's art is intense, foreboding, moody moving. He captures the desperation in a looter's lunge and the cold distance in a company doctor. The story feels like the cooperative creative achievement you hoped but never dared dreamed it could be. Does that sound over the top? I'm sorry, I got good comic book buzz. When you finish reading a comic and you just go, "Man. That was awesome." and you just sit there, staring straight ahead, not wanting to do anything else because it probably won't compare to the issue you just read.
The world of Lazarus is a lot like ours, for instance their poor people don't have the rights to access their own seeds either! … To quote Prof. Farnsworth, "I made myself sad." It's the have have have have haves against the never have I ever have nots. And the story is supported by the science and politics of the now but given the Rucka treatment, so expect to have everything flipped from your wigs to your beliefs. And I made it through the entire review without any hammy "This Lazarus raises the bar on quality!" lines. I'm proud of both of us.
Enjoyed this article? Share it!