 Earlier this year, Double Take, the comic spinoff of Take2Games, launched a new line of zombie comics.
Set in the sixties they are based on the public domain Night Of The Living Dead movie, though we understand they are moving towards a modern day post zombie apocalypse superhero universe.
As a promotional (and stocking) tool. they packaged all ten first issue comics together into a Super Pack for $20.
That was only meant to be for the first issue. But it seems like number of retailers much prefer it this way, it's a good deal for the reader and the stores don't have to keep an eye on ten different title – just one.
So Double Take have made their second and third issues available retrospectively as Super Packs, with the fourth issue Super Pack appearing alongside single issues in the regular Previews catologue.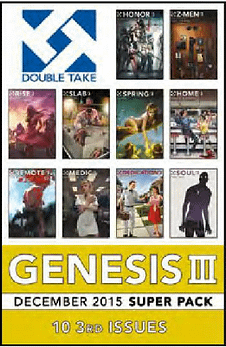 But it means that a few folk may have missed out on seeing the second and third packs on the order forms.
if that's you, here they are, with ordering details…
DOUBLE TAKE SUPER PACK #2 (MR)
Containing al 10 second issues of the Ultimate Night of the Living Dead series, the Double Take Super Pack is the best way to keep reading and collecting the stories from our first Big Bang Launch.
SEP158010 11/18/201 $20.00
DOUBLE TAKE SUPER PACK #3 (MR)
Keep up with Double Take's bestselling series with this 10-pack of comics containing one copy of issue #3 from 10 different Double Take titles.
SEP158431 12/16/2015 $20.00
As for the rumour that Double Take will be packaging other publisher's first issues in Super Packs for the same price point… that's an announcement yet to be made.