 The New York Daily News, courtesy of Marvel PR, ran the big spoiler reveals to the much built-up Civil War II #3, including headline spoilers. That was followed by other sites such as CBR, Newsarama, and ComicBook running the full spoilers including scans of the pages in question, and all running partial spoilers in their headlines, and going far further and in more detail than the Daily News.
We look forward to Dan Slott comparing them all to war criminals, or something.
While some stores were opening at midnight last night to sell them, it was far fewer than the list of stores Marvel ran. Indeed, one store told me that they had told Marvel Sales specifically that they were not opening at midnight, only to find themselves on the midnight opening list anyway. Cue a number of disappointed and cold punters….
So, Civil War II #3. Bleeding Cool did its best to read the tea leaves, between the lines, and past Brian Bendis productions to see where this might be going, in a series of articles, and we ended up being pretty much bang on the money. The death of Bruce Banner, at the hands of Hawkeye, to prevent the massacre that Ulysses foresaw, and the trial of Hawkeye as a result.
As we suggested, it does tap into #BlackLivesMatter, in an allegorical fashion at least, it may be more about police overreach. Hawkeye's insistence that he saw Bruce Banner's eyes flash green, even though no one else did…
…is reminiscent of police claims that they thought someone had a gun, or went for their gun, before shooting them – even if the person had no such weapon.

Can you see any green?
It's often enough to get them off. And we even get a sob story from Hawkeye, again uncorroborated, that Banner wanted Hawkeye to kill him. And subminal images that this is the right thing to do.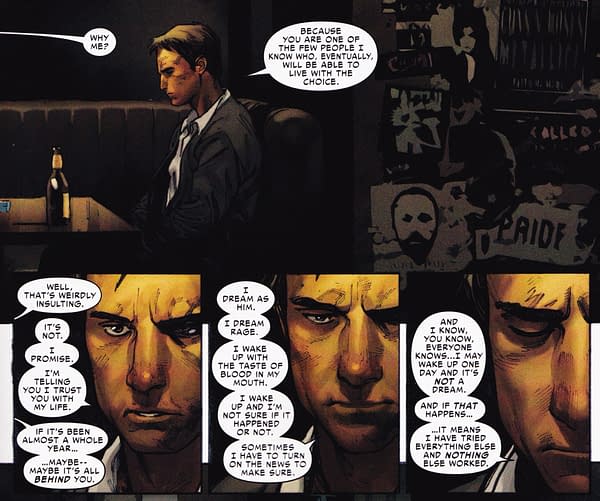 Bruce Banner. He has a dream.
And while we don't get the verdict in this issue, just as Tony Stark claims to be a futurist and already knows the result, that's what the Marvel Previews suggests, with the new series Occupy Avengers featuring a free Hawkeye in front of a large crowd. It suggests he is free but there is societal divide over the verdict. But the divide is there. And we also see the moment that Ms Marvel, Miles Morales Spider-Man and Nova quit… At least in theory. It will lead to this.
And this.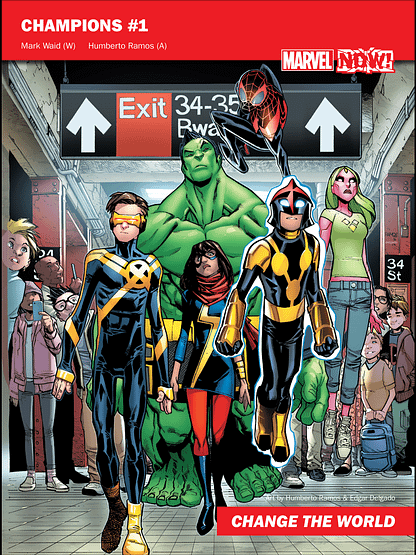 And possibly… this?
It doesn't look good for Ms Marvel. At least Miles has something to look forward to.
But onto the matter at hand. We have talked about the lack of sureness over exactly how Ulysses powers work. But it looks like Civil War II #4 will give us answers. The "no, not really" wasn't that definite. But Tony Stark made a copy of Ulysses's brain in Civil War II #2 and it looks like in #4 we may get some answers as to what is actually going on.
What if the vision of the Hulk hulking out is still valid? What if killing Banner hasn't stopped it somehow?
There are of course plenty of other Civil War II books out today. Some more plugged in than others.
Hercules is set before the death of Hulk. Just. Deadpool tried to work out the limits of Ulysses' power himself before going toe to toilet with Black Panther… New Avengers actually spoils the events of Civil War II #3 even more than the New York Daily News. While Choosing Sides gives us alternative lives of Jim Rhodes, courtesy of Ms America Chavez.
As well as redeeming Tom Foster, son of Goliath, who died in the first Civil War. The Agents Of SHIELD go to arrest Tony Stark rather than Hawkey, cos they haven't got to that bit yet.

And Civil War II: Spider-Man gives us another wrinkle… Ulysses' visions are not meant to be self-fulfilling prophecies. Otherwise how can they be stopped?
Maybe we will get answers… next issue.
Oh and that Joe Quesada midnight wraparound issue cover? Bye bye green…
Enjoyed this article? Share it!