If I had to describe the Women Of Marvel panel at San Diego Comic-Con in one word it would be joy, pure unadulterated joy.
As a kid, I didn't have women heroes on the big screen. I had SuperMAN, SpiderMAN, and Captain AmeriMAN. There wasn't Wonder Woman or Captain Marvel, there was Pepper Potts (still a badass) and MJ. These women weren't hero's they were love interests. They served to take care of the hero's mind and body when they returned from work each day. We didn't see them grow into their own until they fought against their boyfriend, telling him they were tired of his shit and even then it seemed like a novel concept to our hero's that their girlfriend might be smarter and stronger than they initially believed. Growing up this general disposition towards women in superhero movies made me angry. I wanted more than a background character, I wanted a Super Woman. I wanted smart women and strong women and women who didn't need a man to change the world and boy have I gotten it.
Sitting in a room packed full of women who believe in the power of female heroes and are the powerhouses behind their creation is almost a surreal experience.
This years diverse panel consisted of Becka McIntosh (Head of Ops at Marvel Games), Trinh Tan (Executive, Production & Development for Marvel Studios), Victoria Alonso (EVP, Production at Marvel Studios), Kathleen Wisneski (Assistant Editor), Nnedi Okorafor (Marvel Writer), Aimee Carlson (VP of Original Programming Marvel TV), Amanda Conner (Marvel Artist), Vanessa Marshall (Voice Actress), and Trina Robbins (Cartoonist and Comics Historian). The panel was moderated by Sana Amanat and Judy Stephens. As Judy Stephens said: "we (Marvel) are every place and every type of person."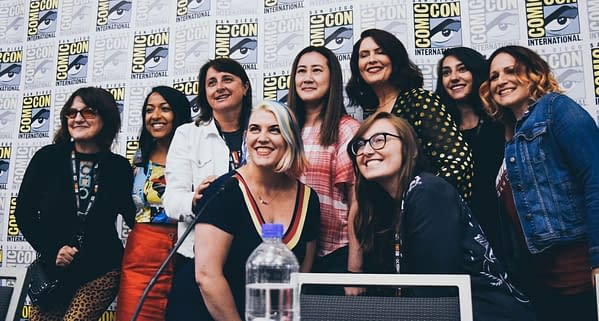 Throughout the hour and a half long panel the panelists reflected on the last 10 years of women in marvel and the movies, comics, and games that have changed the landscape of women in comics. They played sizzle reels from tv shows to that iconic scene in Endgame (you know that one that gave every girl on the planet straight chills). They discussed what it is like being a woman working in a traditionally male field. But most importantly, they laughed and they sang and they celebrated being a Woman of Marvel.
We have watched Pepper Potts go from being an assistant to running Stark Industries and getting a suit of her own. We got to watch Wonder Woman and Captain Marvel take the big screen. But as Victoria Alonso would say: "Saltwater doesn't chip at a Coast in a day." There is so much more to be done and so many more diverse and unique stories to be told. Being able to sit in a room full of these badass women felt like an absolute privilege. Celebrating with them: that was joy, pure joy.
Enjoyed this article? Share it!