I Polled Twitter to Find Out What the "Ultimate" Disney Parade Is
It all started with a Facetime call with a close friend of mine and, as bonafide Disney fans do, we got into a debate about what the best Disney holiday party is. The answer is the Christmas party, obviously, but we'll talk about that at another time (all I'm saying is FREE Christmas cookies.) This conversation took us onto which parade was better the Halloween parade or the Christmas parade, so as most people would do, I posted a poll on Twitter. After some contended comments this devolved into a series of 4 polls with 16 parade contenders. Before I tell you the ultimate winner, let's meet the contestants.
GROUP ONE
The original poll. I started with Christmas, Halloween, and a couple of classics: the Main Street Electrical Parade and Festival of Fantasy. Halloween and Christmas both have their strengths, Halloween has the gravediggers and the headless horseman while the Christmas parade has real horse-drawn carriages and Santa Clause! The Main Street Electrical Parade has some spectacular lights while Festival of Fantasy has Maleficent breathing ACTUAL FIRE (yes, you read that right.)
Main Street Electrical (1977-1991, 1999-2001, 2010-present)
Christmas Parade (2007-present)
Halloween Parade (1997-2005)
Festival of Fantasy (2014 – present)
GROUP TWO
After some outraged comments, I added the second poll of 4 more parades. This time I added some cult classics; Spectromagic, Move It, Shake It, Play It, Paint the Night and Block Party Bash. While Paint the Night and Spectromagic both have some incredible visual effects, both Move It, Shake It, Play It and Block Party Bash involve one on one moments with some of Disney's most popular characters.
Spectromagic (1991-1999, 2001-2010)
Move It, Shake It, Play It. (2014-present)
Paint the Night (2014 – 2020 RIP)
Block Party Bash (2008 – 2011)
GROUP THREE
If I'm being honest at this point I was running out of parades I remembered so I had to start googling. My third poll consisted of Parade of Dreams, Celebrate!, Pixar Play Parade, and the WDW Trolley show. Parade of Dreams and Celebrate! both included some epic floats while the Pixar Play Parade showcased our favorite Pixar characters. The Walt Disney World trolley show opened the park each morning by starting the party on Main Street USA.
Parade of Dreams (2005 – 2008)
Celebrate! (2009 – 2010)
Pixar Play Parade (2008 – 2017)
Main Street Trolley (2003 – present)
GROUP FOUR
Since I couldn't have an uneven amount of polls I created a fourth one with some unique options including Mulan – the Parade, the Red Car Trolley Show, Disney Channel Rocks, and Muppets on Location. Mulan – the Parade showcased the characters and rich Chinese culture of Mulan while the Red Car Trolley show brought the Newsboys to California Adventure. Disney Channel Rocks and Muppets: Live on Location, however, brought some of our favorite movie moments to life.
Mulan – The Parade (1998 – 2001)
Red Car Trolley (2012 – 2019)
Disney Channel Rocks (2010-2013)
Muppets on Location (1991-1994)
Now that you know the contenders it's time to follow me along on a journey that had a very… unexpected ending.
With the four main polls done I was shocked to discover that TWO of the polls had ended in ties so I held two separate polls (to alleviate another tie) to widdle our contenders down to the final four.
With the final four parades chosen I posted the last poll and the winner is…
PAINT. THE. NIGHT.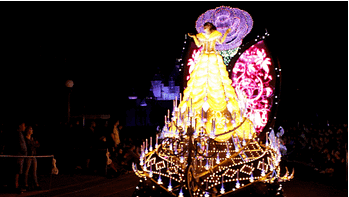 Credit: Oh My Disney!
I might be a little biased in saying that I LOVE Paint the Night. When I was in High School my parents and I went to Disneyland three times in one year just so we could watch Paint the Night. One time we stayed in the park purposely to watch it two times in a row. The parade has everything from a killer soundtrack to out-of-this-world parade floats and some of my personal favorite Disney characters.
Do you agree with my Twitter followers or should a different parade have been crowned as the ultimate Disney Parade? Let me know in the comments!