Some people believe that thirteen is an unlucky number. Maybe that's why Marvel does their best to reboot most titles before they get that high? But Thor, sadly, reached its thirteenth issue last Wednesday, and it was Cul Borson who paid the price in Thor #13.
Spoilers ahead…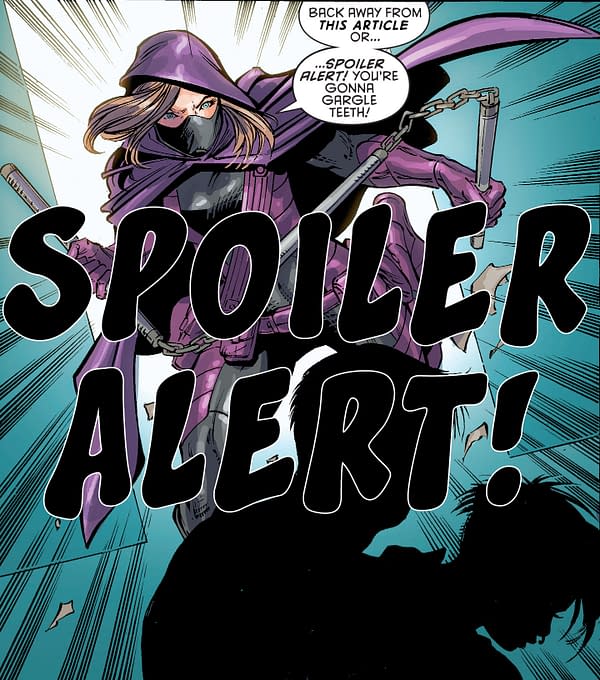 First appearing in Fear Itself #1 in 2011, Cul Borson is the Asgardian god of fear, brother of Odin, and rightful heir to the throne of Asgard, which is why Odin had to hide him away for all of that time. In recent days, Cul has fought on the side of the good guys… so far as Odin can be considered a good guy, which is questionable. But certainly, he's been less of the outright villain he debuted as.
And in Thor #13, Cul actually finds complete redemption… right before Marvel kills him off.
Cul is in Malekith's homeworld of Svartalfheim, looking for intel on Malekith's Black Bifrost, used to move his armies around for the War of the Realms. It turns out the Bifrost is powered by magical crystal mushrooms, and when Cul makes his way to the cave where they're being collected by child slaves…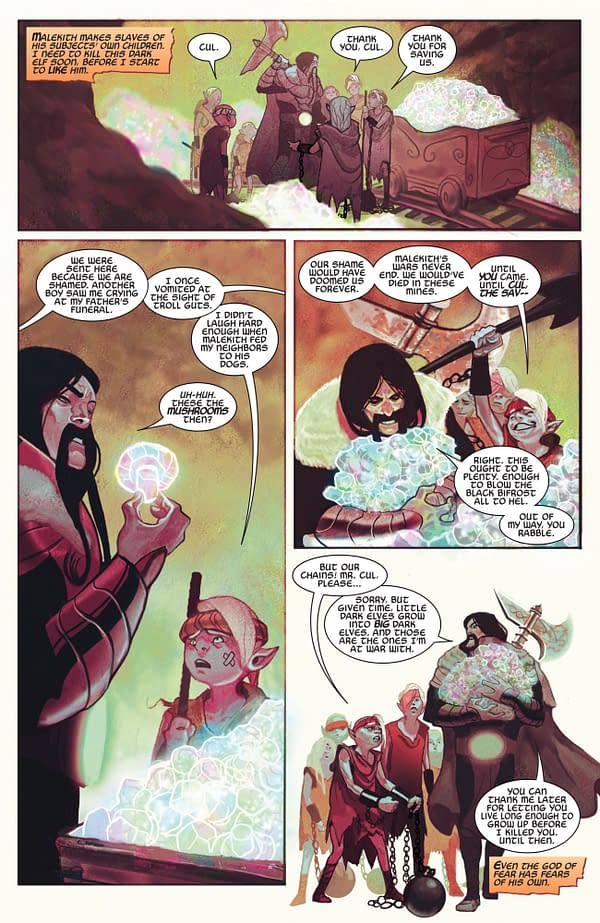 …well, he doesn't really show much heart. But he soon has second thoughts.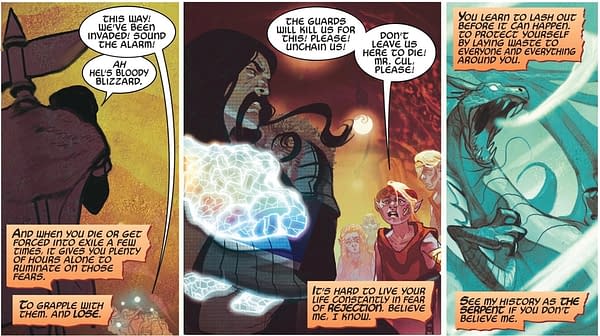 And culminating his recent soul-searching…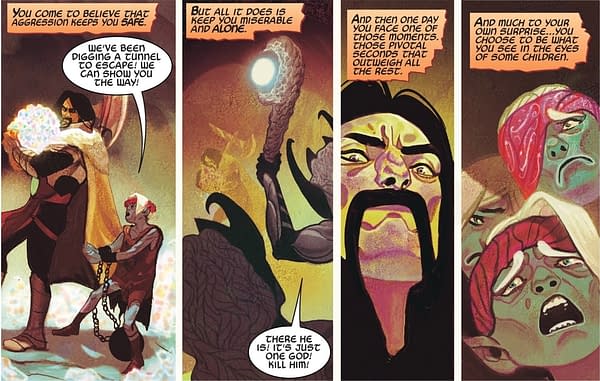 Cul Borson makes a redemptive decision.

Of course, Danaerys Targaryen was also known as the Breaker of Chains, and we all know how that turned out. But Cul Borson wasn't done with his redemption. The god of fear decided to sacrifice his own life, both to save those children he just freed, and to put a stop to Malekith's Black Bifrost once and for all.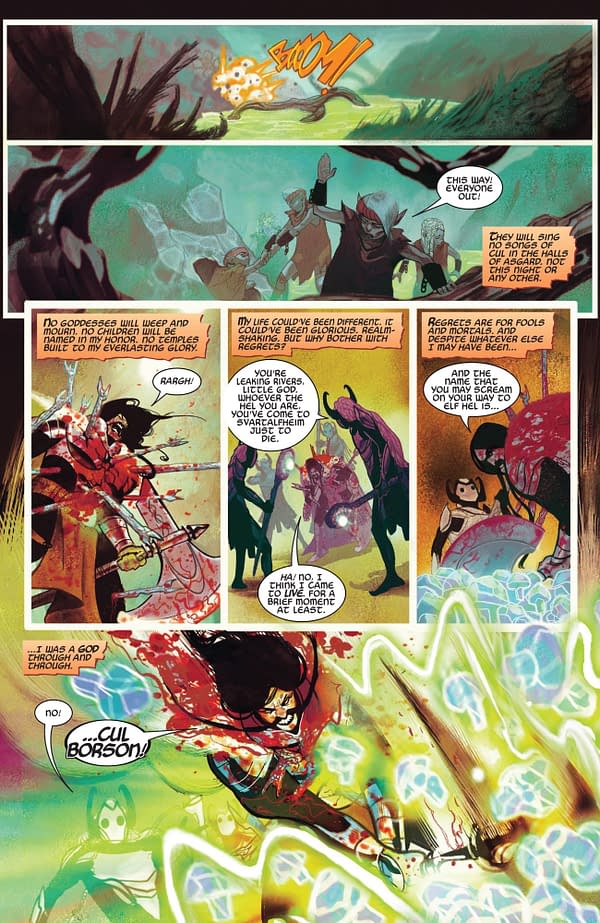 Look, sure, C.B. Cebulski just said Marvel is going to stop killing off characters for shock value. But for one thing, Cebulski is talking about the future. For the present, the wanton murder of characters is still fair game. And secondly, of all the characters Marvel has killed off recently, we have to admit, this one did come with more emotional impact than most.
More importantly, did Cul's self-sacrifice make a difference? In the greater scheme of the War of the Realms, that remains to be seen. But in the lives of those elf children? Well, you can buy the issue for some instant gratification and a killer last page.
Rest in peace, Cul Borson. Turns out you weren't so bad in the end.
Thor #13 is in stores now.
Thor #13
(W) Jason Aaron (A/CA) Michael Del Mundo
WAR OF THE REALMS TIE-IN!
Weeks ago, All-Father Odin sent his brother Cul – the Serpent, the God of Fear, Thor's backstabbing uncle – into the depths of Malekith's home realm, Svartalfheim. There lies the Black Bifrost, Malekith's own corrupted Rainbow Bridge. Cul's mission is to gather intelligence on the Bifrost, and if he can, destroy it. But will Cul redeem himself at last? Or has the All-Father made another critical mistake in this War of the Realms?
Rated T+
In Shops: May 29, 2019
SRP: $3.99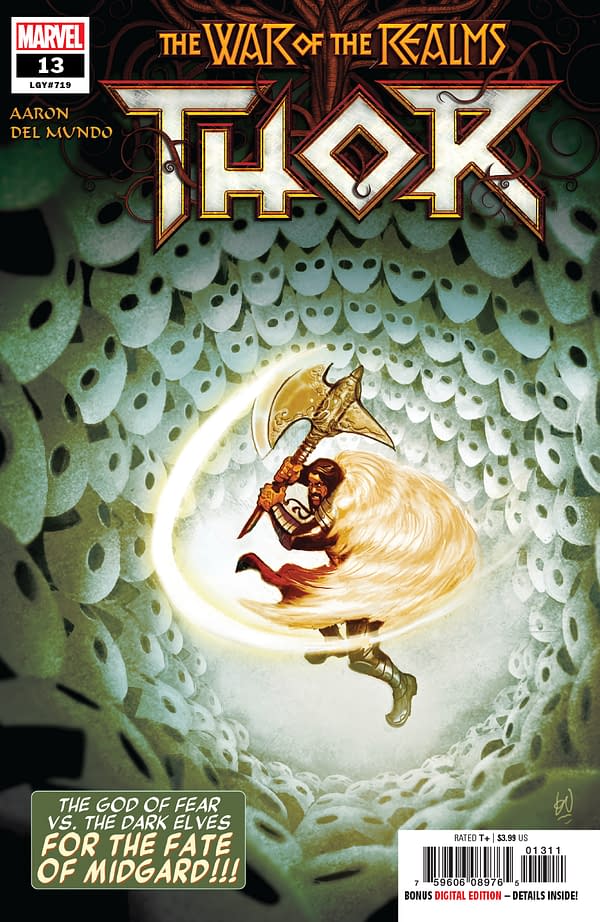 Enjoyed this article? Share it!