War of the Realms, Bigger Than Secret Wars, Rocks the Marvel Universe in April
It's a story long in the making, the culmination of Jason Aaron's multiple-relaunch-spanning Thor run (and also the new Asgardians of the Galaxy), and labeled "insane" by global entertainment superstar Donny Cates. And it finally arrives in April, Marvel revealed Friday, from Aaron, Russell Dauterman, and Matthew Wilson, and promises an event of "unparalleled scale" where "no corner of the Marvel Universe will be untouched!", and likens it to Secret Wars. But even bigger, we guess, because otherwise it would be "paralleled."
The press release reads:
This April, the war that has exploded across the Ten Realms finally blasts into the last realm standing…ours.

WAR OF THE REALMS IS COMING!

Starting in April, the award-winning creative team of Jason Aaron, Russell Dauterman and Matthew Wilson will usher in an event of unparalleled scale! And like the mega-event Secret Wars, no corner of the Marvel Universe will be untouched!

Spanning six issues over three months War of The Realms will feature ALL of Marvel's biggest heroes, including Iron Man, Thor, The Avengers, the Fantastic Four, Captain Marvel, Amazing Spider-Man, Daredevil, Black Panther, Venom, and many more!
And Jason Aaron says:
I have been building towards WAR OF THE REALMS for the entire duration of my Thor run. So we're talking six years and 80-something issues and counting. This is a war that covers the entire globe and involves the biggest heroes of the Marvel Universe, as you can see in this amazing promo piece by my MIGHTY THOR collaborators, Russell Dauterman and Matthew Wilson, who I'm so thrilled to be working with again on WAR OF THE REALMS.
To emphasize the enormity of this event, Marvel has released a massive teaser image below. That'll make a nice desktop wallpaper, won't it?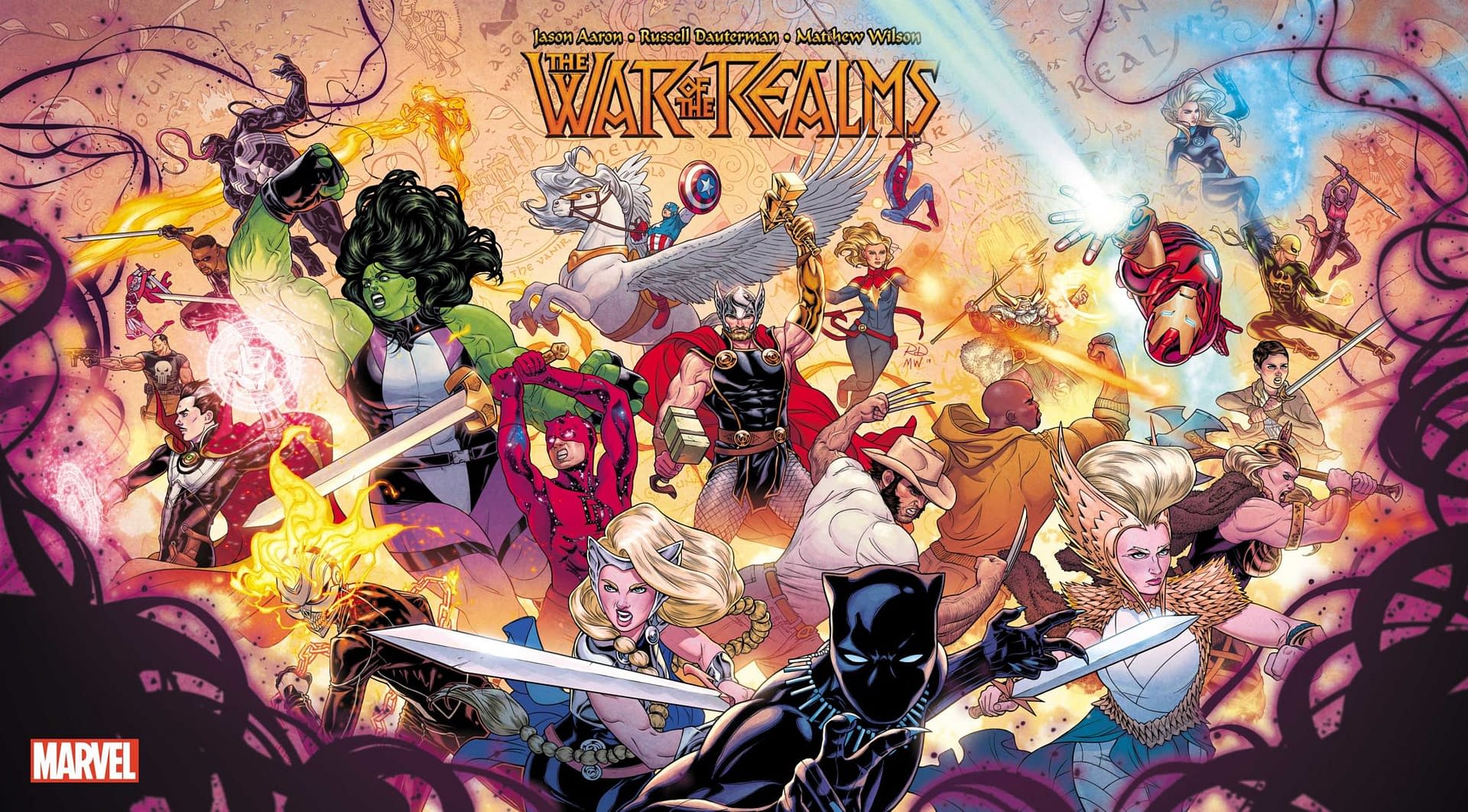 And more info from Marvel's Earth's Mightiest Show: