Tiffany Everett Sells Her Diary Of A Nature Nerd to Scholastic Graphix
Megan Peace at Scholastic/Graphix has bought Tiffany Everett's Diary of a Nature Nerd MA graphic novel in an exclusive submission.
---
Diary of a Nature Nerd is the debut middle-grade graphic novel by Tiffany Everett. Brooke loves her nomadic life on the road, exploring national parks and wildlife, and tracks her experiences in her diary. But the blended-family RV begins to feel cramped when Brooke discovers that her best-friend-turned-stepsister has been harboring a secret."
Tiffany Everett is an illustrator and writer working in picture books, board books, chapter books, graphic novels, and children's editorial. She received her BFA in Illustration from the Savannah College of Art & Design in 2012 and has worked as an in-house product designer, creating gift wrap, puzzles, greetings cards, and activities sold in retail stores as well as starting her own business designing printable party decor, valentines, and DIY crafts for kids. Much of her children's book illustration work is inspired by nature and science.
Megan Peace at Scholastic/Graphix has bought Diary of a Nature Nerd in an exclusive submission. Diary of a Nature Nerd will be published in the spring of 2025. Tiffany Everett posted on Instagram "This feels completely surreal to finally share… I'm writing and illustrating a graphic novel with Scholastic Graphix."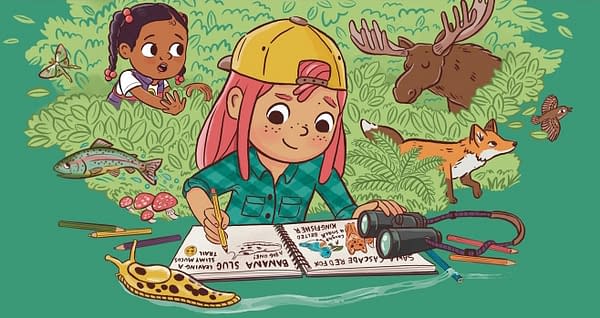 "You might already know, I lived nomadically for 3 years, traveling the country first by converted school bus, then by camper van. I've since settled into houselife for a while, but camping, travel, and being out in nature is still a huge part of my life. DIARY OF A NATURE NERD will be a 120 page graphic novel for kids ages 6-10 packed full of wildlife. This story is inspired by my own experiences living life on the road and I am so excited to get to share it with you. Writing this story about Brooke and her family's nomadic adventures is allowing me to relive my favorite memories from my own #buslife and #vanlife days and hopefully shine a light on a misunderstood way of life."
"This story has taken shape over the last two years with the help of lots of supportive friends and family. Thank you to everyone who has read a draft and provided invaluable feedback. To Megan Peace, my editor who might love our national parks EVEN MORE than I do, thank you for believing in this story and for all the brilliant feedback that leaves me thinking, "YES! Why didn't I think of that?!" Thank you to THE BEST agent, Nicole Tugeau who found the perfect editor and house for my GN. Your industry insight, guidance, and support made this dream a reality! And finally, to my partner in adventure and in life, @zendrson , thank you for being my sounding board, TY for the many reads and all the thoughtful feedback, and mostly thank you for all the emotional support when I've wanted to give up. You help me to be brave and keep trying. I'm going to be an author! Childhood dream unlocked. Ok… So much to do."
Tiffany Everett's agent Nicole Tugeau at Tugeau 2 negotiated the deal for world rights. Scholastic Corporation is an American multinational publishing, education, and media company that publishes and distributes comics, books, and educational materials for schools, parents, and children. Its books are distributed through retail and online sales and through schools via reading clubs and fairs, and its comic book line Scholastic Graphix has helped to make Scholastic the biggest comic book publisher in North America.