Time Bomb Publish Captain Scarlet, Space Precinct & Terrahawks Comics
British comic book publisher Time Bomb Comics is announcing a new partnership with Anderson Entertainment in a deal brokered by Larkshead Licensing. The first publication will be a 44-page comic anthology featuring three Gerry Anderson titles, New Captain Scarlet, Space Precinct and Terrahawks. Gerry Anderson's work was a huge part of the British television landscape from the 1960s to the 1990s, is best known for Thunderbirds, and his shows remain popular with science fiction fans across the globe. The three titles included in Spectrum span the genre from alien-fighting to space-based police procedural.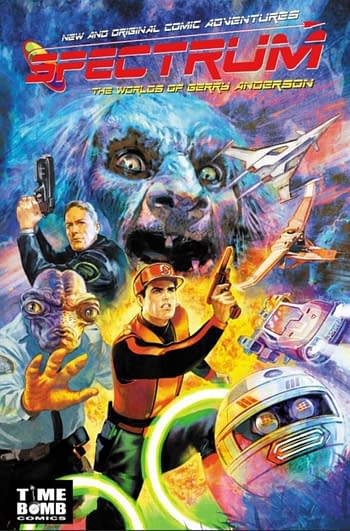 New Captain Scarlet was a reboot of the original 1960s show broadcast in the 1990s. Using CGI as an evolution of the original Supermarionation puppetry, the show followed Captain Scarlet in his battle against the invading Mysteron aliens. Terrahawks used an altered version of the
Supermacromation style, refined with 1980s technology and incorporating latex hand-puppets. The series sees a ragtag group of humans defend Earth after the destruction of NASA. Finally, the 1990s Space Precinct was a police procedural set in space, a live action series that incorporated puppetry in creating realistic and sophisticated alien characters.
New Captain Scarlet is by Steve Tanner, Pete Woods and James Grey. Space Precinct by Richmond A Clements and James Gray, and Terrahawks by Dan Whitehead, Ste Pickford and James Grey, with a cover by Steve Pugh. Every aspect of the publication has been approved by Jamie Anderson, Managing Director and CCO of Anderson Entertainment, and son of Gerry Anderson. This collaboration coincides with Time Bomb Comics' 15th Anniversary Year.
Time Bomb Comics chief, Steve Tanner, spoke about the anthology and his hopes for the future "Spectrum marks the first licensed title released through Time Bomb Comics and I'm delighted it features characters and concepts that are truly warmly recognised around the world. Like many of my generation I grew up enjoying the television shows created by Gerry Anderson and I'm thrilled that we've partnered with Anderson Entertainment to create new stories featuring some of his most iconic shows.
Jamie Anderson added "Seeing these three Anderson titles getting a new lease of life is a real thrill for me. The Time Bomb team has done a fantastic job of building out the worlds, keeping an authentic feeling to the stories, and making stunning looking strips. I can't wait for Anderson fans across the globe to enjoy these new stories"
Spectrum will be opening for pre-order sales with a 44 page perfect bound colour comic on Kickstarter on April the first. No fooling.