When it was first announced that Tom Strong and the Tom Strong family would be revived for DC Comics, there was outrage, Frank Cho-style. The classic Tom Strong storyline by Alan Moore and Chris Sprouse being revived, not by people who Moore and Sprouse had approved like Pete Hogan (still with an unpublished Tom Strong storyline) but as part of a thrown-together DC Comics superhero team doing their best to be like the Fantastic Four and grabbing a few cheap headlines in the process.
Along with unauthorised Watchmen sequel Doomsday Clock, Promethea fighting the Justice League, and Swamp Thing being redesigned to look like Alan Moore (in Justice League Dark #1, also out today):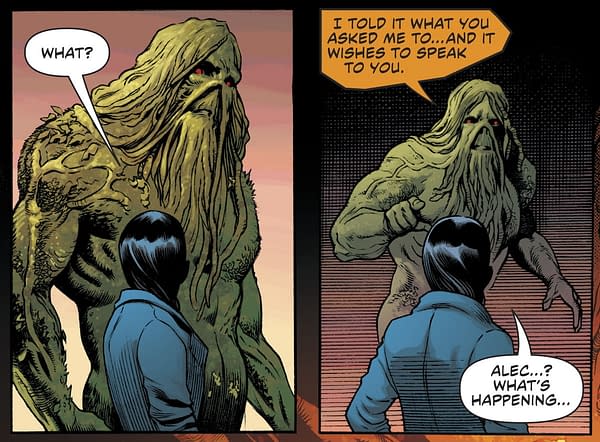 It also dives into past Alan Moore plotlines…
…it felt like someone was doing this on purpose.
But, apart from a distress signal found by Tom Strong, there has been very little of the Strong family even mentioned in The Terrifics.
Until today, when the new issue of Terrifics finally went for it.
Still not an appearance, but a threat. And a sign. And a trip from the DC Universe to the ABC Universe. And a threat to the Big Man from the Big Bad — with inexplicable exposition to boot.
So — better or worse than Promethea in Justice League International? What do you expect? Place your bets ladies and gentlemen, place your bets…
TERRIFICS #6
(W) Jeff Lemire (A) Joe Bennett (CA) Dale Eaglesham
No one escapes Element World! The Terrifics find themselves out of their, uh, element in a battle to save a town turned into elemental monsters. With Metamorpho and Mr. Terrific out of commission, Phantom Girl battles the Kingdom of Gas (insert joke here), while Plastic Man tries to survive the Domain of Rock by turning it up to 11. All this, and the source of the Terrifics' terrible tragedies has one more masterstroke: Tom Strong must die!In Shops: Jul 25, 2018
SRP: $2.99
Enjoyed this article? Share it!