Uncanny X-Men #20 hits stores next week, as Matthew Rosenberg and Salvador Larroca's run on the book edges closer to oblivion ahead of Jonathan Hickman's line-wide relaunch. With nothing left to lose, is Matthew Rosenberg including an anti-vaccination message in the pages of the book? Well, read the preview below and decide for yourself!
It begins with a young child receiving a vaccination, assured by his doctor that the side effects are negligible. But something feels not quite right…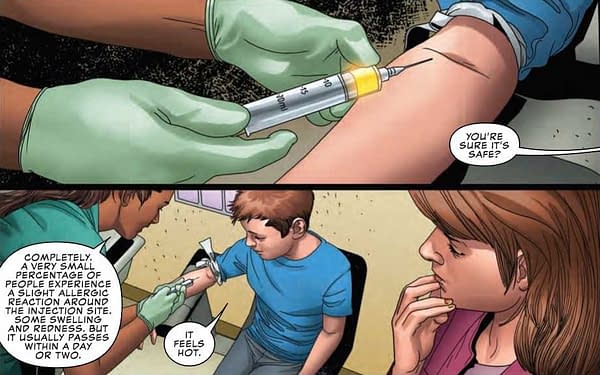 The doctor brushes off the kid's concerns as pain increases…

…until it's too late.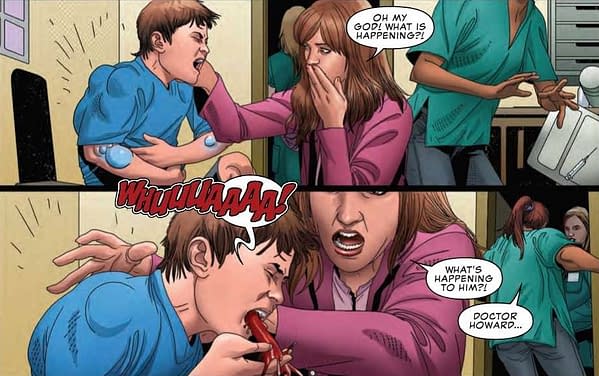 Of course, we don't know what was actually in the vaccine. Sure, it's almost certainly the mutant cure invented by The Beast, stolen by Emma Frost, and handed over to O.N.E. to weaponize as a method of eliminating all mutants. But how do you know there's not an anti-mutant cure in any vaccine? Well, besides the fact that mutants don't actually exist. Look, we're just trying to see where Matthew Rosenberg is coming from here.
Uncanny X-Men #20 makes your anti-vaxxer nightmares come true when it hits stores on Wednesday.
Uncanny X-Men #20
(W) Matthew Rosenberg (A) Salvador Larroca (CA) Whilce Portacio
First – learn the truth about the Hellfire Club's involvement in the X-Men's quest. Then, the mutant race faces elimination at the hands of a vaccine erasing the X-Gene from future generations…
Rated T+
In Shops: Jun 19, 2019
SRP: $3.99
Enjoyed this article? Share it!