Crossed +100: Mimic #1, published by Bleeding Cool's publisher Avatar Press, is out in comic stores today — if you can find it.
A double-sized issue format with two stories, one by Christos Gage as one of Beau Salt's disciples invades a military base and a second from Pat Shand and Raulo Caceres giving more details to the history Alan Moore spotlighted in previous series.
Avatar Press has also started a crowdfunding campaign, for those who want even more. The publisher states:
Comic stores have been going through a rough patch, and they just aren't supporting our kind of bleeding-edge books strongly. The sales numbers on MIMIC are not where we need them to be, and while we know the Crossed fan-base is huge, the comics are not going to be in the stores in any real quantity for you to buy. So we've put together a range of packages covering everything from folks who just want a digital set, to the greatest value of ultra-rare books we've ever offered!
Readers can pre-order the digital series at a 50% discount, released the same day as it is in print. And Avatar Press states that this will all be at a cheaper price point than any upcoming Kickstarter or similar promotion. And they can also pre-order print versions of Crossed +100: Mimic with additional pages that you can't buy in the shops. For obvious reasons.
To make these as special as possible, we have gone all-out, and created editions with exclusive INTERIOR art for all six issues! We call these New World Order Editions, after the Alan Moore-created wraparound masterpieces of perversion that ran on his original six issue arc. Each New World Order (NWO) issue has an eight page added section that will not be seen in regular versions in stores. Nor will this content be available in any digital editions. These all feature unedited, ultra-intense versions of covers from over the past decade. Crossed covers always had to be acceptable for listing in distributor catalogs, but very often the artists would get caught up in the feel of Crossed and push the covers too far. With too much gore or nudity, we'd end up having to work with the artists to alter art before running them. But we always saved the pure visceral vision – hoping one day to share it with fans – and now is the time to rejoice, for the NWO editions each have eight exclusive unedited images! Over the six issue series, that makes a total of forty-eight intense masterpieces unleashed!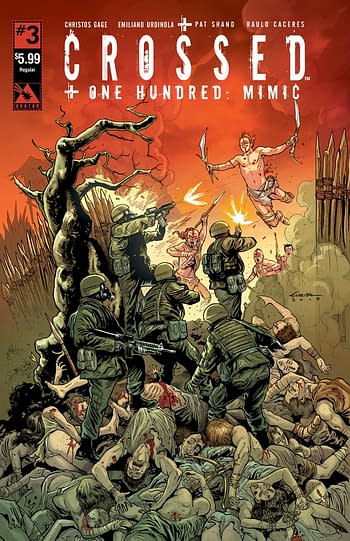 And Avatar underlines the intentional rarity and collectibility of these editions of the series.
NWO editions are further made awesome by their extreme rarity – only 1000 copies in total (1200 on #1) have these extra pages, with individual covers no greater than 333 copies each. It's our hope that NONE of these are available in any form except this fundraiser. The most limited Crossed books ever! #1 features art from Matt Martin, Paul Duffield, Emilio Laiso, and Renato Camilo, while each subsequent issue spotlights a single artist. #2 is Raulo Caceres, #3 Matt Martin, #4 Christian Zanier, #5 Renato Camilo, and #6 more amazing Raulo Caceres!
Time to get infected with Crossed madness?
Enjoyed this article? Share it!