Did you read Christopher Priest's treatise to comic book retailers last night, talking about his decision to write the upcoming Vampirella series from Dynamite Entertainment? And yes, I'm aware that today has become a bit of a Dynamite heavy day.
Well, the first issue will also be released without any content at all, a fully blank cover with a Vampirella logo on the front, adding to the blank comic book industry first started by About Comics' Nat Gertler and recently picked up by DC Comics for 24 Hour Comic Book Day last year.
So if you agree with Priest or not when he says,
I've felt that, over time, the idea of empowering women has gotten lost in the titillation factor of Vampirella's increasingly diminishing "costume," to the point where the provocative graphics overpowered whatever message her series was intended to carry.
Then you get to do your own version, either way.
‌ ‌ ‌ ‌ ‌ ‌ ‌ ‌ ‌ ‌ ‌ ‌ ‌ ‌ ‌ ‌ ‌ ‌ ‌ ‌ ‌ ‌ ‌ ‌ ‌ ‌ ‌ ‌ ‌ ‌ ‌ ‌ ‌ ‌ ‌ ‌ ‌ ‌ ‌ ‌ ‌ ‌ ‌ ‌ ‌ ‌ ‌ ‌ ‌ ‌ ‌ ‌ ‌ ‌ ‌ ‌ ‌ ‌ ‌ ‌ ‌ ‌ ‌ ‌ ‌ ‌ ‌ ‌ ‌ ‌ ‌ ‌ ‌ ‌ ‌ ‌ ‌ ‌ ‌ ‌ ‌ ‌ ‌ ‌ ‌ ‌ ‌ ‌ ‌ ‌ ‌ ‌ ‌ ‌ ‌ ‌ ‌ ‌ ‌ ‌ ‌ ‌ ‌ ‌ ‌ ‌ ‌ ‌ ‌ ‌ ‌ ‌ ‌ ‌ ‌ ‌ ‌ ‌ ‌ ‌ ‌ ‌ ‌ ‌ ‌ ‌ ‌ ‌ ‌ ‌ ‌ ‌ ‌ ‌ ‌ ‌ ‌ ‌ ‌ ‌ ‌ ‌ ‌ ‌ ‌ ‌ ‌ ‌ ‌ ‌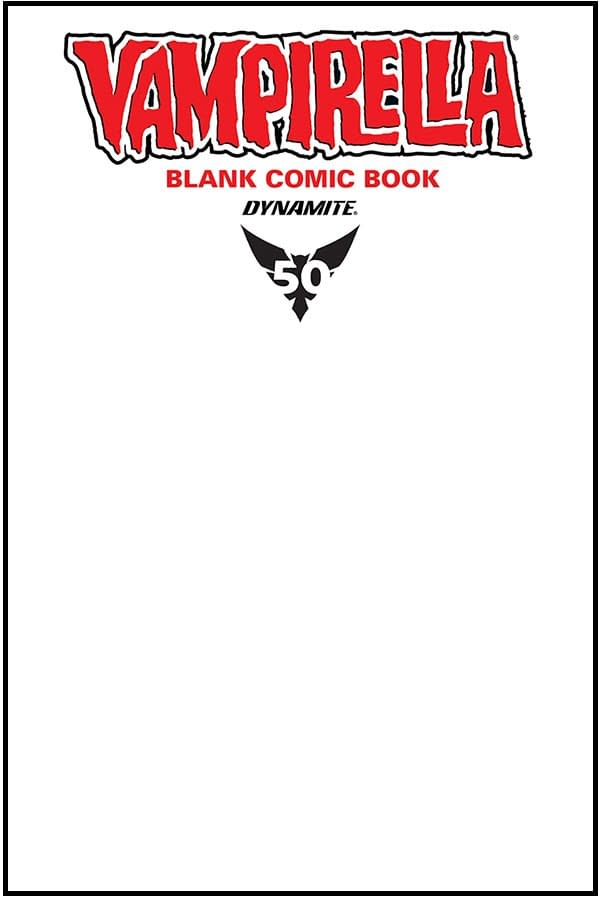 Out in July, it was already solicited….
Enjoyed this article? Share it!