Vault Comics Launches 'BookIt' Online Preorder Service with 20 Retailers
It's an interesting day in the world of online comic book preordering, with lots of big moves happening. Earlier today, we talked a little bit about the complex, often unfriendly, and sadly necessary need for preordering in comics — but there are some attempts in the works to make preordering easier. Diamond, the monopoly that controls comic book shipping to the direct market, for example, is set to launch an online pull list system on their PreviewsWorld website that will synch with local comic book stores, replacing one previously maintained by comiXology (which was unpleasant to use). But as usual, it's smaller companies that innovate faster.
League of Comic Geeks, for example, a website with years of experience serving readers with online software to manage their collection and pull lists, has launched their own retailer pull list management service ahead of Diamond's Pullbox launch. And now, Vault Comics has announced their own online preorder system, BookIt, launching with 20 retailers across North America and the UK. Unlike Diamond and League of Comic Geeks, Vault's service is completely free for both readers and retailers and encompasses only Vault's own comic book offerings.
A press release explains:
Vault Comics announced BookIt, a unique new comic book preorder system designed for fans and retailers alike. BookIt allows readers to preorder their favorite Vault titles and have them delivered to their local comic shop, at no additional charge to the reader or retailer.

To place a preorder, readers visit www.preorder.vaultcomics.com, where they select their titles for preorder. Next, the reader selects the closest local comic book shop where they would like their books delivered. BookIt then notifies the chosen comic shop of the preorders, allowing retailers know how many copies of each title to order and which customers ordered them. The best part is, the BookIt service is completely free to use for both readers and retailers.

"Preorders matter," said Vault Publisher Damian Wassel. "Everyone in comics knows that. Retailers, publishers, and fans need a better solution to capture them effectively. Vault's BookIt preorder system has been in the works for a while now, and we're excited to announce its release. The BookIt system will be intuitive to use for anyone familiar with online shopping. Customers visit the online preorder storefront, choose the titles they want to order, choose the participate retailer at which they want to pick up their books, and check out. We pass the preorder information along to the retailer, and the customer picks up their books in stores, exchanging money with the retailer as they ordinarily would. The big difference is, customers can now do this any time, from anywhere they have access to the internet."

BookIt launches with 20 retailers spread across the United States, Canada, and the United Kingdom.

For readers unable to find a participating retailer close to them, BookIt allows for readers to submit a request that their local shop be added. Retailers interested in participating can also sign up through the website. BookIt is completely free to join and free to use, and always will be.
Vault's preorder website is clean and easy to navigate, and currently features all the books available in May and June, along with their variant covers.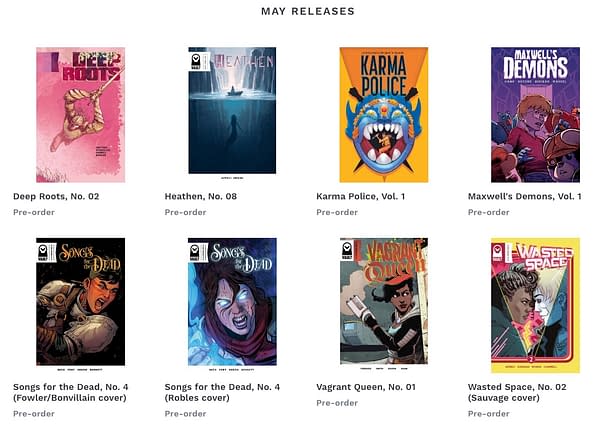 Clicking on a book, like Wasted Space #2, brings you to a page showing the cover and solicit information, allowing you to add the book to a cart, or reserve the entire series (like a pull list). After checking out, the book will be shipped to your registered retailer when it's released, and you pay when you pick up the book.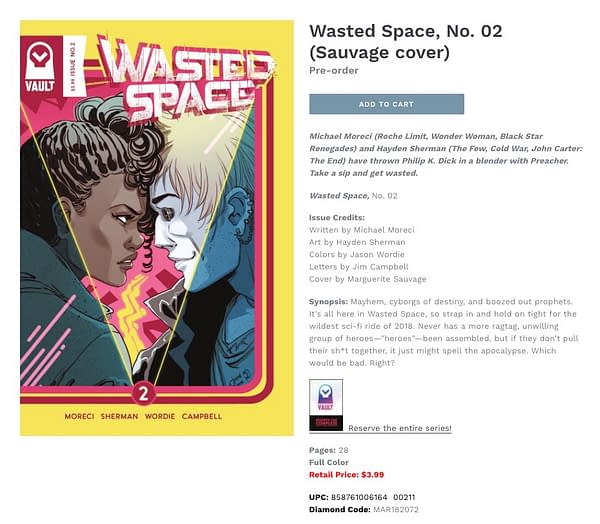 The idea seems sound and the execution (at least for online ordering) is good. Of course, we won't see the final results until preorders begin shipping in May, but if it works well, we could see other publishers follow suit.
See if your local retailer is participating here.