(MASSIVE SPOILERS) The Walking Dead #193 Twist That No One Saw Coming? (MASSIVE SPOILERS)
We told you this morning that The Walking Dead #193 was going to be a lot bigger than you thought. And we provided the very literal proof that it was, with a 71-page Walking Dead story by Robert Kirkman and Charlie Adlard. But we didn't know the half of it. What follows now is a major spoiler for The Walking Dead #193 – if true. Probably the biggest that we've ever run. Bigger than the Death of Rick. So be warned going in. What I promise is that at no stage will any mention of any panel, any plot, any picture, any dialogue be shared.
But this is the biggest Walking Dead rumour we've ever run on Bleeding Cool. And the biggest spoiler. So you are going to have to get past a whole lot of these first.
Ready? No. you're not ready.
You may think this is overkill, but this is your last chance.
Right then. You fools.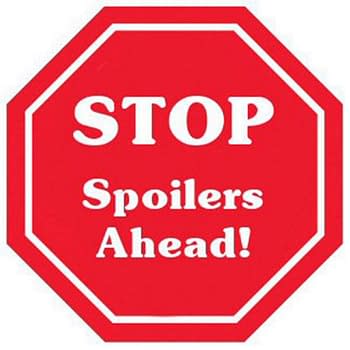 I have heard this from multiple sources from the US that the long-running comic book The Walking Dead by Robert Kirkman and Charlie Adlard is to conclude with this Wednesday's The Walking Dead #193. This extra-length issue will now be the comic book's final issue.
UPDATE: That news has now been confirmed. The original story will run below.
The series has been through some serious ructions of late. Including the death and zombification of Sheriff Rick. A revolution in the Commonwealth. And a new order – and potential future for the community who had travelled and become established with Rick.
The Walking Dead #193 is due to be published this Wednesday, and has been teased as featuring the return of Negan.
WALKING DEAD #193 (MR)
(W) Robert Kirkman (A) Stefano Gaudiano, Cliff Rathburn (CA) Dave Stewart (A/CA) Charlie Adlard
"THE FARMHOUSE": Out in the countryside, trouble is brewing for a certain someone.In Shops: Jul 03, 2019
SRP: $3.99
But it it all a fake? And could all subsequent solicitations through Diamond just be feints? Ghost-listings to preserve the illusion of the series continuing? No Sheriff Kapoor? Unless his story is now part of #193? Robert Kirkman does like to play with the medium and the industry standards of solicitation and publication. Solicits for upcoming issues are often full-blown lies and he launched the DIEDIEDIE comic without any warning at all, just sending it to stores for free whether they had ordered it or not.
This would be in his playbook. No one else would have the balls to do this but Kirkman.
WALKING DEAD #194 (MR)
(W) Robert Kirkman (A) Cliff Rathburn (CA) Dave Stewart (A/CA) Charlie Adlard
"LAST SHOT": Meet Sheriff Kapoor… if you dare.In Shops: Aug 07, 2019
Final Orders Due: Jul 15, 2019
SRP: $3.99

WALKING DEAD #195 (MR)
(W) Robert Kirkman (A) Cliff Rathburn (CA) Dave Stewart (A/CA) Charlie Adlard
"THE SWORDSMAN STRIKES"
This is the end of the line-but for whom?
In Shops: Sep 04, 2019
SRP: $3.99
Of late, the series had a big shift that I saw as the beginning of a long third act of The Walking Dead. The creation of a new community, a revolution, sacrifice and the mantle descending from father to son. Could it instead have been the end? And the death of Rick, and his final speech – 'We Are Not The Walking Dead' the capstone to the series? Planned all along by the master himself?
The Walking Dead was first published by Skybound/Image Comics in 2003. Initially created by Robert Kirkman and Tony Moore, Charlie Adlard replacing Moore on art within the first few issues. It focused on Rick Grimes, a Kentucky deputy sheriff who is shot in the line of duty and awakens from a coma in a zombie apocalypse that has resulted in a state-wide quarantine. After joining with some other survivors, he gradually takes on the role of leader of a community as it struggles to survive the zombie apocalypse. And, after a rocky start, it became a phenomenally successful ongoing comic book series.
It was turned into a TV show in 2010 which has continued on AMC to this day, with a tenth series confirmed for 2020, as well as a spinoff series Fear The Walking Dead, video games, webisodes, novels, board games, toys and soap-ears-on-a-rope.
It may have even saved comics as we know it. After the success of the TV show, because it was exclusively distributed by Image Comics to bookstores through Diamond, The Walking Dead is credited with pulling Diamond and owner Steve Geppi out of serious debt, saving the direct market (appropriately) single-handedly. It is a constant number one best-seller in collections, and in individual digital issues.
Its absence will mean a considerable drop in revenue for Image Comics, comic book stores – and bookstores. And Saga's not back yet either…
The Walking Dead #193 is published on Wednesday. Damn you again, Robert Kirkman.