What Does Wally West's Fate in Heroes In Crisis #9 Have to Do With Doctor Who? (Major Finale Spoilers)
Wally West, the Flash, dies in the beginning of Heroes In Crisis #9. We saw his body, adjacent to that of Roy Harper, Arsenal. Later in the story, we discover that Wally West was responsible, if accidentally, for the death of all those at Sanctuary. And that he tried to cover it up for… reasons. Released all the sensitive Sanctuary therapy data to the world. Went five days to the future, killed himself, planning to bring his future dead body to the past, giving him five days to do… something. To make everything better. A very male-centric logical fallacy, the kind of thing that contributes to the high male suicide rate. It's a thing. Wally West is his own judge, jury and executioner, and he imposed a temporary stay of his own death sentence.
Yesterday, Bleeding Cool looked at the setup to BBC's Sherlock by Steven Moffat and Mark Gatiss and how it might relate to spoilery plans for Event Leviathan. Well clearly someone at DC Comics should be giving Moffat a job. Because what happens in Heroes in Crisis #9 (spoilers) mirrors a very similar and prominent plot in Doctor Who a few years back.
This would be the season in which the Doctor gathered his friends in preparation for a special day. Walked out into the sea, and was shot twice. The first killed him, the second happened during his regeneration cycle, stopping it dead.
The Doctor died, his body burnt, his friends leave in shock, headed back to the diner where they meet… the Doctor. A much younger Doctor, who has also been summoned and wants to know what's up.
Time travel. The series spends its time with this Doctor building up to the future we have seen, learning that it is a fixed point in time and cannot be changed. And changing it would destroy reality. We get to see what that looks like as well.
So the Doctor cheats. He takes a Teselecta, a robot chameleon manned by a crew of reduced-size humans, that can look like anyone, and travels in time to that moment on the beach, inside the Teselecta programmed to look just like him. He takes the hit, fakes his death and survives. Timeline intact.
So anyway, Heroes In Crisis #9. Time travel. Access to future tech. And the need to preserve a timeline of a dead Wally West. Not the Wally West, a Wally West. Didn't you hear, they come in six packs?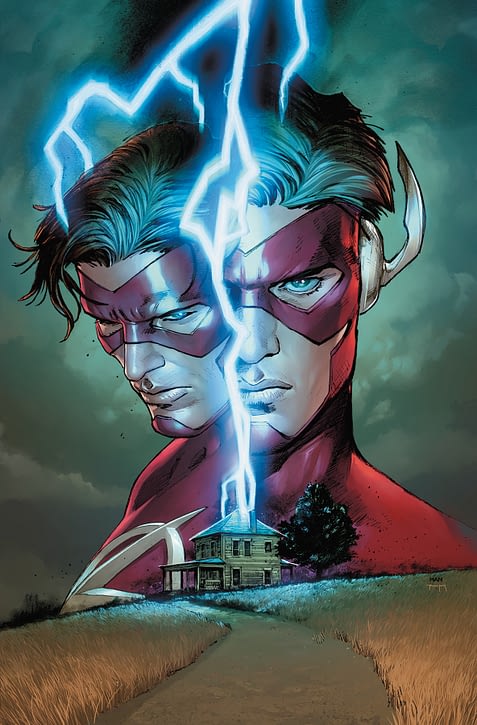 Come on, it's a Crisis. Death won't actually hit a Flash twice in the same spot. And what will happen to a Wally West who accidentally killed all these people? Well, there's one obvious place… and we do hear he's getting a series all of his own.
Heroes In Crisis #9 by Tom King and Clay Mann is published on Wednesday.
HEROES IN CRISIS #9 (OF 9)
(W) Tom King (A/CA) Clay Mann
The most-talked-about miniseries of the year reaches its stunning finale! The mystery behind the murders at Sanctuary is solved, but the mind behind it is one the heroes never expected. With their deepest secrets exposed, the Trinity has to consider how to carry on. Should the tragedy cause them to redouble their efforts to help their hurting comrades, or will they need to close up shop? The answers will be found in the ashes of this final showdown, and the fates of Booster Gold, Harley Quinn and the rest hang in the balance.In Shops: May 29, 2019
SRP: $3.99