Posted in: Avengers, Comics, Marvel Comics, Spider-Man, Venom | Tagged: Comics, game of thrones, marvel, war of the realms
---
How Marvel's War Of The Realms is Doing Game Of Thrones Season 8 Again For You (Spoilers)
Okay, it may not be the most original thing to point out that Marvel's decision to publish The War Of The Realms crossing over with all manner of titles might have simething to do with the success of Game Of Thrones. But today's many titles do go out of their way to point it out. And there are a lot of War Of The Realms books out today.
Venom #14 by Cullen Bunn, Iban Coello and Andres Mossa.
Punisher #2 by Gerry Duggan, Marcelo Ferreira, Roberto Poggi and Rachelle Rosenburg.
New Agents Of Atlas #2 by Greg Pak, Gang Hyuk Lim and Federico Blee.
Journey Into Mystery #3 by The McElroys, Andrew Lima Araujo and Chris O'Halloran.
Asgardians Of The Galaxy #9 by Cullen Bunn, Paolo Villanelli and Federico Blee.
The Avengers #19 by Jason Aaron, Ed McGuinness, Mark Morales, the late Justin Ponsor and Erick Arciniega.
Uncanny X-Men #2 by Matthew Rosenberg, Pere Perez and Rachelle Rosenburg.
Strikeforce: Land Of Giants #1 by Tom Taylor, Jorge Molina, Andriano Di Benedetto and David Curiel
Eigh books. That's a total of $32.92. Let's call it $35, keep the change….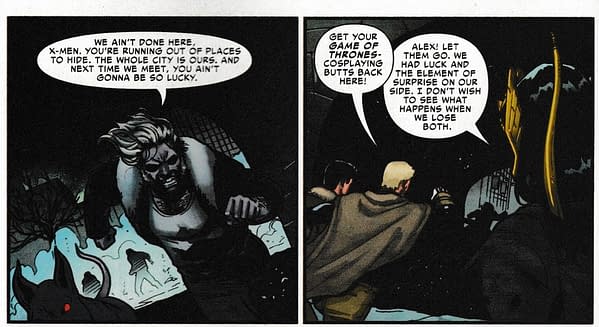 X-Men have the Game Of Thrones reference right up top, a story of the mutants surviving in the cold wastelands while the readers knows that one of them is going to die very soon indeed….
While in Venom, Eddie Brock's magical symbiote suit gets a brand new look, fighting against a similarly souped up Jack O'Lantern. And then something very familiar happens.
He creates a magic fiery dragon and burns Manhattan to the ground, people and all. Even though they were ringing the bell… no wait, I'm confused again.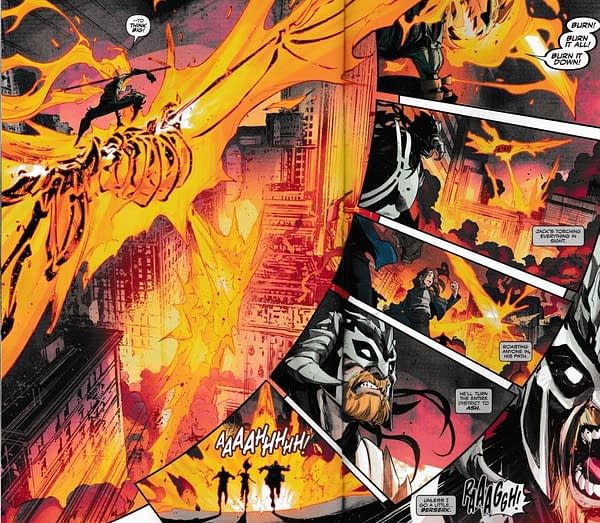 And this comic will have been created long before The Bells aired or anyone had an inkling. But it feels really weird reading this in the aftermath.
Most of Manhattan got out though. Some through the tunnels, as in Punisher #2 with his new team of merry men dealing with the dark eleves they find on the way to New Jersey.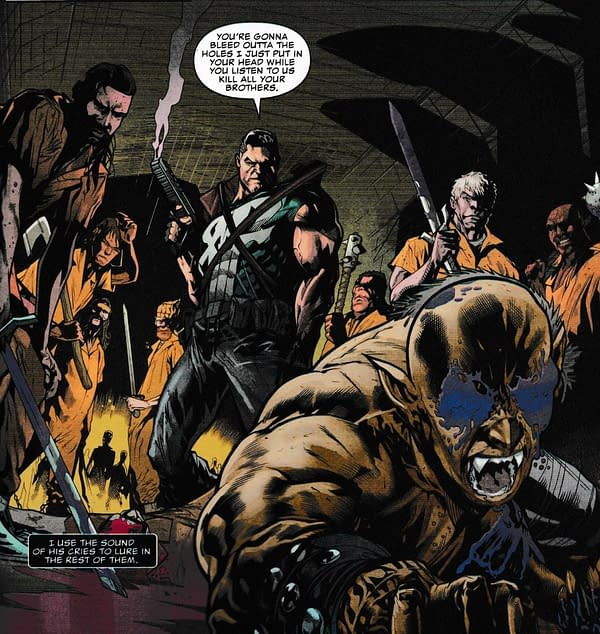 While most are in the belly of the beast – or the ribcage of the Celestial that makes the Avengers mansion over in Avengers.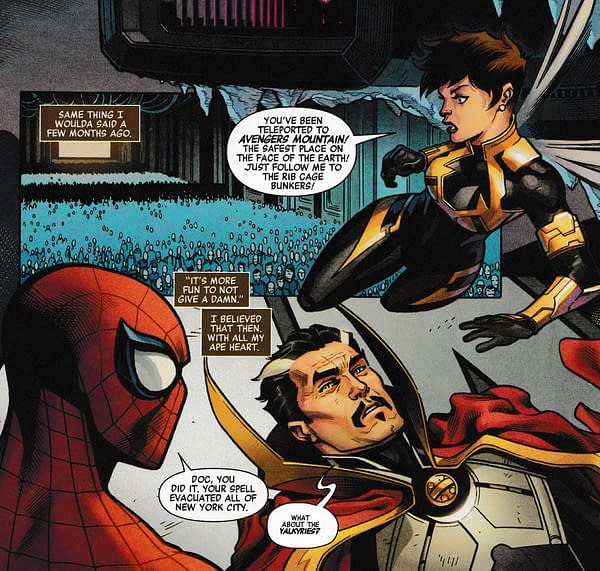 Asgardians Of The Galaxy are trying to bring back the dead Jon Snow Annabelle. Valkyrie died over in the main War Of The Realms series, but she was bonded to another, and they remains of the Defenders Asgardians may be able to retrieve her…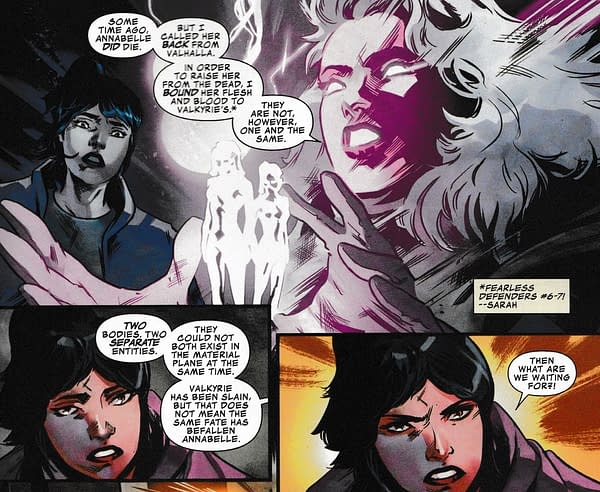 Indeed, lots of Valkyries as Avengers reminds us.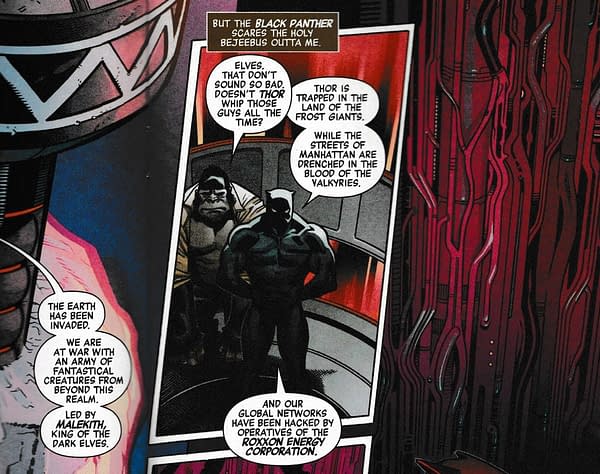 And as the Asgardians travel to the lands of the dead…

…Spider-Man wishes that Wolverine might join him in Land Of The Giants Strikeforce #1. We also get to see how and where he got his shield and helmet in last week's Spider-Man & The League Of Realms book.
Not the most ridiculous, over in JOurney Into Mystery, they've turned the whole war into a Western,,,
And New Agents Of Atlas finds a way to turn a Seoul overrun by a bunch of fire demons into, well, an episode of Friends instead.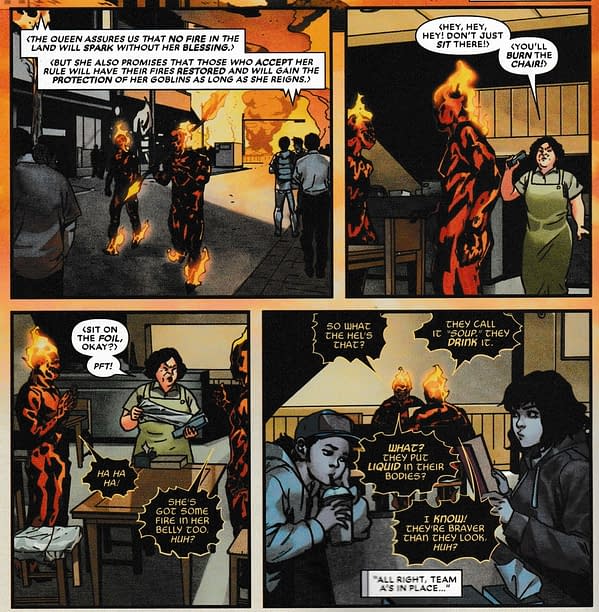 Maybe they should have tried that with the dragons over in Westeros?
---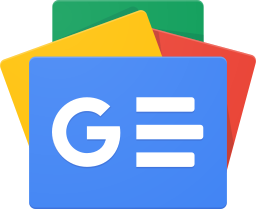 Stay up-to-date and support the site by following Bleeding Cool on Google News today!