Warren Ellis And Colleen Doran Launch Finality, Free Every Week From LINE Webtoon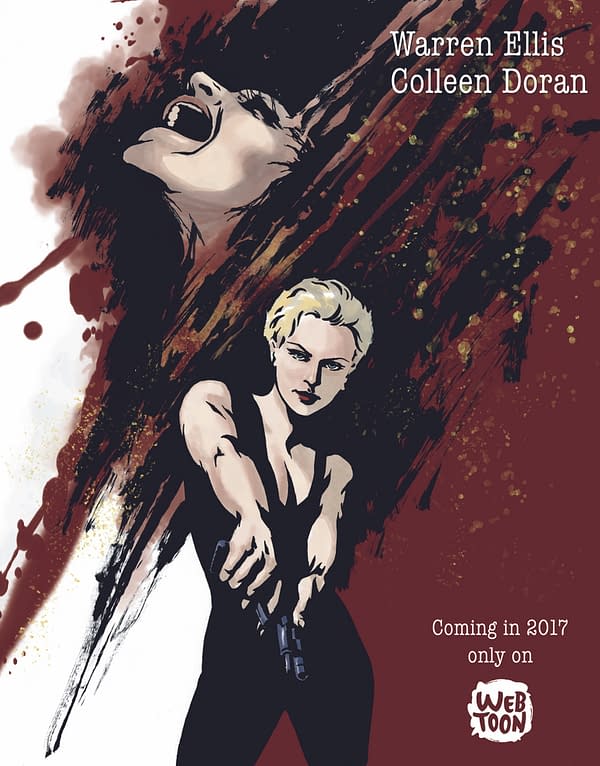 The Korean webcomic company LINE Webtoon has been snapping up all sorts of talent across the industry.
Ane the latest is the Orbiter team of Warren Ellis and Colleen Doran for Finality, a gritty, murder mystery themed digital comic launching LINE Webtoon next year, for 26 weeks. And it's free. They describe it, thus,
Finality will immediately grab readers, throwing them into a complex murder mystery that regrettably brings out of retirement Felicity Rockwell, the world's greatest criminal investigator. Tracked down from her intentional isolation by hot young White House intelligence agent Amy Ash, Rockwell is recruited to help solve a string of murders that seem insoluble without her help. But as always, the case appearances are not what they seem, launching Rockwell and Ash into the middle of a crime syndicate and a revenge plot aimed at killing Rockwell once and for all.
And,
Finality is a heightened crime drama about Felicity Rockall, the world's greatest criminal investigator, and Amy Ash, the young DCIS special agent assigned to try and control the eccentric genius as they deal with a frightening murder mystery that may prove to be Felicity's final case. The series will launch in 2017.
And,
Finality will follow Rockall, an eccentric recluse and fiercely intelligent woman, and Ash, a young agent reluctant to take the case, as they're thrown into an appalling series of complex murders that seem to be linked to Felicity's mysterious past. Finality will leave readers on the edge of their seats as they follow Rockall and Ash's journey from beginning to end. Told from Ash's perspective in the present as she tries to make sense of the events passed in a series of flashbacks, readers will be dying to know what comes next as the story navigates through suspenseful and thrilling unexpected plot twists.
"Finality" was also the name Ellis gave to his final Lazarus Churchyard story fifteen years ago.
Watch out for websites reporting that Ellis and Doran's first work together was the Vertigo graphic novel Orbiter, preceding that by a couple of years was Super Idol for the website Artbomb.
So this is a return to webcomics together for both of them. News on Stealth Tribes will have to wait…