Watchmen Killed This Brian Azzarello Batman-With-Guns Graphic Novel
Right now, if I got the chance to interview Brian Azzarello, I would ask him nothing but Andrew Rev-related stories, as Brian worked for Comico as an editor back in the mid-nineties.
But it's time to revisit the noughties. Five years ago, artist Cliff Chiang who collaborated with Brian Azzarello on the New 52 Wonder Woman reboot, talked to TwoMorrows magazine Modern Masters Volume 29: Cliff Chiang, about The Bat-Man, then planned for Vertigo Comics.
We were supposed to do a First Wave: Batman series, but those plans changed when the First Wave books were abandoned. After Greendale, First Wave: Batman morphed into The Bat-Man for Vertigo. Vertigo had a reputation for reinterpreting classic DC characters, so we thought what if we did that with Batman, perhaps as part of the Vertigo 20th Anniversary? We got the go-ahead, and Brian wrote the first script and I started doing the visual development. My Batman: Black and White statue was intended to come out the same month as the book, to help promote it. If you look at that statue of Batman with his guns drawn, it would have made more sense if you saw the book. It would have featured this young and inexperienced Batman who still relied on his guns, fighting police corruption, gangsters, and Mexican drug cartels in a West Coast version Gotham City. L.A. Confidential meets Batman. Brian and I were really excited. After Jimmy Olsen, after Aquaman, we'd been talking about it for so long, it was finally going to happen! [laughs] Then one night Brian called me and asked, "What do you think of Wonder Woman?" He'd just been asked to write the book. Brian was very convincing, but in the end I stuck to my guns. We'd been working to get this Bat-Man book off the ground for so long, I couldn't walk away from it. I would have loved to draw Wonder Woman, but not before this Bat-Man book…. three months later DC rescheduled The Bat-Man just as I was about to start drawing pages. They said they wanted to release it two years later, in 20131 In hindsight, I think they really wanted Brian and me together on Wonder Woman.
Now Brian Azzarello has given his side of the story, talking to ScreenRant, alongside the release of Batman: Damned, and how it works as a sequel to Azzarello and Lee Bermejo's Joker graphic novel.
When we were talking about it originally after Joker came out, we were just talking like, 'There is nothing to follow this up with.' DC had no idea Joker was going to be as successful as it was. So it wasn't even called Black Label then, we were calling it Jokerverse. Black Label kind of came into being… man, I don't even know when we were calling it that. But it was gaining some traction and some momentum, and then Watchmen came out. And it was R-Rated, and it didn't do so well. The studio, and we work for the studio, they were like, 'No no no no, we don't want to do any mature readers superhero stuff.' So it got killed.

There is actually a script out there. One thing we were going to do was Cliff Chiang and I were going to do the old '40s Batman. You know, with the guns. There was a script and everything. Gotham City got moved to the west coast, it was sort of Like L.A. from the Raymond Chandler times. It didn't happen.
All we have is this piece of artwork… …and this produced statue…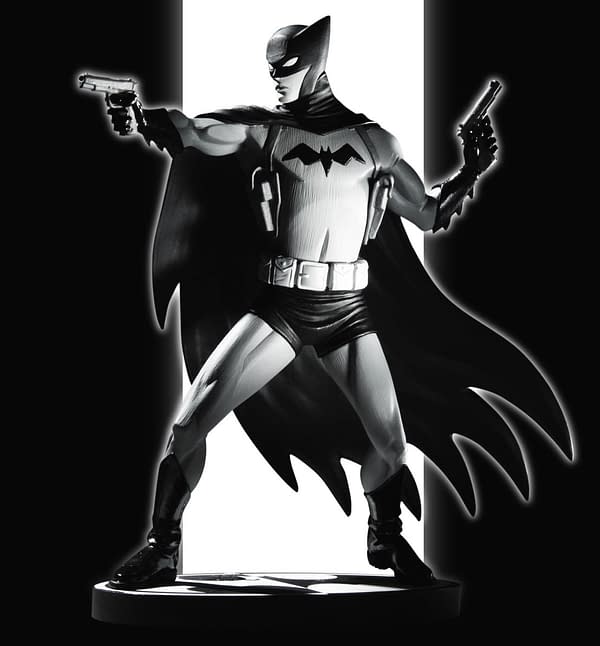 Of course these days, the upcoming The Joker movie looks far bleaker than anything Watchmen or The Bat-Man would have gone for…